We all are pretty addicted to Facebook for sure. But even though we spend almost the entire day on Facebook, many of us still don't know about its features that can be an advantage. We bring you some Facebook tricks that we believe everyone should use.
We'll discuss three Facebook tricks currently available, such as forwarding messages, viewing your profile the way another contact sees it and controlling who sees what when you're tagged in by your friends.
Message Forwarding
How do you share a message on Facebook? Copy-Paste? Well, now there is a better way to do it. We all know conversations can be difficult to select in the right place every time. It also can be quite tedious whenever you want to quickly edit the conversation so that it's easy to read and follow. Facebook has addressed the issue with message forwarding, allowing you to easily share any part of a conversation.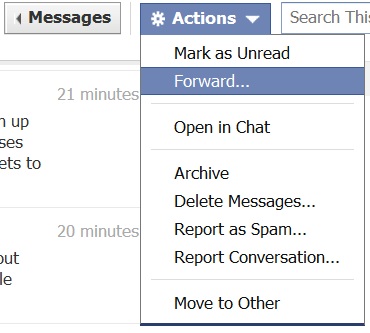 The process for this Facebook trick is simple. With the desired conversation open, click "Actions" and then"Forward…"
You'll be prompted to select which messages you would like to send. Do this by checking the boxes next to each message. Click the blue "Forward" button in the yellow banner at the top and send your message to anyone you desire. You can also add your own comments to the conversation.
Profile "View As…"
Ever wonder what your profile looks like to the public eye or even a specific person?  This Facebook trick is called the "View As…" feature and it allows you to do just that. Beneath the bottom right corner of your cover photo, there is a small gear-shaped button (also next to the "Activity Log" button). When clicked, a menu with the option to see your profile how others see it drops down. Click "View As…" and you'll see your profile change in appearance.
This is also a nice security feature to see just how much the public sees on your profile. You may end up wanting to change a thing or two that you didn't know were visible to the public eye.
Controlling Posts You're Tagged In
Worried about your friends tagging you in embarrassing photos? Or worried your parents or relatives on Facebook might see a photo of you drunk with a friend last night which someone tagged?
Well, if you want a little more control over what shows up on your profile, there are a few features that allow you to approve what posts are submitted to your profile by others and which ones aren't.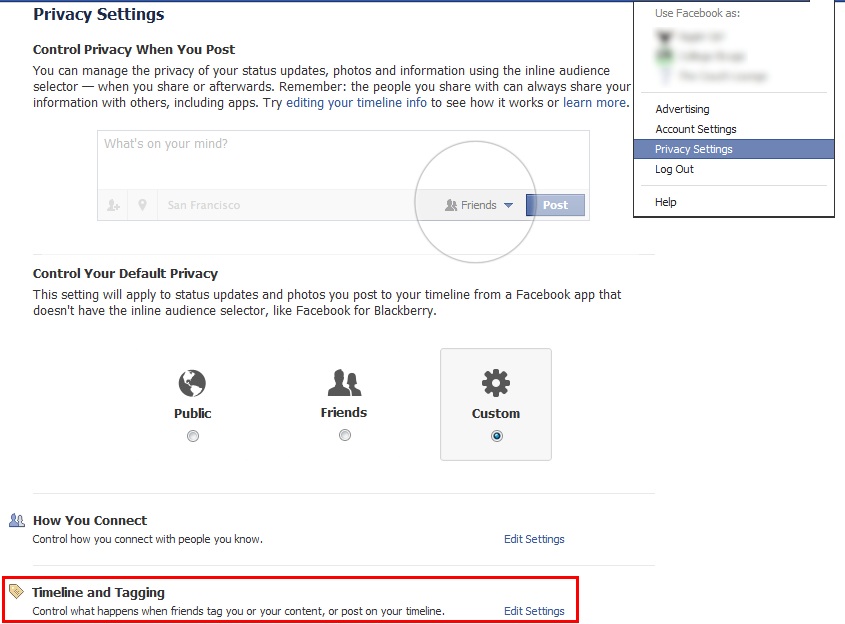 Just like any other of the privacy and security settings, the tagging controls are accessed through "Privacy Settings" in the drop down menu of the top right corner of the page. Once you're there, select custom and then click the "Edit Settings" link under the "Timeline and Tagging" section.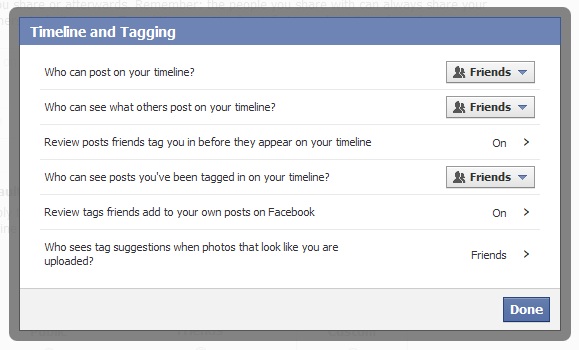 The window features several settings to adjust how others interact with you on Facebook publicly. On the third line, you can turn on the option to review posts that friends tag you in prior to it appearing on your timeline. You can also set the option to review tags that friends set to your own posts and also who can see posts that you've been tagged in as well as just any posts that friends post on your profile.
Hope this post on Facebook tricks helps you make your life simpler on Facebook. We'll come up with more tips and Facebook tricks, so keep checking.