We are living in the growing era of technology and innovation. Eruption of startups brings in battle of the creative minds in every field, nook and corner.
We have also seen a spring in zone of entrepreneurs pouring in money even for the unpredictable and uncanny of ideas.
But even though there's rapid development taking place in our country and we are fortunate to be an audience to witness this growth, there's still a core sector of the nation that is being neglected. Farmers, who are suppose to be the backbone of a nation, still continue on their struggle, fighting the issues that have going on for long years.
Even though technology has penetrated every sector, and we have got brilliant minds in software, hardware and every type of technology, farming still hasn't seen much approach towards it. It's still left on the mercy of government and its bureaucrats and it is supposed to be the strength, but its still facing its old nightmares which ultimately affects us the people.
Sagar Bhansali and Aakash Agarwal engineering graduates and with their varied range of experience in India and abroad have taken up the challenge to bring boost to the agriculture productivity to India.
Digging deep into soil technology they developed BIOSAT, which is being talked about in the US and Australia.
We'll directly jump into conversation with Sagar, Co-Founder of Anulekh and learn more about BIOSAT.
If a farmer would like to apply for BIOSAT, what are the tests he can do to determine if his land's soil type and the climatic conditions are compatible?
BIOSAT can be applied across all soil types & climatic conditions.
No specific tests are required by the farmer for our product usage. Although a routine soil testing at a government authorized laboratory in their area will do no harm & is recommended in general.
Can you provide the names of some agriculture institutes you have tied up with? And can a farmer or land owner approach these institutes to carry out tests?
Mahatma Phule Krishi Vidyapeeth in Maharashtra. They are conducting field trials on our behalf. Most of the government institutes provide extension services to farmers.
Farmers can also approach the Krishi Vigyan Kendra's in their districts.
How did you find out about the Biochar in the Amzonian soil?
There is strong buzz about Biochar in USA & Australia. We have taken some international research on biochar & developed it further. What works internationally does not necessarily work in India since soil & climatic conditions are different.
In fact the product makes more sense for India than the western countries.
There are certain technical, social & political reasons.
Technical reasons:
High depletion of organic carbon in tropical countries – Biochar does not decompose easily hence provides long term sustainble benefits.
Low agricultural productivity in India. Yields per acre are quite low compared to developed nations.
Overuse of chemical fertilizers has harmed the soil over the last few decades.
Water shortage due to erratic monsoon & certain areas still uncovered by irrigation.
Social Reasons:
Most farmers in India are small & marginal – Low incomes – Using BIOSAT will increase their incomes substantially.
High food inflation puts a burden on population under BOP & middle class. – Raising agricultural productivity makes food more affordable by increasing supply.
Political Reasons:
Chemical ferilizer subsidies give false incentive to farmers to overuse agrochemicals.
If the soil type, climatic conditions and other affecting factors prove to be compatible for BIOSAT, How much beneficial would BIOSAT be to the farmer?
USP of the product is that it reduces chemical fertilizer requirements by about 20%, water requirements by 20% & increases yield by min 20% in first year & much more in the subsequent years. These numbers may vary a bit depending on various conditions but benefits will be clearly visible by all.
Please note BIOSAT is not a complete replacement for chemical fertilizers. But overtime it will reduce requirement significantly (upto 50%).
BIOSAT is an organic (non-chemical) product. It helps the soil in the long term unlike chemical fertilizers & plant growth hormones, which are like steroids & give only short-term results.
Biochar acts like a magnet & it attracts water, nutrients towards itself through forces of cohesion & adhesion. Thereby reducing leaching & increasing uptake of water, nutrients.
What are the analysis and tests Anulekh conducts in order to maintain the quality of BIOSAT?
We have stringent quality checks on the feedstock used. We check for toxicity (heavy metals).
We also do final product testing.
Team Behind Anulekh.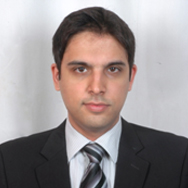 Sagar Bhansali – Co-Founder & Director
Sagar is responsible for the setting the overall direction of the company as well as leading the company's product development & marketing activities.
Prior to co-founding Anulekh Agrotech, Sagar held product management responsibilities with Siemens. He has versatile experience of working in India & the Middle East.
Sagar holds a Bachelor of Engineering in electronics & telecommunication from University of Mumbai & a MBA from SPJAIN center of management. Sagar obtained 2 gold medals (Dean's list) for his performance during his MBA.
Aakash Agarwal – Co-Founder & Director
Aakash is responsible for the finance & operations activities.
Prior to co-founding Anulekh Agrotech, Aakash worked for a consulting firm with operations in India, Africa & Middle East.
Aakash holds a Bachelor of Engineering in electronics from University of Mumbai & Masters in engineering management from Duke University, USA. He is also currently pursuing his final level of CFA.
What are your future plans for Anulekh?
Raising agricultural productivity in India.
We hope to launch more innovative agri-inputs in the future.
We also want to diversify into services. I feel IT & BIG data will play a big role in agriculture in the future.