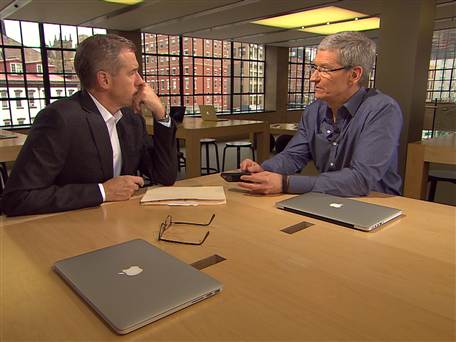 In an exclusive interview with Brian Williams on NBC's "Rock Center," Apple CEO Tim Cook announced one of the existing Mac lines will be manufactured exclusively in the United States next year. Mac fans will have to wait to see which Mac line it will be because Apple, widely known for its secrecy, left it vague. Cook's announcement may or may not confirm recent rumors in the blogosphere sparked by iMacs inscribed in the back with "Assembled in USA."
"We've been working for years on doing more and more in the United States," Cook told Williams. It was Cook's first interview since taking over from his visionary former boss, Steve Jobs, who resigned due to health reasons in August 2011. Jobs died on October 5, 2011, after a long battle with pancreatic cancer.
The announcement could be good news for a country that has been struggling with an unemployment rate of around 8 percent for some time and has been bleeding good-paying factory jobs to lower-wage nations such as China.
Cook, who joined Apple in 1998, said he believes it's important to bring more jobs to the United States. Apple would not reveal where exactly the Macs will be manufactured.
"When you back up and look at Apple's effect on job creation in the United States, we estimate that we've created more than 600,000 jobs now," said Cook. Those jobs, not all Apple hires, vary from research and development jobs in California to retail store hires to third-party app developers.  Apple already has data centers in North Carolina, Nevada and Oregon and plans to build a new one in Texas.
Apple has taken a lot of heat over the past couple of years after a rash of suicides at plants in China run by Foxconn drew attention to working conditions at the world's largest contract supplier. Apple and other manufacturers who have their gadgets produced by Foxconn were forced to defend production in China. Earlier this year, Apple hired the nonprofit Fair Labor Association to examine working conditions at Foxconn, which makes some of Apple's most popular products: iPhones, iPods and iPads.
Given that, why doesn't Apple leave China entirely and manufacture everything in the U.S.? "It's not so much about price, it's about the skills," Cook told Williams.
Echoing a theme stated by many other companies, Cook said he believes the U.S. education system is failing to produce enough people with the skills needed for modern manufacturing processes. He added, however, that he hopes the new Mac project will help spur others to bring manufacturing back to the U.S.
"The consumer electronics world was really never here," Cook said. "It's a matter of starting it here."
Cook said he still misses Jobs, his friend and mentor, but that Jobs' advice to him before he died was to do the things he thinks are right and not try to guess "what Steve would do."
"I loved Steve dearly, and miss him dearly," Cook told Williams. "And one of the things he did for me, that removed a gigantic burden that would have normally existed, is he told me, on a couple of occasions before he passed away, to never question what he would have done. Never ask the question, 'What Steve would do,' to just do what's right."
Apple today is worth about 43 percent more than when Cook took over. Under his leadership, Apple has released three new iMac models, two iPhones, two iPads, and the iPad mini.
That's not to say there haven't been some speed bumps. Most notable was the release of "Apple Maps," which replaced the Google Maps app on the iPhone and was widely panned for misleading directions. Cook admits they screwed up.
"On Maps, a few years ago, we decided that we wanted to provide customers features that we didn't have in the current edition of Maps," Cook said, "It [Maps] didn't meet our customers' expectation, and our expectations of ourselves are even higher than our customers'.  However, I can tell you, so we screwed up."
The Maps debacle led to the defenestration of some company executives, including reportedly Richard Williamson, who oversaw the mapping team.
"We screwed up and we are putting the weight of the company behind correcting it," Cook told Williams.
Customers still snapped up the iPhone 5, however. According to Apple, five million of them were sold in their first weekend after the device's launch in September.
Speed bump No. 2 was the redesigned connector for the iPhone 5, which was widely criticized by many because it didn't fit many of the accessories Apple fans had already purchased for their earlier iPhone versions. It forced them to purchase an adapter, which some criticized as an inelegant solution. Others argue, however, that the new connector was worth it because it allowed Apple to make a smaller device.
"It was one of those things where we couldn't make this product with that connector," Cook said, "But let me tell you, the product is so worth it."
What's next for Apple? Did Cook leave us with a clue?
"When I go into my living room and turn on the TV, I feel like I have gone backwards in time by 20 to 30 years," Cook told Williams. "It's an area of intense interest. I can't say more than that."
Via: NBC News