According to ForeSee's annual Holiday E-Retail Satisfaction Index, compiled from 24,000 customer surveys gathered between Thanksgiving and Christmas, customer satisfaction with Apple's online store slipped three points this year, falling to 80 from the 83 points it captured in 2011. That decline was among the biggest Foresee charted this year, and it left Apple with its lowest score on the firm's consumer satisfaction index in four years.

Apple has not really been doing well after the Ron Johnson era. Earlier this year, the company ousted Johnson's successor, John Browett, as head of its retail operations following a series of rare and embarrassing cockups. So, the question now is whether this sudden drop in customer satisfaction index has to do something with Browett. Well, there is no sure-shot way of telling this but one thing is for sure that the company lost it's top 5 place in the survey for the first time after Browett's tenure. That said, obviously there are other factors that play a role here too.
ForeSee's surveys measure four elements of customer satisfaction: Merchandise appeal, competitiveness of price, Web site functionality and Web site content. Clearly, not all of those elements were under Browett's control. And it's not evident where, exactly, Apple suffered declines. ForeSee says only that "Web site functionality" is a top priority for improvement at Apple. It's worth noting, though, that that functionality isn't so different from what it was last year, when Apple placed in ForeSee's top five.
"The luster of Apple is fading a bit," Larry Freed, president and CEO of ForeSee told. "Keeping up with consumer's rising expectations of the online customer experience is no easy task, but not keeping up can lead to decline in loyalty, word of mouth and revenue growth. In particular, even though Apple gets top dollar for their products, price is an area weakness for the company when it comes to satisfaction. Apple's site might be due for some changes, and the usefulness, convenience and variety of features on the site presents the biggest opportunity for Apple to improve the customer experience."
I think a major reason of Apple dropping on the customer satisfaction index is nothing but customer desires. Apple's customers have been expecting much more from Apple's products and services. Have the company's prices and the appeal of its products really changed that drastically from 2011 when it scored higher on the ForeSee index?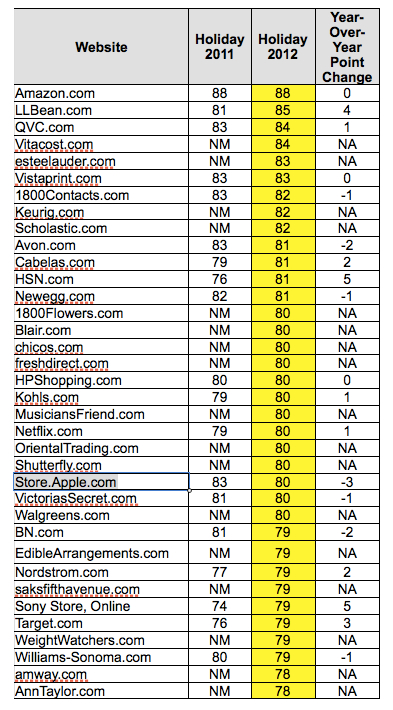 Do let us know what you think in the comments below.