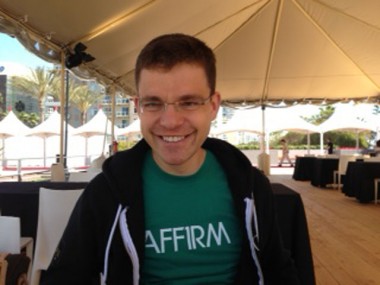 High-profile Silicon Valley entrepreneur Max Levchin is launching a new mobile payments startup today called Affirm.
It's the first project emerging from Levchin's San Francisco tech incubator Hard, Valuable, Fun (HVF), which he started after selling his last company — Slide — to Google and then eventually leaving the search giant. Previous to that, Levchin and investor Peter Thiel had sold PayPal to eBay.
Affirm will use Facebook for authentication of consumers, and also use a number of other social and data signals to assess risk. It will then guarantee payment to merchants — who will pay Affirm a fee — after this check.
Levchin described Affirm as a digital charge card rather than a credit card, trying to be valuable to merchants by lowering the abandonment rate of mobile transactions. Affirm's beta launch partner is 1-800-Flowers.
"You will essentially be putting a purchase on a digital tab, and we are going to make it work for us by looking at all available data to determine if you are someone who will pay it back," said Levchin.
Read full story at All Things D