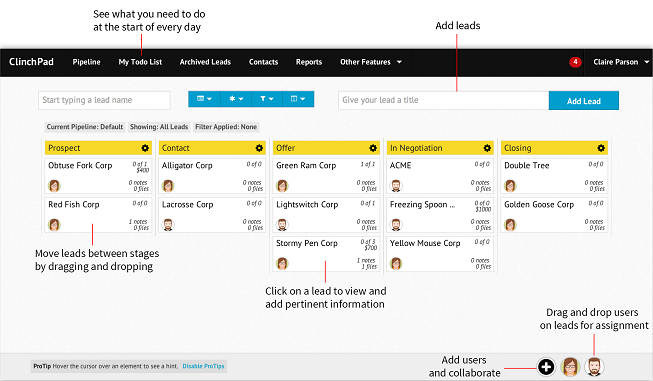 CRMs like Microsoft dynamics have came out big due to their brand name as well as project features. Usually, not everyone finds satisfaction in those big CRMs during their day to day life and they need those small bugs to be squashed immediately. ClinchPad was started to provide people with big names and avoid the bugs and holes.
ClinchPad is an alternative to traditional CRMs and is built for small teams looking to break away from a cluster of spreadsheets to a more organized way of tracking leads. It believes that the user interaction should be as simple as possible so that it is effortlessly adopted.
It provides a new way of tracking leads by shifting focus from data entry to converting leads into deals. ClinchPad is ideal for all kinds of organizations and is confident that it can disrupt the $18B CRM industry that hasn't changed its approach much since 2005.
 The idea behind ClinchPad
The idea for ClinchPad came when the developers were tracking business leads for a previous startup. The team struggled to track leads using spreadsheets since they aren't really designed for it and they could not find any application catering to the needs of business owners with small teams as all the CRMs in the market are targeted at enterprises.
 The ClinchPad team
ClinchPad was founded by Cheenu Madan, who was working in New York City with a comfortable job and earnings in six figures. Despite the success, he was getting restless at his job as he always wanted to start something of his own. He finally quit his job and moved back to India where he started experimenting with various ideas. He has previous experience in SaaS space, having worked on Bloomberg Law, a SaaS product, while working with Bloomberg in New York City. He has a Masters degree in Computer Science from University of Florida.
Kartik is the chief growth guy at ClinchPad. He has over eight years of diverse experience across Canada and India, where he helped grow companies ranging from startups to Fortune 100 brands such as Microsoft and Oracle. He holds a Masters degree in International Marketing from Humber College, Canada
Gaurav is the chief code warrior at ClinchPad. He is a true wearer of many hats, coding across the entire stack from the backend ops to the mobile applications. He has a Bachelors degree in Software Engineering from Delhi College of Engineering.
 How does ClinchPad help besides helping companies track their deal?
ClinchPad is ideal for managing any business process that can be divided into a number of stages with the objective of closing a deal. So, apart from tracking the potential customers, the owners have seen ClinchPad used by eCommerce companies to track their vendor acquisition process, media houses to track their advertising sales process, VC firms to track their deal flow and by individual freelancers to track their potential clients.
 The ClinchPad journey so far
ClinchPad was launched in July 2013 and the user base has been growing by 10% every week. The users are from all parts of the world and the major traffic comes from US, UK and other European countries.
 The benefit of GSF Accelerator
The team applied to GSF because all of them shared a common vision in believing the next wave of startups from India should be focused on global markets. Most accelerators in India are focused on the Indian market, whereas GSF encourages and helps companies go global.
Attending the GSF program was a great learning experience for the team. Their mentorship sessions taught the developers the importance of building a great team and the importance of iterating the product based on customer feedback. The team benefited a lot by joining an accelerator program, however they suggest the similar start ups to make sure that, "you and the accelerator share the same vision for your startup."
 Future plans
ClinchPad's user base is growing by 10% every week and they are hoping to sustain this growth rate for the next year. They focus a lot on getting feedback from their active users and use that to improve the product. They are also planning to raise a round of seed funding in 2014 to grow their team.
TTP Mentor's Corner
It is very pleasing to hear that; Indian startups are building products for global markets.
SaaS as a business model is double-edged knife. No doubt, contented and loyal customers stick around persistently but frustrated and price-sensitive customers flock to new platforms as the switching costs are negligible. As a SaaS startup one should keep a tab on customer acquisition costs, active clients, monthly recurring revenue and churn rates to stay in the game. CRM for SMB segment is fiercely competitive market across the globe since these customers are highly value conscious. Given the value proposition of ClinchPad being "simple for small teams" may hold good for a first-time user who want to try his hands on CRM but expert users operating on small scale tend to demand more. Though pricing seems to be competitive when compared to Zoho and Salesforce, it may not be the sole driver to acquire sizeable client base. SaaS startups may clinch the success if they can build and deliver value proposition on the following lines:
Be a Specialist: I never saw the forest for the trees and most of the CRM technologists bring design and classiness first and miss the sales & marketing elements of diverse businesses. It is imperative for CRM startups to identify market segments by major sectors/industries to understand the functional nuances in order to build an unparallel value proposition. This segmentation approach may also fence your customer base against competition and helps to build a stable customer base sector by sector. Being a specialist further helps you to sell the problem not the solution and sell the value not the price; to make the pain worth gain of acquiring customers.
Incentivize Migration: One should ruthlessly facilitate switching in the SaaS business while building the arsenal of migration tools for the target platforms. Incentivize the migration efforts while offering free billing cycle or complementary billing cycles upon yearly signup. Migrated customers can save enormous time and cost of efforts which otherwise will be spent on acquisition of new clients and their never-ending struggles for adoption.
Promote Customization: Though it takes lot of efforts to offer customization abilities, it's worth the investment. Customization is the key to stickiness and most powerful marketing tool to retain customers in the SaaS landscape. Change appears to be growth barrier within the organizations and a console to control the change is an indispensable tool for small businesses. Custom form design, API Library, Workflow and Hierarchy management are crucial levers of customization which may help the product to stay buoyant forever.
Appify the Product: Limit the features by pricing plan but ensure to offer the app at no charge across the board. Whether big or small we stay mobile and a flexibility to work from mobile app can significantly improve the engagement levels of the users with the product.
No doubt, sachet marketing works even in software but a new entrant have to create their own blue ocean.
About the Mentor
Ram Nutakki is the Founder of Sloyd, a start-up envisioned to build a franchise conglomerate of consumer brands to foster small business entrepreneurship. Prior to Sloyd, he was an independent consultant where he worked with startup-up and early stage clientele in SaaS, E-Commerce & Mobile domains for building and honing the core competencies that can yield sustainable enterprise value. He is extremely passionate about mentoring both tech and non-tech startup founders to discover the right value proposition and lay down the strategic direction to deliver the same.