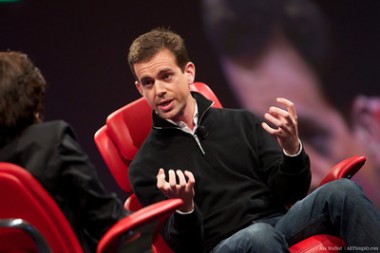 Today on Tumblr, Twitter inventor Jack Dorsey clarified a story in the New York Times that seemed to imply that he had been sidelined from a more active role at the company.
Among the issues raised by the piece, which was in a longer profile of CEO Dick Costolo, was that Dorsey was "difficult to work with."
Wrote the Times' Nick Bilton:
"Mr. Dorsey's role has since been reduced after employees complained that he was difficult to work with and repeatedly changed his mind about product directions. He no longer has anyone directly reporting to him, although he is still involved in strategic decisions."
Dorsey had taken a larger role in the social communications company after its other founders, Evan Williams and Biz Stone, were, well, kind of sidelined several years ago. Dorsey, in turn, had been frozen out of the San Francisco company by them previous to that.
Got it? Well, according to Dorsey, this is not so much a geek version of "Dynasty" as business as usual.
"We haven't talked about this publicly because it's not what people using Twitter every day care about," he noted, explaining he was brought in to help for a spell and now is back to focusing on his other company, the white-hot payments start-up Square, where he is CEO. Dorsey remains Twitter's chairman too.
It's a lot of inside baseball, of course, but still interesting.
Here's Dorsey's full post:
There was a great profile in the New York Times about Twitter's CEO, Dick Costolo, which mentioned my work at the company. It's not a common arrangement, so I'd like to clarify a few points.

In Spring of 2011, Dick asked me to take an operational role overseeing product, design, and brand. Our shared goal was to get those organizations back under him as soon as possible, simply because it was the right thing to do for the company. We moved all of my reports back under him in January of this year after leadership was firmly in place. This allowed me to focus on refining our brand and logo, to work more with Dick and the leadership team on our direction forward, and ultimately return the majority of my time to Square, where I'm CEO. I'm back to going to Twitter on Tuesday afternoons, something I started before taking the interim operational role.

We haven't talked about this publicly because it's not what people using Twitter every day care about.

I'm fortunate in life to be a part of two foundational and mission-driven organizations, and I'm always going fight like hell to make them thrive. And they are! Now back to our work.
Via: All Things D