Reuse. Reduce. Recycle. We all come across this phrase almost once a day, but how many of us actually give it a thought? Global warming, deforestation – our Earth is at the verge of ending. In these times of distress, an initiative like Flip4Green is a breath of fresh air indeed!
So, what is Flip4Green? Flip4Green is a CSR initiative by Investment Advisory firm Certes Realty Ltd., smartly executed by the creative agency nailbites, to turn stacks of unused one-sided sheets into ready-to-use perfectly bound notebooks, so that everyone can use them to their maximum potential. Their vision is to re-use papers that have already been 'wasted'
 

More about Flip4Green
Flip4Green is an initiative that aims to maximize usage potential of A4 sized sheets in offices, thus resulting in fewer trees cut down. 'nailbites' came upon the idea in their own office where printers are used daily. They realized that rarely did they use a paper for printing on both sides, especially if they were of official use. This practice is indeed common across all corporate offices where papers are sent for recycling after printing only on one side, thereby undermining a single sheet's potential by 50%. What people didn't realize was that 'Recycling' is an expensive procedure in itself and it would be most-efficient if papers are used to their full potential before sending for recycling. Thus was found the motivation to act.
One of the major issues, though, was that these papers were not handy and prone to getting lost. Also, they looked rather unprofessional to work on. The team simply addressed all these by smartly making a 1-fold and converting the A4 sheets to an A5 size, before stapling to form a handy notebook which could be carried anywhere. They proposed this idea to one of their esteemed clients, Certes Realty Ltd., who recognized the potential in this and voila! Flip4Green was born!
Certes Realty Ltd. is an investment advisory firm that specializes in land, and specialized products created on owned land assets, and works as a knowledge & transaction advisory to real estate ventures. Mr. Ramesh Menon and Ajay Dabas are the faces behind the firm and have gone out of their way to make sure Flip4Green gets executed as an idea and initiative to its maximum potential.
'nailbites' is the creative agency behind the execution of the concept. The nailbites team, managed by Anamika Joshi and Tarun Jangid, handles the digital platform, the website, the design and content part needed to make it as impactful and convincing as possible for people to adopt. Each one of the members consider themselves as volunteers of the initiative and thus keep reaching out to people via on-ground activities and interaction on online medium.
Certes Realty Ltd. adopted this as their CSR Initiative and helped spread it across to various sectors through their channels. They invited companies to donate paper, which were then duly converted into notebooks and sent back. The idea behind Flip4Green is fairly simple. The problem was that these 'waste papers' were still unprofessional for a lot of sectors. The team decided that a unique cover for the notebooks would give them a professional look, as well as create interest among the users. So they customized the cover by using the logo of the companies who wanted to become a part of it and sent it back free of cost.
 The entire process

As paper-conservation is pretty high on the list of corporates, but not a priority, the team decided to make this a free service for everyone. Anyone who wishes to become a part can contact them through their website or by dropping a mail. Once the intent is confirmed, they send their pickup executives to bring the papers.
The actual work of collating paper and making notebooks is performed internally. After the notebooks are ready, the finishing touches are given through customized covers before being sent back. As of now, the pickup and drop off service is only available in Delhi NCR but they also have a few participating firms from other cities that have been generous enough to pick up the tab for couriering, to become a part of F4G.
Right now, Flip4Green team is in dire need of more personnel to perform the duties associated with this initiative. Collecting papers, cutting, arrangement, stapling, adding customized covers and sending them back to organizations, requires a number of people. Certes Realty Ltd. is also trying to get differently abled women to perform these simple tasks in different cities so as to generate job opportunities for them.
 The journey so far
The initiative was launched in June 2013. Since then, about 19 organizations have joined them and many have invited the Flip4Green team multiple times to collect one-sided sheets. The usage of F4G notebooks in these organizations has been beyond expectations.
Throughout their amazing experience, the entire team has been able to connect with a number of highly respected companies and institutions, including PHD Chamber of Commerce. They feel that even though they have collected lacs of sheets and created thousands of notebooks, the only statistic that counts is '17'. According to their calculations, they have been able to save 17 full grown trees from being cut down. That is something worthy of being called an 'accomplishment' indeed!
 The marketing techniques involved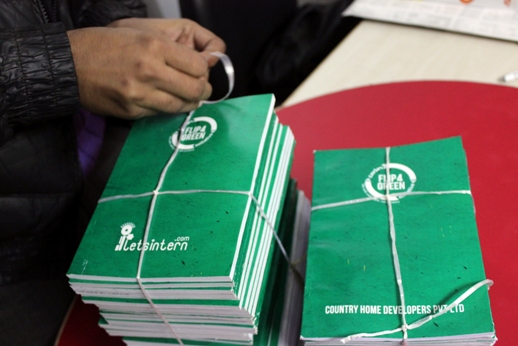 Since the idea was started with decent expectations and a modest budget, the team did not employ a lot of marketing techniques for it. But as it progressed and started making an impact, they catalyzed it with a full-fledged website where one could get all information related to the initiative as well as contact them for any kind assistance. Leveraging the social media, they covered all major platforms to interact with people and spread the cause to a considerable extent. Writing Blogs and creating effective infographics helped the team in familiarizing people to the inside story of the initiative and sharing data on saving paper from a global perspective.
Over the course of time they powered the F4G initiative with stamps, badges and customized Flip4Green stickers, which were distributed to people, asking them to paste it over their printers and laptops to keep reminding them of the core idea. The adopting company, Certes Realty Ltd., uses the stamp to spread the message through every outward communication it makes via envelopes and letterheads. They have also created an invitation template which anyone can download from their website and send to their friends and colleagues inviting them to be a part of the initiative. But, the F4G team thinks more than individuals taking this idea forward, it was organizational support that worked in their favour.
Taking a leaf out of Guerilla Marketing techniques, they leveraged from Valentine's Day where they interacted with morning joggers in a posh South Delhi park to spread the message "Have a crush with them, instead of crushing them." The video of that activity was well appreciated by participants and fans on their FB page. The team also relies on word-of-mouth and recommendations to operate.
The first company to adopt Flip4Green was Certes Realty Ltd., which in turn encouraged and proposed it to their partners and peers in the realty industry to adopt. The initiative has snowballed since, and can boast of a healthy number of participating companies from various industries. Certes Realty Ltd. also got their clients on board and they are glad that each one of them was more than happy to be a part of it.
The challenges involved and Closing Words
One of the biggest challenges faced by the team was the misconception of participants at the start that they might incur some hidden costs which would be revealed later. The team has worked hard to make it explicit that the participants incur no costs for adopting F4G. They have incorporated the same in the tagline as such – "We seek used paper, not currency."
One thing that has worked for them is the 'Belief' in their idea. When they came up with this initiative, they did not intend for it to take over the world swiftly; all they wanted was just to make a difference. For that, one needs a big heart, no matter how small a budget. 'Belief' in one's idea is over and above everything else.
Here is a beautiful video that captures Flip4Green's journey so far!
If you wish to contact the team, please write to them at: share AT flip4green.in