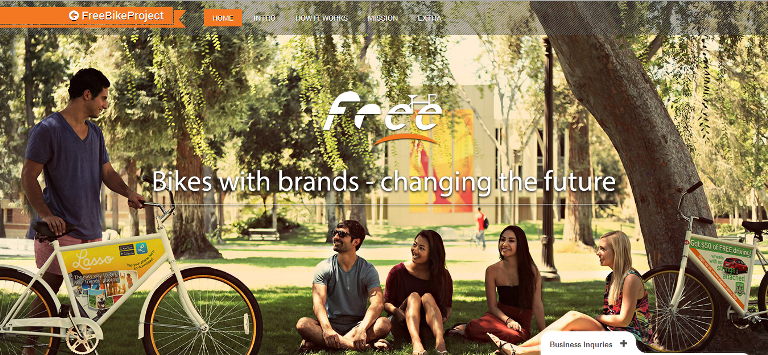 While Kim Sanderhoff and Johan Bender were exchange students at Univeristy of Southern California, they noticed that a lot of students used bikes on US campuses and thought about the idea of using specially designed bikes as a new and sleek form of advertising, and FreeBike Project was born.
The vision behind FreeBike Project is creating a win-win relationship between students, advertisers and charities. Today advertisers spend millions of dollars reaching the 18-24 year old demographic, and sadly most of the campaigns are similar, not cost effective and does not contribute to be a meaningful part of the student community.
A FreeBike is like using your own bike. The student will have full access to the bike and can ride around as they please. Using the bike is free of charge as long as the bike is eventually returned. As part of the agreement between the student and the advertiser, the student uploads fun photos on their social media posing with the bikes. This spreads the word of the advertiser's message and that they support free means of transportation. Finally part of the advertising revenue from the campaigns are used to recycle old bicycles and send them overseas to developing communities.
The core team of FreeBike Project consists on four previous USC students 2 from America and 2 from Denmark: Scott Ferreira who is the CEO, Lloyd Jones who is head of Finance, Kim Sanderhoff who is the COO and Johan Bender who is leading Sales and Business Development.
Per February 2013, FreeBike Project has launched in LA, Phoenix, SF, Seattle, Chicago, Boston and DC, and covers the following campuses – University of Southern California, UCLA, ASU, Stanford, Berkeley, UW, Northwestern, DePaul, Harvard, MIT, Boston University, Boston College, George Washington University, Georgetown University and Howard University, just to name a few.
FreeBike Project is a bootstrapped company and the revenue model is solely based on advertisers. On asking about the experience with Companies to get on board with FreeBike Project, Johan responds, " Campuses are vibrant communities with thousands of students. For companies, it's very valuable to become an integrated part of the environment and gain exposure for their message in a new and more agreeable way. The benefits of advertising on bikes are that it's a mobile form of advertising moving where students go. For example, a bike can be parked in front of the dorm in the morning, the Business School in the afternoon, then by the food court, the gym, the café' and the dorm again at night."
Johan Bender and Kim Sanderhoff are part of this year's prestigious Draper University. "Draper University has so far been a fantastic learning experience. Through the course, both Kim Sanderhoff and I have gained valuable insights on the perspective of a VC and learned from incredible entrepreneurs like David Sacks (founder of Yammer) and Trip Hawkins (founder of EA)", says Johan.
While we spoke about the business model of FreeBike Project so far, we asked Johan to share with us the most memorable experience so far. In his own words, "While we were still in the early phase of developing the company it was announced that Arnold Schwarzenegger was getting his own Institute at the USC Price School of Public Policy. My business partner and I thought it would be fun to award Schwarzenegger with his very own FreeBike, so with the help of Photoshop (thanks Adobe) we morphed Arnold's face onto the school mascot 'Tommy Trojan' with the phrase "I will be back, so Fight On". While sneaking in to the award show we got insides on Arnold's travel plans and discovered where we could meet him alone. Long story short we got to talk with Arnold, who was rather surprised to see his face on his bike. Shortly after he laughed and agreed to take pictures with us and the bike. Unfortunately to this day the photos have not been released by USC, because we did not have permission to use Arnold on a bike. Regardless it was well worth the hassle for the sake of a fun memory."
We@TTP think that FreeBike Project is quite innovative and serves companies with much needed branding among the college crowd. The philanthropic aspect of the startup is endearing to note, we wish the startup very best!