The Tech Panda takes a look at recently launched gadgets & apps in the market.
Smartwatch: New GeN HearFit VS Smartwatch
Hearmo, a smart wearable and hearable lifestyle brand, introduces the New GeN HearFit VS Smartwatch.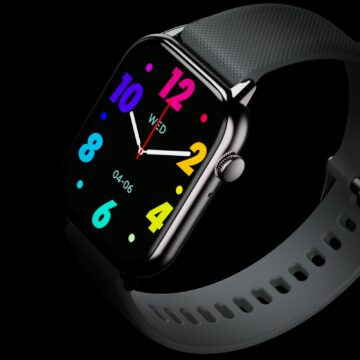 Mahendra D Jangir, Founder & CEO of Hearmo, said, "Our vision is to create happiness through innovation and affordability. We aim to empower individuals with premium technology that enhances their daily experiences. This smartwatch aligns with our commitment to delivering quality at accessible prices, improving the lives of our valued customers."
Features
8mm ultra-slim profile
With a 1.9″ bezel-less display featuring an 240×285 resolution and a PPI of 201
Bluetooth calling functionality
600-nit brightness and a sleek grey color option
Heart rate and blood pressure tracking, sleep analysis
Priced at INR 6,999/-, is now available on Amazon and in offline retail outlets across India at an exclusive launch offer price of INR 2499/-.
The box features 99.99% eco-friendly retail packaging, highlighting Hearmo's commitment to sustainability.
Robotics: An Unmanned Guided Vehicle (UGV) for the Armed Forces
In September, ARROBOT, a startup born of the partnership between Hyderabad based Raghu Vamsi Group, an aerospace and defence manufacturer, and PAR EAST, a platform for autonomous solutions for manufacturing and supply chains, developed an Unmanned Guided Vehicle (UGV) for the Armed Forces that helps them in in logistics, surveillance and reconnaissance in difficult terrain and environment.
Vamsi Vikas, Managing Director of Raghu Vamsi said, "At Raghu Vamsi, we have an unwavering commitment to deliver innovative technological solutions to our valued customers. It's indeed a proud moment that we stand among the select few companies in India that possess in-house expertise across all core manufacturing domains, enabling us to develop cutting-edge products in fields such as Missile Systems, Electro Optics, Jet Engines, Loitering Munitions, Drones, and more."
Features
It can carry up to 200 Kgs on top and tug up to 600 Kgs with 30-degree view.
It can do multiple other functions with additional attachments.
It helps the armed forces in in logistics, surveillance and reconnaissance in difficult terrain and environment.
Smartwatch: Amazfit Cheetah series
Amazfit, a smart wearable brand owned by Zepp Health, a health technology company, launched a dedicated running smartwatch, Amazfit Cheetah series to the Indian market.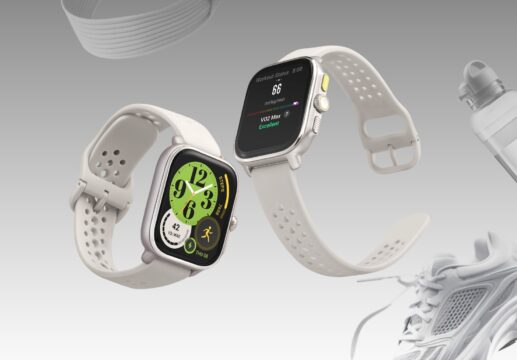 Robbie Wu, Sales Director, Amazfit APAC, stated, "As we introduce the Amazfit Cheetah series to the Indian market, we are heralding a new era in dedicated running smartwatches. Our vision goes beyond mere technology; it's about empowering runners of all levels to reach their full potential. Whether it's runners training rigorously for elite-level races or those seeking to enhance their performance while savoring every stride, with the Amazfit Cheetah series, we hope to provide the ultimate experience for every kind of runner. These smartwatches are not just about GPS precision, AI coaching, or stunning displays; they're about fostering a deeper connection between technology and human performance on the track. We believe in the limitless possibilities that technology can offer, and the Amazfit Cheetah series is a testament to that belief."
Features
Its lightweight construction, features a fiber-reinforced polymer middle frame
The crown and button enhances usability
It boasts a generous 1.39-inch HD AMOLED display
Resolution of 454×454 pixels and an impressive pixel density of 326 PPI
The display's brightness, reaching up to 1,000 nits, guarantees readability even in the brightest outdoor conditions
The Amazfit Cheetah Square offers a larger 1.75-inch HD AMOLED display, boasting a pixel density of 341 PPI.
MaxTrack™ GPS technology can pick up nearly 100% of satellite signals, reduces interference from environmental factors like tall buildings, trees, or cloudy skies
It supports six satellite systems
Users can import route files and access Offline Maps from the Zepp App
It introduces Zepp Coach™, an AI-powered running coach that creates customized training plans, adjusts plans week-by-week based on performance
In select countries and regions, users can try Zepp Coach™ AI Chat for a short demo, offering interactive Q&A
Connect to professional external workout devices like Heart Rate Belts and Power Meters via enhanced Bluetooth connectivity through Zepp OS 2.0.
Users can listen to music directly on the watch, eliminating the need for a smartphone
With music storage & playback, user can store up to 470 songs
User can sync run data with popular apps like Strava, Relive, and Adidas Running through the Zepp App and connect with smartphone apps like Google Fit and Apple Health
It supports over 150 sports modes, automatically recognizing activities like running, walking, cycling, swimming, and more.
Priced at INR 20,999/-.
It comes in Speedster Grey colour, round and square designs
Will be available in select offline stores of Helios and Just In Time, from September 24, 2023, onwards, priced at just INR 20,999/-.
Power bank: RUBICON Wireless Charging power bank
Bluei launched RUBICON Wireless Charging power bank in India.
Features
10000mAh battery capacity
Equipped with 30W Power Delivery (PD) fast charging
20W magnetic wireless charging feature
Featuring Type-C input and output ports that support both charging and discharging functions. This means the user can charge devices and the power bank itself with the same cable
Built-in mobile stand, turning power bank into a portable charging station
With two USB output ports, user can simultaneously charge multiple devices
Priced at INR 5,299
Smart TV: Hisense U7K, U6K & E7K
Hisense India unveiled its latest television models, the U7K, U6K and the E7K in India.
Pranab Mohanty, CEO of Hisense India, stated, "We are excited to introduce our latest television lineup in India. These TVs represent our unwavering commitment to providing cutting-edge technology and the best viewing experiences to our customers. With features like Mini LED, Quantum Dot color, and intelligent AI enhancements, we are confident that these TVs will redefine entertainment in Indian households. Hisense is dedicated to bringing the latest innovations at affordable prices, further solidifying our promise to the Indian market, with more exciting announcements planned ahead."
Features
Hisense U7K
Mini LED technology ensures brilliant visuals, while Quantum Dot color technology delivers an expansive and lifelike color spectrum. Multiple HDR format support, including HDR 10+, HDR 10, and HLG, guarantees contrast and clarity with Full Array Local Dimming Pro. Gamers will relish features like ALLM, e-ARC, and AMD FreeSync for a seamless and responsive gaming experience. Dolby Vision and Dolby Atmos provide immersive audio-visual excellence. The promise of IMAX* at Home" available only on 75-inch and 85-inch models, offers a cinematic experience from the comfort of your living room, powered by the Hi-View Engine for smooth performance and exceptional picture quality.
Hisense U6K
This QLED TV reproduces exceptional colors. Gamers will be delighted by the 120Hz HRR panel and Game Mode Plus, which includes ALLM and e-ARC support for seamless gaming immersion. The HI-view Engine keeps everything running smoothly, while Dolby Vision and Dolby Atmos deliver cinematic audio-visual excellence. With Google TV integration, the U6K provides easy access to content and smart functionality.
Hisense E7K
With Game Mode Plus boasting a 60Hz refresh rate, ALLM, and e-ARC, gamers can experience ultra-smooth gameplay. Enjoy cinematic brilliance with Dolby Vision and immerse yourself in audio excellence with Dolby Atmos. AI Picture technology ensures stunning visuals, while Quantum Dot color technology delivers a vibrant and lifelike color spectrum.
Microchip: PIC18-Q20 family of microcontrollers
With the step-function increase in data collected and transmitted from cloud-connected edge nodes, Improved Inter Integrated Circuit® (I3C®) is rapidly becoming a more sustainable solution for interfacing sensors with a high data rate and will help expand capabilities in next-generation devices. Leading the way in I3C integration, Microchip Technology (Nasdaq: MCHP) has released its PIC18-Q20 family of microcontrollers (MCUs), the industry's first low pin count MCUs with up to two I3C peripherals and Multi-Voltage I/O (MVIO).
"One of the main barriers to large-scale IoT adoption is the cost of implementing an edge node. With the PIC18-Q20 family of MCUs, Microchip is helping to break down that barrier," said Greg Robinson, corporate vice president of Microchip's 8-bit MCU business unit. "By introducing the industry's first low pin count MCU with I3C we are enabling flexible, cost-effective scaling of IoT applications and embracing the new standard communications interface."
The Why
As the market shifts to demand higher performance solutions with lower power and smaller size, I3C helps designers and software developers address these potentially challenging requirements. Compared to I2C, I3C offers higher communication rates and lower power consumption, all while maintaining backward compatibility with legacy systems.
The I3C and MVIO functionality, combined with Microchip's configurable Core Independent Peripherals (CIPs), allow for lower system costs, reduced design complexity and a reduction in board space by replacing external level shifters with on-chip multiple voltage domains.
Features
Available in 14- and 20- pin packages as small as 3 x 3 mm, the PIC18-Q20 MCUs are a compact solution for real-time control, touch sensing and connectivity applications.
The MCUs offer configurable peripherals, advanced communication interfaces and easy connection across multiple voltage domains without external components.
With I3C functionality, flexible peripherals and the ability to operate on three independent voltage domains, PIC18-Q20 MCUs are well suited to be used in conjunction with a primary MCU in a larger overall system.
This family of MCUs can perform tasks such as processing sensor data, handling low latency interrupts and system status reporting that the main MCU cannot perform as efficiently.
While the Central Processing Unit (CPU) runs at a different voltage domain, the I3C peripheral operates from 1.0 to 3.6V.
These low-power, small form factor MCUs can be used in a wide range of space-sensitive applications and markets including automotive, industrial control, computing, consumer, IoT and medical.
Audibles: GOVO GoSurround 750 Soundbar
With the World Cup season on the horizon, GOVO, introduced its latest creation: the GOVO GoSurround 750 Soundbar.
Varun Poddar, Founder of GOVO said, "As the world unites for the highly anticipated Cricket World Cup, we are excited to introduce the GOVO GoSurround 750 Soundbar, a fusion of innovation, state-of-the-art technology. Our unwavering goal has always been to enhance the audio journey. With the passion for cricket growing exponentially, we are committed to providing an exceptional experience that brings together cricket experts and tech enthusiasts alike."
Features
120 Watt Power: 4 x 2.25″ Explosive drivers with peak output of 120
2.1 Channel: powerful sub-woofer 5.25″ & DSP chipset
Bluetooth V5.3: Connect your device automatically upto 30 feet of seamless connectivity
Multiple Connectivity: The Home theatre effortlessly enables seamless connectivity with a wide range of devices, effortlessly AUX, USB, OPT and HDMI
Stylish Remote: 3 Equalizer modes of movie, news, music with bass and treble controls
Dual Passive Radiator: Pulsating bass experience with the new GoSurround system
Integrated Control: There are Integrated buttons to make the pairing and the music control easier
Wall Mountable: This audio system comes along with a wall mount kit and the step-by-step installation guide
Priced at Rs. 5,499/- at GOVO.in and xx at Amazon and retail stores across the country.
This product comes with a one-year warranty and is available in the colour Platinum Black.
Data storage: SST ESF3 third-generation embedded SuperFlash technology NVM solution
GlobalFoundries (Nasdaq: GFS) and Microchip Technology (Nasdaq: MCHP), via Microchip's Silicon Storage Technology subsidiary, released the production of the SST ESF3 third-generation embedded SuperFlash technology NVM solution in the GF 28SLPe foundry process. GF has established a new industry benchmark for implementing SST's widely deployed ESF3 SuperFlash technology.
"GF is proud to partner with SST to develop, qualify and release to production this impressive embedded NVM solution on our robust 28SLPe platform," said Mike Hogan, chief business unit officer at GF. "GF's customers are finding this combination of high performance, excellent reliability, IP availability and cost effectiveness to be ideal for advanced MCUs, complex smart cards and IoT chips for consumer and industrial products."
The Why
Use cases for embedded flash are exploding with the drive for increased intelligence at the edge. Embedded memory for secure code storage, over-the-air-updates and enhanced functionality is on the rise in a wide range of applications in home and industrial IoT as well as smart mobile devices. Innovative platforms are required to meet these needs.
Features
This implementation delivers the following capabilities and benefits:
Lowest cost 28-nm HKMG ESF3 solution with only 10 masks added, including true 5V IO CMOS devices
Highly competitive SST ESF3 bit cell size of less than 0.05 micron squared
Operating temperature rating of ?40°C to 125°C
Sub-25 nanosecond (ns) read access times, 10-microsecond program times and four millisecond erase times
Endurance exceeding 100,000 program/erase cycles
No impact to design flows using GF 28SLPe platform-qualified IP (EG flow)
Immediate availability of off-the-shelf macros from four megabits (Mb) to 32 Mb
Access to custom macro design support from SST or GF
Entertainment app: Toonsutra
Toonsutra launched a webtoon app that can be accessed and enjoyed by all Indian Android & iOS-users.
"Toonsutra plans to spark a new wave of pop-culture entertainment across India connecting millions and building the largest community of fandom across comics, webtoons, animation, genre and fiction," commented Sharad Devarajan, Co-Founder and CEO of Graphic India. "Just as we saw with the streaming video revolution, India's entertainment audience is excited to experience and experiment with a wide variety of the best content from across the world, and also groundbreaking local originals from homegrown creators. Comics and webtoons are the next big visual storytelling medium for the country and Toonsutra is bringing the highest quality comic stories by the greatest global creators to India's vernacular languages for the first time."
The Why
Webtoon platforms have become an explosive phenomenon across the world growing to US$4.7 billion in 2021 and projected to exceeded US$60 billion a year by 2030. Validating the timing and the potential this opportunity presents for the Indian webtoon market, Sony Innovation Fund recently became an investor in Toonsutra.
Features
Comic fans can consume global and local comic content and stories in Hindi, Tamil, Telegu and English languages in easy-to-read vertical scroll format optimized for mobile.
Content in Bengali, Marathi, Malayalam and Kannada will also be available soon.
Breaking the mold of traditional comic reading, it provides readers comics in bite-sized snackable episodes.
The app will offer episodes from different genres including fantasy, romance, mythology, superhero, sci-fi, action and more.
It'll include stories from icons Stan Lee, Grant Morrison, Ryan Pagelow, Shekhar Kapur, Jeevan J. Kang, Mounica Tata, Rohan Chakravarty, Alicia Souza.
The platform will promote emerging rising star creators from across India giving them a home to tell their stories.
Readers can earn coins, unlock rewards, and discover hidden bonus surprises and community features.
Readers can seamlessly enjoy their daily dose of entertainment without having to pinch, zoom or scale pages unlike other normal comic reader PDF apps.
In addition to free daily content, fans can purchase and binge on episodes for as low as INR 5.
The vast library available on Toonsutra includes exclusive content with numerous global partners, including Graphic India's leading Indian comic stories such as 18 Days, Devi, Shadow Tiger, Dragonfly, The Mighty Yeti and Chakra The Invincible; the epic comics based on Baahubali: The Lost Legends and more.
The vast Archie Comics' library that will be made available in vernacular languages for the first time, featuring stories about Archie, Betty, Veronica, Jughead and the gang from Riverdale.
Superhero lovers in India can enter the world of Valiant Comics and enjoy titles like X-O Manowar, Bloodshot, Harbinger, Ninjak.
Cinema lovers can experience the Liquid Comics library with original comics made by iconic filmmakers including Wes Craven's 'Coming of Rage'; Barry Sonnenfeld's 'Dinosaurs vs. Aliens'; Guy Ritchie's 'The Gamekeeper'; and John Woo's 'Seven Brothers' to name a few.
Manga fans can enjoy, stories from Kenaz, a leading South Korean-based studio that specializes in vertical manga series in popular categories such as love, romance, fantasy, and action with acclaimed titles such as Evil Hunter, Blood Type Love, The Distance between Us, The Scent of Love and more.
Toonsutra will highlight home-grown creators from India such as the inimitable Alicia Souza whose designs and comics have brought joy to millions; the amazing Mounica Tata who portrays life in India through an intelligent, satirical, and comic lens; and Rohan Chakravarty whose Green Humor comics highlight important environmental topics with hilarious wit; and new Indian creators being constantly added.
Godrej consumer electronics: Refrigerator, washing machine, ACs
Godrej Appliances launched the 670L premium 'Eon Velvet 4-door refrigerator', equipped with easy convertible modes and advanced controls; 400L+ frost-free refrigerators and high capacity 250L+ single-door refrigerators in the well-accepted 'Edge Marvel series'. Alongside 'Steam Wash' enabled top-load automatic washing machines and 'Front-load washing machines' with advanced features. Further introducing the 'Turbo Chill Air Conditioners' in 1.1 TR and 1.7 TR with wider indoor unit, I-sense and 5-in-1 convertible technology, Nano Coated Anti-Viral Filters; and the power saving 5.4 ISEER 'Super-Efficient ACs'. All this along with the new series of 'Edge SnowChill Air Coolers' and new '5-Star Deep Freezers' with upgraded aesthetics, there are plenty of choices for consumers to pick for their homes.
Kamal Nandi, Business Head and Executive Vice President of Godrej Appliances, part of Godrej & Boyce said, "For the festive season, our focus remains on delivering advanced home appliances with cutting-edge technology across categories. Currently, our premium mix is 35% and we want to take that up to 40% with our new offerings which are specially designed to meet specific consumer needs while being high on aesthetic appeal. Coupled with consumer schemes enabling easy upgrades, these new offerings are poised to drive substantial growth. At the back of a wide portfolio of over 350 SKUs and consumer offers, we are anticipating 30%-40% sales growth during this festive season over last year.
We understand that consumers look to buy lasting durables when they make a purchase for their homes in Diwali. Accordingly, our #AyushmannBhavaForever festive campaign promises them lasting joy through high-quality products that are known for their longevity, and now also come with extended warranty schemes and other lucrative consumer offers."