The Tech Panda takes a look at recently launched gadgets & apps in the market.
Lexar JumpDrive® F35 USB 3.0
Lexar, a global company in flash memory solutions, launched its JumpDrive® F35 USB 3.0, a fingerprint-enabled pendrive with up to 3000 MB/s sequential read performance, in the Indian market.
Features
Designed to store up to ten unique fingerprints
The advanced biometric technology system eliminates the need to be dependent on the traditional methods of setting passwords or PINs
Ultra fast recognition helps access drive in less than 1 second
Requires no software drivers, so user can simply plug in the drive and use the pre-installed application to set up a password and authenticate with fingerprint(s)
It has 256-bit AES encryption to ensure the highest level of data security and prevent any data loss or corruption
USB 3.0 support
Transfer speeds upto 300 MB/s
Up to 10 fingerprint IDs allowed
Ultra-fast recognition – less than 1 second
Easy set-up, no software driver needed
256-bit AES Encryption
Three-year limited warranty
It comes in various capacities, including 32GB, 64GB, with read speeds of up to 150MB/s or 300MB/s at the price of Rs. 4500, Rs. 6000, and is available at all the leading online and offline retailers.
Perfora Smart Sonic Toothbrush
Perfora, a digitally native oral care company, launched its inaugural Rechargeable Electric Toothbrush, aptly named the Smart Sonic Toothbrush.
Features
It boasts four distinct modes — clean, white, sensitive, and massage.
It has a battery life of 60 days with a battery life indicator and can be recharged with an induction charging base that comes with a USB cable.
It comes with 4 brush heads and 3 different types of bristles – activated charcoal bristles for people who prefer super soft bristles, spiral bristles for people with a preference of soft bristles, and blue-green bristles who like medium-soft bristles.
Priced at INR 2499
It offers a unique personalization option, allowing customers to engrave their name on the toothbrush via the brand's website
Smartwatch: URBAN Wave Three and URBAN Nova
URBAN, a technology brand, launched two exciting and new calling smart watches as part of their special festive season launch, URBAN Wave Three and URBAN Nova.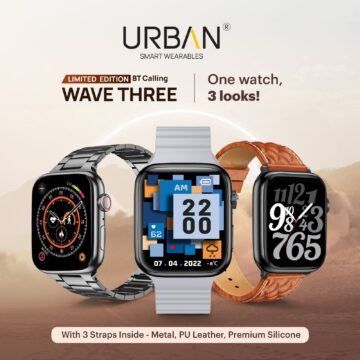 Aashish Kumbhat, Co-Founder of URBAN, expressed, "This festive season we continue with our endeavor to promote a better, healthy & fit lifestyle. With both our new launches URBAN Wave Three and URBAN Nova, we intend to offer products that can truly be a gift and help your loved ones achieve a lot more. Both our smart watches are a perfect blend of fashion, lifestyle & technology. We are confident you will have a great experience using it as we illuminate your world with innovation, style, and unmatched convenience."
Features
URBAN Wave Three
Design: Its matte black and titanium grey color options are not only stylish but also versatile. The watch's rotating crown function adds an elegant touch to its aesthetics. The Smart Watch comes with 3 different straps inside the pack. The Metal, PU Leather & Premium Silicone Strap prepares you for any look.
Display: It features a 1.91″ IPS Full HD Touch Screen Display.
Health Monitoring: With its capabilities for heart rate and blood pressure monitoring, it empowers users to keep a close watch on vital health metrics, promoting their fitness journey and overall well-being.
Connectivity and Communication: It offers seamless connectivity through its 5.1V Bluetooth calling feature, providing a range of up to 10 meters. With built-in speakers and a microphone, users can easily make and receive calls directly from their wrist.
Customization and Personalization: It arrives with three interchangeable straps. Additionally, the multiple watch faces enable users to personalize their watch's appearance.
Productivity and Fitness: It offers a split-screen function, simplifying multitasking by enabling users to check the weather, respond to messages, or monitor health statistics, all on one screen. Multiple sports modes cater to various fitness activities.
URBAN Nova
Design: It showcases a sleek and contemporary aesthetic with a premium metal casing. The smartwatch is available in a vibrant array of colors, including Fiery Orange, Steel Grey, Twilight Purple, Forest Green, Indigo Blue, Cobalt Blue, Sunshine Yellow, Starlight Beige and Jet Black.
Display: It features a 1.86″ Full HD Display that delivers sharp and vibrant visuals. Whether users are checking notifications, browsing watch faces, or tracking their fitness progress, the display ensures a clear and immersive user experience.
Health Monitoring: It offers comprehensive features, including heart rate and blood pressure monitoring. Additionally, it tracks the wearer's daily step count.
Connectivity and Communication: It's equipped with Bluetooth calling functionality. The built-in speaker and microphone ensure clear and convenient communication.
Customization and Personalization: With multiple watch faces available to choose from, users can customize the smartwatch's appearance. The trendy designer 9 colors straps provide the flexibility to personalize it.
Productivity and Fitness: It offers features such as a rotating crown function and AI Voice Assistant. Whether users are managing their schedules or setting reminders, it assists in staying organized. For fitness enthusiasts, it offers a variety of fitness modes.
PIC32CZ CA 32-bit microcontrollers
To allow designers to easily integrate security into their applications, Microchip Technology (Nasdaq: MCHP) launched a new family of PIC32CZ CA 32-bit microcontrollers with a 300 MHz Arm Cortex-M7 processor, an integrated Hardware Security Module (HSM), and a wide range of connectivity and Flash memory options for added flexibility.
"The PIC32CZ CA microcontrollers make it easier for our customers to implement embedded security features into their design," said Rod Drake, corporate vice president of Microchip's MCU32 business unit. "These are extremely versatile MCUs with the option of factory provisioning at low-volume production and other customizable configurations such as connectivity and memory to fit many different requirements."
The Why
Industrial and consumer application designers must consider implementing security functionality in their devices during the development process as security threats evolve and become more sophisticated.
Features
The new family of PIC32CZ CA devices includes the PIC32CZ CA90 with a HSM or the PIC32CZ CA80 without the integrated HSM. The HSM in the PIC32CZ CA90 is a monolithic solution that provides advanced security for industrial and consumer applications. The HSM operates as a secure subsystem with a separate MCU on board that runs the firmware and security features including hardware secure boot, key storage, cryptographic acceleration, true random number generator and more.
For products that require added security, factory provisioning is available on the PIC32CZ CA90 which, upon completion, provides customers with pre-provisioned devices ready to be deployed.
The PIC32CZ CA MCUs can be configured using a wide range of connectivity options including USART/UART, I 2 C, SPI, CAN FD, High-Speed USB and Gigabit Ethernet. The Ethernet option includes Audio Video Bridging (AVB) and Precision Time Protocol (PTP) based on the IEEE 1588 standard.
These devices are scalable with 2, 4 or 8 MB of on-board Flash, 1 MB of SRAM and Error Correction Code (ECC) memory to mitigate data corruption.
Zebronics Pro Series Y and Pro Series Z laptops
Zebronics, an IT Peripherals company launched five laptop models under Pro Series Y and Pro Series Z. With Pro Series Z, Zebronics proudly becomes the 1st Indian brand to launch laptops with Dolby Atmos for an immersive sound experience.
Zeronics Director – Yash Doshi said: "With 26 years of excellence in the realm of IT Peripherals, the decision to venture into the laptop market was a natural progression for us. Laptops have transformed from mere tech gadgets into versatile fashion statements. Our Pro Series Z, featuring Intel processors and Dolby Atmos, exemplifies our commitment of making top-tier technology available for masses. Moving forward, we shall be focusing towards laptops for content creators, gamers etc. that shall proudly be labeled 'Made in India' contributing to domestic manufacturing and ensuring that we remain 'Always Ahead' in the tech landscape."
Features
With Dolby Atmos on the Zebronics Pro Series Z laptops
These laptops are powered by fast and efficient Intel processors.
Running windows 11 operating system, offering up to 16GB of RAM and a storage capacity up to 1TB SSD for seamless performance and ample storage.
The Pro Series Z laptops feature a robust metal body enclosure that exudes sophistication. The 39.6cm (15.6) display delivers vivid visuals in full high-definition (FHD) at 1080p resolution.
Connectivity options abound, including Type-C ports, Wi-Fi, BT 5.0, HDMI, Micro-SD, and a 3.5mm headphone jack.
These laptops are equipped with a large battery for uninterrupted productivity on the go and come with a Type C adapter.
Typing is a pleasure, thanks to the spacious keyboard and smooth keystrokes, complemented by a generously sized and finely textured track pad that provides a tactile feel to the user.
Available in a captivating array of colors including Silver, Space Grey, Glacier Blue, Midnight Blue, and Sage Green.
4K UHD laser home cinema projector
Optoma, a projector brand launched its dynamic true 4K UHD laser home cinema projector UHZ50+ in black colour.
Vijay Sharma, Country Head-India, Optoma Corporation said, "We are thrilled to launch UHZ50+ the new version of the popular UHZ series. We decided to launch the projector at the What Hi-Fi Show 2023 because this is a perfect platform to unveil innovative products for tech enthusiasts. UHZ50+ is the new addition to our existing home cinema portfolio and with this projector, we aim to deliver astonishing content with high contrast, perfect colour combination to our customers".
Features
Featuring HDR capability, rich blacks, multiple smart features to support today's streaming and gaming requirements. The projector comes with a long-lasting Laser engine with life span of up to 30,000 hours; IP6X certified optical design.
With DuraCore Laser technology, UHZ50+ is able to deliver longer-lasting and excellent performance at true 4K UHD resolution with high brightness at 3,000 lumens and 2,700,000:1 contrast.
UHZ50+ also comes with the upgraded Smart Home features including Optoma Marketplace, File Manager, Creative Cast, and connectivity with voice assistants, offering the comprehensive home entertainment experience.
The Smart projector comes with a Google & Netflix certified Android TV dongle from Hako mini.
The projector is capable to reproduce 125% Rec 709 colours, PureMotion MEMC delivers judder free motion videos. With the ability to implement 4-corner adjustment, 2D keystone correction, vertical lens shift, powered 1.3x zoom, and warping at 3*3 matrix, UHZ50 is also perfectly easy to install in any room at home, or to create a simulation scenario.
HearFit Armor smartwatch
Hearmo, a smart wearable and hearable lifestyle brand, launched its latest offering, the HearFit Armor smartwatch.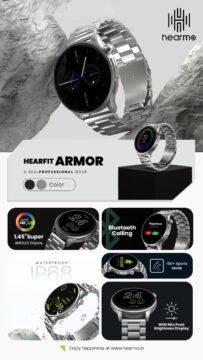 Mahendra D Jangir, Founder & CEO of Hearmo, said, "At Hearmo, our vision is to redefine the future of wearable technology by providing premium quality products that seamlessly blend sophistication and innovation. We believe that everyone should have access to cutting-edge tech products that enhance their lives without breaking the bank. The HearFit Armor embodies this commitment, offering a stunning array of features at an affordable price."
Features
Its sleek and stylish design, complemented by a durable Zinc Alloy Body, transforms it into the ideal accessory for any occasion.
Behold the 1.45-inch 3D Curved Super AMOLED Display of the HearFit Armor, showcasing the best-in-industry quality with an impressive 1000 nits of brightness and a sharp 466×466 resolution.
With Bluetooth 5.2, stay seamlessly connected at all times. Whether you're making calls, receiving notifications, or syncing data with your smartphone, it ensures effortless connectivity.
Offering over 100 sports modes, it caters to fitness enthusiasts. Its robust 300mAh battery and IP68 Waterproof rating ensure durability and reliability.
Equipped with Heart Rate Monitoring, Blood Pressure Tracking, SpO2 Monitoring, Sleep Tracking, and specialized Female Health features, it empowers you to take control of your well-being.
Priced at INR 9,999/-, it's available on Amazon and in offline retail outlets across India at an exclusive launch offer price of INR 4,999/-.
The smartwatch comes in both Black and Silver variants, with Stainless Steel Strap and Silicon Strap options.
Crossbeats Nexus
Crossbeats, a brand in smartwatches and wireless audio technology, launched the Crossbeats Nexus, India's first smartwatch featuring full integration of ChatGPT technology. Currently, the product is available for pre-booking at a price of INR 999, a part of the watch price, which will be adjusted during the purchase of the watch. Patrons who will be pre-booking the watch will also get some exciting discounts at the time of the purchase. The product is set to be launched during Diwali, and customers will be able to purchase it at that time.
Archit Agarwal, Co-Founder of Crossbeats, shared his excitement about the Nexus Smartwatch, stating, "We're embarking on an exciting journey into innovative, purpose-driven solutions with the launch of Crossbeat Nexus. We are also looking forward to making substantial investments in state-of-the-art manufacturing facilities, incorporating cutting-edge technology. These advancements will empower us to manufacture consumer technology products of exceptional quality, aligning with the most stringent global standards."
Features
It is available in two stunning colors – Silver and Black and is priced at INR 5999.
2.1-inch full-touch AMOLED display packed with innovative features like GPS Dynamic Route tracking, Dynamic Island, and an Ebook Reader.
Lavna LA-16 smart lock
Lavna has unveiled its state-of-the-art Smart Lock, featuring a 6-way access system and a host of additional security enhancements, aimed at revolutionizing the home security experience.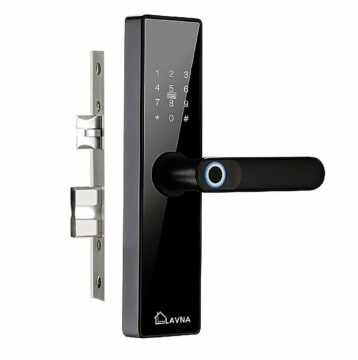 Features
The advanced lock boasts a 360° fingerprint sensor that unlocks the door in a mere 0.4 seconds, offering unparalleled speed and convenience. One can register up to 100 fingerprints, making it perfect for a large household or small business.
For seamless control and management of the lock, it offers a Bluetooth Mobile App that allows the lock to operate entirely through the smartphone.
The lock also provides the option of RFID card access. One can register up to 50 specially designed RFID cards.
Understanding the importance of PIN access, it's equipped with a touch keypad that can store up to 50 unique PIN codes.
One can rely on OTP (One-Time Password) access, if not present at home. This feature allows sending temporary codes to individuals who need access, providing flexibility and security even when away.
In the event of technological hiccups or emergencies, Smart Lock includes a manual key access system. This computerized mechanical key serves as a fail-safe method for unlocking the door.
It features a unique Spy Code function. One can enter random numbers before or after the original PIN in the presence of strangers.
For occasions when want to grant immediate access to a group of people, the Public Mode feature simplifies the process. One can unlock the door at once, providing access to multiple individuals simultaneously.
With its robust data synchronization feature, one can easily share this visitor data with the mobile phone.
Any regular carpenter can easily install the lock with the assistance of the customer care team, available for support through video calls and online assistance.
AT55 Inch Video Wall
AET, a fine pitch LED display company, unveiled its latest innovation, the AT55 Inch Video Wall, at Infocomm 2023.
"At AET, our unwavering commitment to innovation drives us to bridge the gap between consumer demands and existing technology. The introduction of the AT55" exemplifies this dedication, as its distinctive features distinguish it from market competitors. As we venture deep into the Indian market, we are excited about the significant growth potential driven by increasing digitization. We aim to be at the forefront of this transformative journey, offering cutting-edge solutions to support businesses in the evolving landscape. India's rapidly expanding display market aligns perfectly with our mission to deliver technology that meets the dynamic needs of businesses and consumers" Su Piow Ko, Vice President, AET Display Ltd.
Features
A schematic for standard 2K resolution splicing
A 170° ultra-wide viewing angle
IP65 front panel protection
HDMI connection and multi-system compatibility
The dimensions of the AT55" Series measure 1209.6 x 680.4 x 28.4mm, with a weight of 18.5 kg per cabinet.
It provides a pixel density of 629,882 pixels per square meter and a frame rate ranging from 30 to 120 Hz
Its ultra-high refresh rate exceeds 3840 Hz
It boasts an IP5X rating.
Specifically designed for indoor settings and offers versatile installation methods.
These displays are perfect for control rooms that require prolonged viewing periods.
Leveraging AET's cutting-edge QCOB Technology and achieving a high grayscale of up to 16 bits, the AT series excels in low-light environments.
It comes in standard inch cabinet sizes, allowing operators to efficiently and easily replace and upgrade traditional LCD displays.