The Tech Panda takes a look at recently launched gadgets & apps in the market.
Earphones: GOVO GoBuds 945 True Wireless Earbuds
GOVO, a new challenger in the audio technology industry, is elated to announce the highly anticipated launch of their latest masterpiece, the GOVO GoBuds 945 True Wireless Earbuds.
Piyush Jalan, Co-Founder and COO, GOVO said, "Launching the all-new GOVO GoBuds 945 True Wireless Earbuds marks a significant milestone for us. With a relentless focus on innovation and customer satisfaction, we have created a product that redefines the audio experience. The exceptional design, advanced sound quality, and remarkable bass performance of the earbuds provide users with an immersive listening journey. We are excited to bring this cutting-edge technology to our customers, enhancing their audio enjoyment like never before."
The Why
The global earbuds market is poised for significant growth, with an estimated worth of USD 9,520 million in 2022, projected to reach USD 16,860 million by 2029. This impressive market expansion is driven by the increasing demand for earbuds, fuelled by notable advancements, innovations, and convenience. Setting a new benchmark in the industry, the GOVO GoBuds 945 True Wireless Earbuds redefine the audio experience, delivering exceptional design, advanced sound quality, and remarkable bass performance.
Features
Rich Bass: The earbuds boast dynamic 12mm drivers that deliver deep bass and true audio, providing an immersive and rich sound experience
52 hours battery: With an impressive battery life of up to 52 hours, powered by a 400mAh battery capacity and supported by Type-C input, it ensures uninterrupted music playback for extended periods
Quad Mic ENC: Equipped with 4 Mic Environmental Noise Cancellation (ENC), the earbuds ensure crystal clear call quality by effectively reducing background noise and enhancing voice clarity
Elegant Design: With the Chrome X technology finish, the earbuds features a premium design, combining style and durability to enhance your listening experience with a touch of elegance
Bluetooth V5.3: With the latest Bluetooth version of V5.3, the earbuds offers up to 30 feet of seamless connectivity
Gaming Mode: With less than 60ms latency, the earbuds provide a lag-free experience, allowing users to fully immerse themselves in their favourite mobile games and enjoy a uninterrupted gaming session without any delays
Voice Assistant: With a simple touch, the earbuds allows to effortlessly access and utilize your Google or Siri voice assistant
Super Touch Control: With the touch control feature on it, users can conveniently interact with their earbuds, allowing them to seamlessly navigate through music tracks, adjust volume and answer calls
Fast Charge: The earbuds provide a fast charge feature, allowing you to enjoy uninterrupted music for extended periods without the need for a lengthy charging session
It is priced at Rs. 4,999/- and can also be easily purchased from Amazon at an introductory limited-time price of just Rs 1,199/- . This product comes with a one-year warranty and is available in the colours Dark Knight and Artic Silver.
TV: Laser TV 120L9HE and Tornado QLED E7K Pro
Hisense India, a consumer electronics and home appliances company, launched a range of four new exceptional televisions. This range includes the Laser TV, the E7K Pro. These televisions, along with the Tornado 3.0, A7K, and A6K models, offer an extraordinary "Unwrap Surprise Upgrade Life" experience.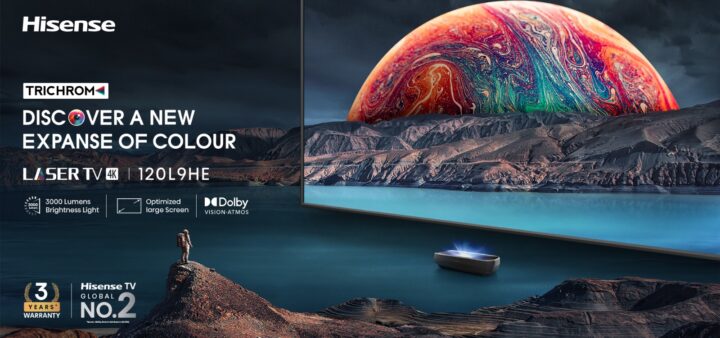 Pranab Mohanty, CEO of Hisense India, stated, "At Hisense, there is a great emphasis on understanding the core of consumer insights, and our studies have identified a shift towards home entertainment in Indian families, with advanced technology, theater-like big screens, high bass with quality sound, and increased family time with home entertainment solutions. These insights have excited us to design products with cutting-edge technology, superior quality, and immersive entertainment for tech-savvy consumers. Our flagship products, Laser TV, along with E7K Pro, A7K, and A6K, are designed to deliver these needs and create an unparalleled viewing experience that brings the magic of exceptional entertainment right into the heart of their homes."
The 120" Laser TV 120L9HE and Tornado QLED E7K Pro are being launched exclusively on Amazon on Prime Day Sale, while Tornado 3.0 A7K will be available exclusively on Flipkart starting from July 15th. Additionally, the A6K model will be available in all leading E-commerce and retail stores.
Features
The flagship 120″ Laser TV, the 120L9HE from Hisense, offers a truly immersive home entertainment experience. With its 120″ Massive ALR screen and features like Dolby Vision, Dolby Atmos, Film Maker Mode, and 40W powerful front-firing speakers, this TV takes sound immersion to a whole new level, providing a cinema-level blockbuster audio-video experience right in the living room. Additionally, the Trichroma Laser technology provides a 107% BT.2020 Super Wide Color Gamut for a richer color experience.
The TV incorporates eye protection technology with TUV-certified blue light technology, ensuring a safe and comfortable viewing experience for extended periods. Its unique design and outstanding construction aesthetics make it a true centerpiece of any room, adding elegance to the entertainment setup.
Furthermore, the Laser TV boasts over 1900+ applied patents, showcasing Hisense's commitment to innovation and advanced technologies. With MEMC technology and 4K UHD picture quality, it delivers a breathtaking 120-inch big-screen experience, providing stunning visuals with 3000 ANSI Lumens brightness. The anti-glare technology integrated into the ALR Screen blocks 85% of glare, enhancing the viewing experience even in brightly lit environments. Get ready to immerse yourself in a whole new world of entertainment with the Laser TV from Hisense.
The Tornado QLED E7K Pro is the ultimate gaming TV designed to take gaming experiences to new heights. Its 240Hz HRR Panel ensures smooth gameplay, while Quantum Dot Colors provide over a billion shades of vivid color, immersing players in stunning visuals. The TV features HDMI 2.1 support, Game Mode Pro, AMD FreeSync Premium, VRR, ALLM, and a powerful built-in woofer, offering a superior gaming and TV viewing experience. Additionally, the E7K Pro supports Dolby Vision IQ and Dolby Vision-Atmos, delivering immersive sound and a captivating viewing experience. With MEMC technology and AI Sports Mode, the E7K Pro provides an unrivaled entertainment package that caters to both gamers and entertainment enthusiasts alike.
The A7K, with its 120Hz HRR panel, offers an extraordinary visual experience accompanied by JBL sound, a 61W Built-In Woofer, Dolby Vision, and Dolby Atmos technology. Its precision color reproduction delivers unparalleled picture quality, while the AI Adaptive Depth and Pixel Tuning technologies further enhance the visual experience. With Game Mode Plus, AI Picture, Adaptive Light Sensor, and AI Sports Mode, the A7K TV proves to be a true entertainment powerhouse. Additionally, it features VIDAA Smart OS, an ultra-slim bezel-less design, and compatibility with various smart home platforms such as Google Home, Apple AirPlay, Apple Home, and Alexa Built-In.
A6K, powered by Google TV, brings 4K quality visuals and AI Adaptive Depth technology for an enhanced viewing experience. It supports all HDR formats, including Dolby Vision and HDR10+, ensuring stunning image quality and vibrant colors. With features like Game Mode Plus – ALLM, VRR, and eARC, the A6K delivers exceptional gaming experiences with low latency and smooth visuals. Additionally, it offers multiple voice control options, such as Far Field Voice Control, including Alexa built-in, and VIDAA Voice.
TV: Westinghouse 32-inch HD Ready, 43-inch & 40-inch FHD of the W2 Series, 50-inch & 55-inch 4K GTV of the Quantum Series
Westinghouse is set to unveil its latest addition to the television market, the 32-inch HD Ready, 43-inch & 40-inch FHD of the W2 Series, 50-inch & 55-inch 4K GTV of the Quantum Series, in collaboration with leading online retailer Amazon. The all-new series available on Amazon will start at an attractive price of Rs 10,499/-.
James Lewis, COO of Westinghouse Electric Corporation said, "We are incredibly excited about the expansion of TVs in the Indian market. As a renowned brand with a powerful history, Westinghouse is poised to deliver exceptional television experiences to Indian consumers."
Pallavi Singh Marwah, VP of Super Plastronics Pvt. Ltd said, "We are thrilled to announce the unveiling of our incredible selection of five brand-new Westinghouse TV models, which include Google TVs and Android TVs. This remarkable lineup is the result of our collaboration with Amazon, and we couldn't be more excited to showcase these cutting-edge televisions."
"We are thrilled to be introducing our five exclusive TVs which is a truly unique masterpiece that will captivate design enthusiasts and elevate any interior, we are prepared to be market disruptors with this stunning addition to our lineup. With their sleek and stylish designs, outstanding performance, and advanced features such as Android operating systems, stunning visuals, and enhanced sound quality, these TVs are poised to redefine the way we enjoy home entertainment. We are thrilled to offer our valued customers an unmatched TV viewing experience through our latest offerings."she added.
Features
The all-new Westinghouse 32, 40, 43-inch HD Android TV with Realtek, starting at Rs 10,499/-, Rs 16,999/-, Rs 17,999/- respectively, delivers a powerful audio experience with its advanced speaker technology. These models feature 2 36W Box Speakers that provide rich and immersive sound. With surround sound technology, viewers will feel fully immersed in their favorite movies and shows. These models are also equipped with 1 GB RAM and 8GB ROM, ensuring smooth performance and ample storage for apps and content. The bezel-less design and Android 11 operating system enhance the overall user experience. Additionally, the TVs come with 3 HDMI and 2 USB ports, allowing seamless connectivity with laptops, mobile devices, and PCs. Accessing popular streaming platforms such as Amazon Video, Zee5, Sony LIV, and Voot is made effortless with dedicated shortcut keys on the YouTube remote.
For those seeking a larger display and enhanced features, Westinghouse offers the 50 and 55-inch Google TV models, priced at Rs 27,999/- & 32,999/- respectively. These TVs come with 2GB RAM and 16 GB ROM, providing ample processing power and storage capacity. Powered by an MT9062 processor, these models deliver smooth and lag-free performance. The 4K display with HDR 10+ ensures stunning visuals with vibrant colors and remarkable clarity. The highlight of these models is their exceptional sound system. Equipped with 2 48W Dolby Audio Stereo Box Speakers featuring DTS TruSurround Technology, viewers can enjoy an immersive audio experience that truly complements the visuals. The TVs also boast a bezel-less and air-slim design, Bluetooth and Wi-Fi connectivity, a voice-enabled remote, and 3 HDMI & 2 USB ports for seamless connectivity with various devices.
Cybersecurity: DeCYFIR alert app
Cyfirma, an external threat landscape management (ETLM) company launched the DeCYFIR alert app as a further enhancement to the core platform to provide real-time notification on the latest threats and actionable insights on attack surfaces, digital risk and vulnerabilities, straight to the user's mobile phone.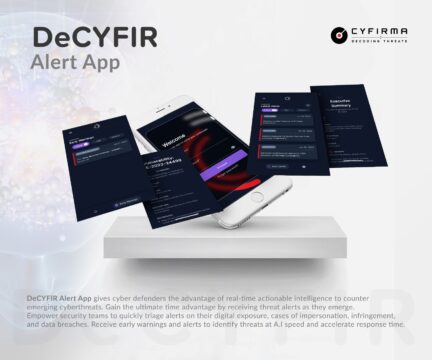 Kumar Ritesh, Founder and CEO, CYFIRMA says, "In today's rapidly evolving landscape, the significance of harnessing cyber intelligence and gaining external threat visibility cannot be overstated. Monitoring cyberattack campaigns in their nascent stages and understanding the potential impact of an attack is pivotal to implementing an effective defense strategy. In the face of relentless cyber threats, the speed at which accurate and actionable intelligence arrives often determines an organization's success in fending off these attacks. To give the advantage of time, we want to put the DeCYFIR Alert App in the hands of all our customers so that they can mitigate threats before any damage is done."
Features
With the AI-powered DeCYFIR alert app, early warnings are automatically sent and prioritized by time and criticality.
The App Dashboard is customizable so users can filter alerts that matter the most based on criticality and alert type.
It's available for iOS and Android thus providing security teams easy access to critical intelligence on the go.
It provides users with easy and convenient access to cyber-intelligence alerts wherever they are.
Users can receive notifications on their smartphones enabling them to stay informed even when they are away from their desktop computers. This accessibility ensures that critical intelligence is not missed.
EV: EV two-wheeler Amery
e-Sprinto, an Indian electric two-wheeler brand has unveiled its EV two-wheeler Amery, the second high-speed electric scooter to join the brand's illustrious lineup. The model with its impressive range of 140 kilometres on a single charge and segment-best features including Remote Control Lock, Anti-theft alarm, Mobile charging socket, Find my vehicle and more, is targeted towards unisex urban riders aged 20 to 35.
Atul Gupta Co-Founder & Director– e-Sprinto said "We are elated to introduce Amery, our latest addition to the e-Sprinto family, to our customers and the electric scooter market. Amery is a testament to our unwavering commitment to redefining the boundaries of innovation and providing a thrilling yet eco-conscious means of urban transportation. Its impressive speed, state-of-the-art features, and captivating aesthetics combine to create an unparalleled riding experience. With Amery, we are not simply launching another electric scooter; we are introducing a new paradigm of urban mobility."
Features
Standing tall with an exceptional ground clearance of 200mm and a kerb weight of 98 Kg, Amery promises a thrilling ride that seamlessly blends comfort and speed.
The 1500W BLDC Hub Motor delivers peak power of 2500W, propelling the scooter to go from 0 to 40 kilometers per hour in just 6 seconds, while reaching the top speed of 65 km/hr.
The front disc and rear drum brakes ensure optimum control and safety, while the 140 km max range makes long-distance travel effortless.
Its Lithium Ion NMC battery, with a capacity of 60V 50AH, guarantees long-lasting and consistent performance.
The scooter's 12-degree gradeability and carrying capacity of 150 kg make it a sturdy and reliable choice for both personal and commercial use.
The digital display keeps the rider informed and in control at all times, while the charging time of only 4 hours ensures that Amery is always ready for the next ride.
Available in three colours – Blissful White, Sturdy Black (Matte) and High-Spirit Yellow– Amery can be availed from authorized e-Sprinto dealerships and showrooms nationwide at an ex-showroom price starting from INR 1,29,999.
It adheres to the Indian Government's FAME2 (Faster Adoption and Manufacturing of Electric Vehicles) policy, thus reinforcing its pledge to quality, affordability and sustainability.