The Tech Panda takes a look at recently launched gadgets & apps in the market.
Smartwatch: URBAN Fusion
URBAN, the smart wearable brand, unveiled the 'URBAN Fusion' luxury smartwatch, marking another stride in its dedication to excellence.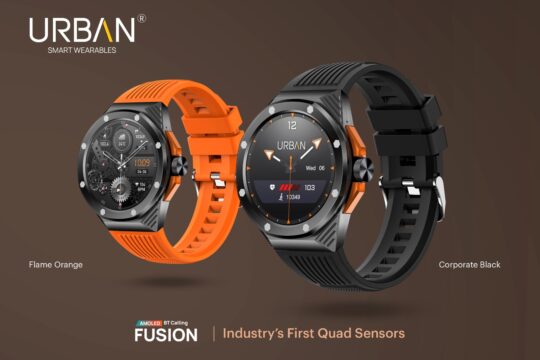 Aashish Kumbhat, Co-Founder, URBAN, stated, "Our vision has always been to seamlessly integrate modern technology into people's lives. We are happy that along with technology we are able to integrate global design language to add a touch of luxury to our products. As a country, we have arrived in the global arena and this is our way of taking our fellow countrymen global."
Features
classic premium global design language, characterized by its shatterproof alloy body, elegant round dial, and premium silicone strap
Bezel-less Ultra HD 1.46" Super AMOLED Display
With Always-on feature, it seamless connectivity
industry-leading 60Hz Refresh Rate and an impressive 1000 Nits Brightness
Industry-first Quad Sensors that deliver precise readings for Heart Rate, Blood Pressure, SpO2, and Sleep patterns
The Bluetooth calling feature allows users to make and receive calls directly from the smartwatch
Enhanced by a noise-isolating microphone, conversations remain clear even in noisy surroundings
Address Book & Dialer Pad function provides access to contacts and direct calls from the smartwatch
over 100+ customizable watch faces, including both pre-installed and customizable options
Offers tools like Calculators, Alarm, and Notifications
over 100 Sports modes, delivering precise metrics like Calories Burnt and an Accurate Step Pedometer
available for purchase on the official company website, leading e-commerce platforms, and all leading retail outlets with a starting launch price of INR 3,999
two colors – Flame Orange and Corporate Black
Hearables: GOVO GoBuds 445 True Wireless earbuds
Introducing GOVO GoBuds 445 True Wireless earbuds, offers an exceptional audio experience that is guaranteed to leave users in awe.
Piyush Jalan, Co-Founder and COO of GOVO, shared his insights, stating, "We've taken a step beyond the previous version by enhancing the bass performance to provide an even more impressive audio quality. These highly anticipated earbuds offer a significant upgrade, ensuring even better music enjoyment with added features and better connectivity. The GOVO GoBuds 445 serves as a testament to our commitment, showcasing an unmatched design, remarkable sound quality, and skilful handling of music elements, all coming together to create an exceptional audio experience for our users".
The Why
In 2022, the global market for earphones and headphones was worth USD 58,259.2 million. This value is expected to grow by 12.6% annually from 2023 to 2030, thanks to the rising demand for earbuds driven by technological advancements and convenience.
Features
Bluetooth V5.3 for seamless connectivity up to 30 feet away, coupled with convenient access to the Voice Assistant
Experience a finely tuned sound that delivers impactful punch, even at a 20 Hz frequency
Water-Resistant: Crafted to endure water and splashes, these earbuds proudly boast an IPX5 water resistance rating.
Fast Charge: A mere 5-minute charge grants you an uninterrupted 120 minutes of music and call time
Voice Assistant: Effortlessly activate your Google or Siri voice assistant with a simple touch on your earbud
Super Touch Control: Operate your earbuds with ease through intuitive touch control, leaving your device behind
Gaming Mode: Immerse yourself in your favourite games with the 50ms Low Latency mode, erasing lag for a seamless gaming experience
72 Hours Battery: Elevate your audio journey with an impressive 72 hours of playtime, made possible by the substantial 600mAh battery capacity
Quad Mic Enclosure: Elevate your entertainment with noise cancellation and effective background noise suppression, ensuring crystal-clear audio quality
priced at Rs. 4,999/- and can also be easily purchased from Amazon at an introductory limited-time price of just Rs 1,299/-
one-year warranty and is available in the colour Platinum Black
Smartwatch & hearables: Crown R smartwatch, the Drift 2 Smartwatch, & the W40 TWS earbuds
BOULT launched a lineup of smartwatches and Wireless (TWS) earbuds. This launch introduces the Crown R smartwatch, the Drift 2 Smartwatch, and the W40 TWS earbuds.
Varun Gupta, Co-Founder BOULT, remarked, "Our latest smartwatch and TWS lineup embodies our commitment to pushing the boundaries of wearable technology. At BOULT, we take immense pride in our 'Make in India' initiative, contributing to the nation's technological innovation landscape. The Crown R & Drift 2 Smartwatches, along with the TWS W40, epitomize our dedication to quality and local manufacturing."
BOULT Crown R
1.52-inch Round High-Definition bezel-less screen, boasting a brightness of 600 nits
seamless Bluetooth calling, powered by a dedicated speaker and microphone
over 100 sports modes, including SpO2 Blood Oxygen monitoring, and Heart Rate tracking
zinc alloy metallic frame
premium options of dual-coloured metal straps, including the luxurious Bullet Silver and the timeless Coal Black
over 150 cloud-based watch faces
IP67 water-resistant rating ensures durability against water and sweat
price of Rs 2499
BOULT Drift 2
zinc alloy metallic frame
Its 1.85-inch HD screen serves as a canvas for over 100 sports modes
comes with SpO2 Blood Oxygen monitoring and Heart Rate tracking capabilities
over 150 cloud-based watch faces
intuitive long press of the crown grants instant access to Siri and Google Assistant
IP67 water-resistant rating
launch price of Rs 1499, it offers a choice of zinc alloy frame and strap colors including Pink, Blue, and Black
BOULT W40 TWS Earbuds
48 hours of playtime and an ultra-low latency of 45ms
premium rubber grip and QUAD mic technology
colours include Berry Red, Ivory White, Denim Blue, and Khaki Green
launch price: Rs 899
Smart wearable: Bonatra's Smart Rings
Bonatra, a longevity focused health-tech company, launched Wearable Smart Rings. The newly launched Smart Rings are designed to continuously monitor a range of health parameters, empowering users to live longer and healthier lives.
Rahul Kishore Singh, CEO and Co-Founder of Bonatra, said, "At Bonatra, we have always believed that technology can empower people to take a step towards healthier living. Over the last year, we have consistently focused on introducing AI -based, IoMT enabled and doctor-led initiatives to guide people towards achieving their health goals. The launch of our wearable Smart Rings is a step in that direction. This wearable technology isn't just about monitoring health parameters. It's also about empowering individuals with actionable insights for making positive lifestyle changes."
Features
The device has the capability to track key parameters such as Sleep Score and Readiness Score.
The Sleep Score feature employs advanced algorithms to analyze sleep stages, duration, and quality, resulting in improvements in sleep patterns and overall well-being.
The Readiness Score provides users with a comprehensive assessment of their body's preparedness for the day, enabling them to make informed decisions about their activities.
Made from aerospace-grade Titanium Alloys, the Smart Ring X1 offers durability and elegance.
Weighing just 4 grams, this lightweight accessory is ideal for individuals leading active lifestyles.
The hypoallergenic medical-grade resin ensures comfort during prolonged wear, while the IP68 rating makes the Smart Ring X1 suitable for various activities including swimming, deep diving, sailing, surfing, and trekking.
Starting at Rs 9,999/-, with EMI options available
users will receive a three-month complimentary Coach Enabled Program, connecting them with certified health coaches and doctors who will guide them in understanding and improving their health based on the data collected by the ring.
The Ring can be purchased on Amazon as well.
Web3: Liminal Vaults Android app
Regulated digital asset custody provider, Liminal, which has a multi-party computation (MPC) wallet infrastructure, unveiled the Vaults Android app. Building on the success of its iOS counterpart, this release represents a transformative leap in digital asset management for Web3 enterprises.
Dhruvil Shah, SVP of Technology at Liminal, said, "We are excited to bring Liminal's Vaults app for Android users. As the Web3 landscape evolves rapidly, we remain committed to offering a secure and convenient platform tailored to modern businesses and individuals. This app enables secure on-the-go transaction approvals, instilling confidence in managing diverse digital assets seamlessly across devices."
Rahil Shaikh, AVP of Product and Blockchain at Liminal stated, "Innovation is the cornerstone of effective digital asset management. The introduction of the Vaults Android app and the Smart Consolidation feature, alongside new protocol support, reflects our commitment to empowering users with advanced solutions that simplify the complexities of asset handling. These updates seamlessly blend security, efficiency, and convenience, addressing the evolving needs of the Web3 ecosystem."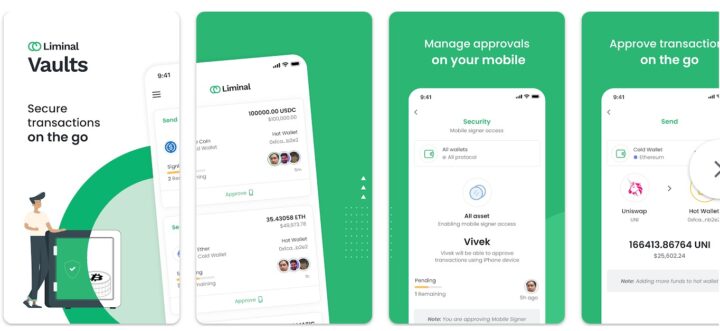 Features
Enables on-the-go transaction approvals and collaborative asset management
The app's user-friendly interface integrates groundbreaking secure Multiparty Computation (MPC) technology, simplifying transaction approvals while upholding stringent security standards.
With an extra layer of authentication for each transaction, key control remains uncompromised, making it the preferred choice for Web3 organizations.
The 'Share Shard' feature enhances collaborative asset management, enabling secure shard distribution among designated parties.
The 'Restore Shard via Recovery Zip' feature ensures effortless recovery of shards in cases of data loss or device transitions, guaranteeing continuous access to valuable digital assets.
Committed to empowering Web3 participants, Liminal introduces the Smart Consolidation feature and new protocol support.
Smart Consolidation feature revolutionizes digital asset management by automating the consolidation of smaller balances into a single address. This innovation optimizes transaction flow, reducing gas fees and manual efforts, and enhances security by moving wallet balances above a threshold to cold wallets, thereby augmenting protection against potential threats.
The update introduces support for new protocols, including zkEVM, BSC, and AVAX, empowering Web3 enterprises to manage EVM-based assets on the zkEVM chain while benefiting from Liminal's Gas Fee Saver feature. With BSC and AVAX testnet support added to the existing BSC and AVAX mainnet support, Liminal users can now build and test web3 applications across multiple networks.