The Tech Panda takes a look at recently launched gadgets & apps in the market.
Smartwatch: Aura
Crossbeats, Indian smartwatch & wireless audio brand launched the Aura Smartwatch.
Abhinav Agarwal, Co-founder, of Crossbeats said, "We are very excited to introduce Aura to the people and invite everyone to experience the blend of style, technology, and adventure that the Smartwatch offers."
Features
costs INR 3499 and is available in four different color combinations: black bezel with black strap, gold bezel with black strap, gold bezel with orange strap, and silver bezel with silver strap
1.46″ AMOLED Display, with a brightness of 1000 nits,
Always On display feature adds convenience to the mix
seamless connectivity with Advanced Bluetooth Calling, powered by ClearCommTM technology
Split Screen Display, enabling users to multitask effortlessly
battery playtime of up to 8 days and 15 days on standby, powered by a 300 mAh battery
aerospace metal case and the marine watch band guarantees durability
The Encoder Crown, a built-in mechanical knob, offers an intuitive way to navigate through features and apps
the device is voice assistant enabled with Siri and OK Google integration
AI Health Trackers provide real-time data for over 123+ activities
The 4th Gen Biosensor Chip enables accurate monitoring of heart rate, blood pressure, SpO2, and sleep patterns
IP67 water-resistant rating
EV: Lectrix EV Moonshine
Lectrix EV is launching a special-edition EV Scooter to commemorate the landmark moment in India's space ambitions. Lectrix will make limited units of the special edition scooter.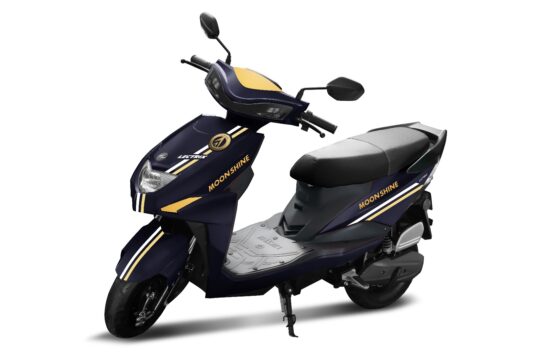 MD & CEO, K. Vijaya Kumar of Lectrix EV said, "For today's Indian Gen Z, sky is the limit. Or is it? They aim for the moon! The Indian moon mission shows how far you can go when you have the ambition and the right technology to take you there. At Lectrix, we want to encourage our consumer in setting and reaching their own personal goals. I am really excited about Moonshine. To do this we had strong belief in the new era of India's space age. This is for everyone to remember and cherish."
"This is not just one more social post as a part of moment marketing. It is walking the talk to allow customers to celebrate this landmark moment by actually offering a product that people can be proud to own. So, we designed a special look for the LXS Moonshine including a special badge. Riding the LXS Moonshine is like wearing a badge of pride."
Features
Lectrix Moonshine sports a golden emblem – two arrows facing the sky to connote India's emerging space age. This 'space age' symbol is in fact a modification of Lectrix's brand logo.
Hearables: Rocker R10 Avante soundbar & Blockbuster neckband
Indian wearable brand Bluei has launched two products- 'Rocker R10 Avante' soundbar and 'Blockbuster' neckband.
Akhilesh Chopra Director of Bluei said, "Bluei is dedicated to creating and providing Indian consumers with high-quality and sophisticated audio products at a very reasonable cost. We are sure that Rocker Avante soundbar and Blockbuster product would resonate with Indian customers. It is flawlessly created to provide the best user experience possible and is made for all purposes, whether travelling, working, or hosting parties. We sell our product at a low price because we want to serve every age group and user."
Features
Rocker R10 Avante
The soundbar Bluetooth speaker
10W power output
multi-connectivity options
2400mAh battery capacity
extended playback time
decor-friendly design
Available in yellow, black, red, green and blue
priced at INR 1499
Bluei Blockbuster
40 hours of continuous playback
130 hours of standby duration
The latest Bluetooth version 5.3
metal body premium design
priced at INR 1349
Smartwatch: Amazfit Bip 5
Amazfit, a smart wearables brand owned by Zepp Health, a health technology company, launched the Amazfit Bip 5 smartwatch.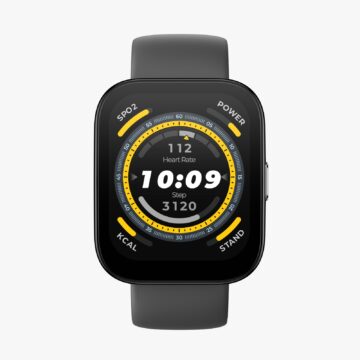 Features
expansive 1.91″ HD color display
The screen is protected by 2.5D tempered glass with an anti-fingerprint coating
70+ Watch Faces and offers 13 editable Watch Faces with customizable widgets
integration of Amazon Alexa and support for Bluetooth calls
Users can make and answer calls via the built-in microphone and speaker
access to a wide range of mini-apps, including 30+ mini-games
features like sleep quality monitoring, menstrual cycle tracking, PAI health assessment, and health alerts for various metrics
operates on Zepp OS 2.0, coupled with the advanced BioTracker™ PPG sensor, enabling continuous blood-oxygen saturation, heart rate, and stress level monitoring
supports tracking for over 120 sports and intelligently recognizes 7 sports
seamlessly integrates with third-party fitness applications like Strava, Komoot, and Adidas Running through the Zepp App
establishes connections with smartphone applications such as Google Fit and Apple Health
Can utilize four distinct satellite positioning systems, guaranteeing the utmost accuracy when tracking outdoor activities
price of INR 7,499, available in three elegant colors: Soft Black, Cream White, and Pastel Pink
Audio tech: GOVO GoSurround 300 Soundbar
GOVO, audio technology company, launched its newest addition the GOVO GoSurround 300 Soundbar.
Varun Poddar, Founder of GOVO said, "We are delighted to introduce the GOVO GoSurround 300 Soundbar, where innovation and technology converge. Our aim is to expand our audio products that are of superb quality. As many people are starting to use smart speakers, we're excited to offer our customers the GOVO GoSurround 300 Soundbar. With this new product, we're confident that we can make our tech-savvy customers happy and give them an amazing experience of the products."
The Why
The consumer speaker market in India is expected to develop at a compound annual growth rate (CAGR) of 9.39% by 2027. Particularly, the demand for home audio products, notably Soundbars, remains strong within the Indian market. The Home Audio Market Size report provides important information about how much this industry is currently worth. It also explains how the market is divided and the potential for growth in this industry.
Features
Immersive 3D Surround Sound: The G0VO GoSurround 300 portable speaker, powered by 52mm drivers, delivers a potent 24-watt output
Dynamic LED Lights
Long-lasting Battery offers up to 8 hours of playtime
seamless connectivity with a wide range of devices, effortlessly AUX, USB, TF Cord inputs and FM
Bluetooth V5.3
priced at Rs. 5,499/- but is exclusively available for Rs. 1,499/- at Amazon and retail stores across the country. This product comes with a one-year warranty and is available in the color Platinum Black.