Google released the next version of its Android OS, Jelly Bean Android at its I/O conference in San Fransisco yesterday. Jelly Bean Android aka Android 4.1 will be rolled out in mid-July. Google also launched the Nexus 7 tablet which will run on the latest OS.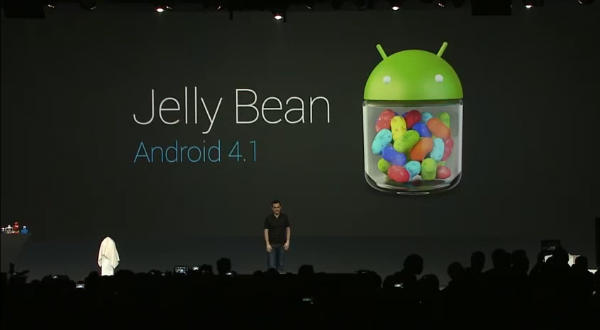 Here is a look at the key features and improvements:
Project Butter: Jelly Bean is aimed at ensuring that your quad-core Android runs much faster and smoother, just like butter. In to the picture comes Project Butter, kind of like a performance enchancer for the the phone. According to CNET, It uses VSync and Triple Buffering to enhance the touch responsiveness.
Acccording to Engadget thanks to Project Butter, The whole system hums along at 60 frames per seconds (fps) now. Animations are smoother and quicker. The CPU immediately ramps up the moment a touch is detected to ensure speedy response. 
Google actually showed the difference between Jelly Bean and ICS by running them both at the same time at the conference. The difference in speed was quite apparent.
Sharper Notifications: Google's new OS will also bring phone notifications to an all new level. Google's slide down notifications have always been ahead of the curve, and with Jelly Bean it just got bigger and better.
According to TechCrunch if you have missed a call, you can text or call back that contact directly from the notification widget. All the new Gmail messages are available from straight within the notifications tab, which keeps users from having to switch back and forth between apps.
Notifications are now synced with social media such as Foursquare and Google plus as well, and users can respond to posts from the notifications itself. Users also have the option to expand individual notifications.
This comes as very good news for developers as a lot of location-based apps can now take advantage of this because users need not be using the app so as to get updates.
Google Now: Google's answer to Apple's Siri is here and it seems to have impressed tech junkies. Google Now will respond to your queries in a human voice much like Apple's Siri does. It appears to be pretty smart since it will tell you which restaurant to pick or which route to take while walking or when you have a meeting.
The creepy bit: the search results will be based on your search history.
Android Beam: Jelly Bean comes with Near Field Communication (NFC) capabilities. After Samsung released S-Beam in their latest S III phone and Microsoft did the same with Windows 8 OS for mobile, this one was sort of an expected feature. Like all NFC capable phones, users just have to hold their devices together to share photos, videos, etc. Increases convenience for sure.
Smarter Keyboard:  The new Android also promises a smarter keyboard, with a feature for predicting your next word before you type.  According to TechCrunch, Google has shrunk down the voice transcription software to fit inside the device itself, rather than over the network connection. This means that users can type with their voice whether they have service or not. 
The advantage is that Siri always needs an Internet connection to use this feature, while Google's new feature doesn't. Of course you need to have data connection to perform a search but for performing internal voice based queries, you need not worry about data charges.
Well, Google sure aims to put competition right at the face of Apple. As far as the Jell Bean Android update is concerned, do nto have hope if you are using a slower smartphone.