Google launched Compute Engine Infrastructure as a Service in a bid to offer cloud infrastructure much like Amazon Web Services. However, the effort, which is in a "limited preview," lacks the depth and options provided by Amazon.
In a nutshell, Google is allowing users to spin up virtual machines. Coupled with Google's App Engine, Google Apps, and Drive the company is building out its cloud stack.
Though details were sparse, Google indicated that it will try to win versus other cloud players based on raw performance.
Urs Holzle, senior vice president for technical infrastructure at Google, outlined the company's infrastructure-as-a-service effort. Holzle pitched the company's service levels, value, and performance and highlighted how adding 10,000 cores to a gene project moves analysis along. AWS has a similar case study.
According to Holzle, Compute Engine can offer "50 percent more compute per dollar" than other vendors. Here's a look at Google's virtual machine pricing: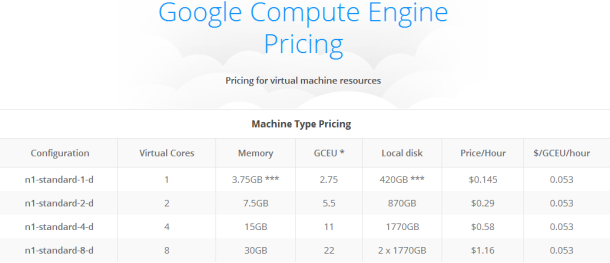 The price comparison to Amazon Web Services is a bit tricky. Amazon EC2 offers a free tier that includes
750 hours of EC2 running Linux/Unix Micro instance usage
750 hours of EC2 running Microsoft Windows Server Micro instance usage
750 hours of Elastic Load Balancing plus 15GB of data processing
30GB of Amazon Elastic Block Storage (EBS) plus 2 million IOs and 1GB of snapshot storage
15GB of bandwidth out aggregated across all AWS services
1GB of Regional Data Transfer
After that EC2 on-demand pricing goes like this: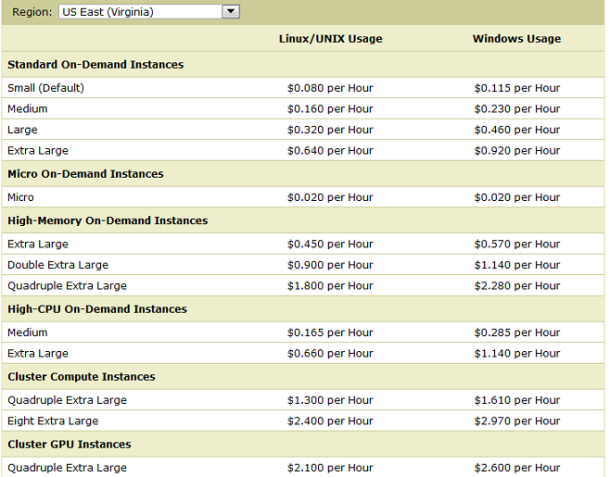 Is Google's offering an Amazon Web Services killer? That outcome remains to be seen. Google has touted its number of cores, value, and Linux virtual machines. There's no doubt that Google's cluster and high-performance networking will be worth checking out.
Google's core compute services include:
Compute with on-demand Linux virtual machines in one, two, four, and eight virtual cores with 3.75GB RAM per virtual core.
Storage. Store data on local disk, persistent block device, or Google Cloud Storage.
Network. Connect virtual machines into clusters with configurable firewalls.
Tooling. Configure and control via a scriptable command line tool or Web UI.
Those tools are notable but not as mature as what Amazon is offering. Amazon offers storage, compute, databases, content delivery networks, and identity management, as well as templates to build cloud services.
Add it up and Google has thrown down an Amazon Web Services challenge, but the product has a ways to go to match its rival on breadth and depth.
Credits: CNET