Patrick Pichette pointed towards a new era of Nexus after successful Nexuses in the previous year. Nexus 5 became too much popular and soon you will be now seeing Google's Nexus 6 on road. LG shaking hands with Google Nexus 5 saw the greast curve of sales curve rocketing upward and now, 91mobiles have designed the concept of Google Nexus 6.
Keywords to be defined about Google Nexus 6 in accordance with : Sexylicious, Bamboozling, Curvie, Technocraty, Fortious.
---
SexyliciouS look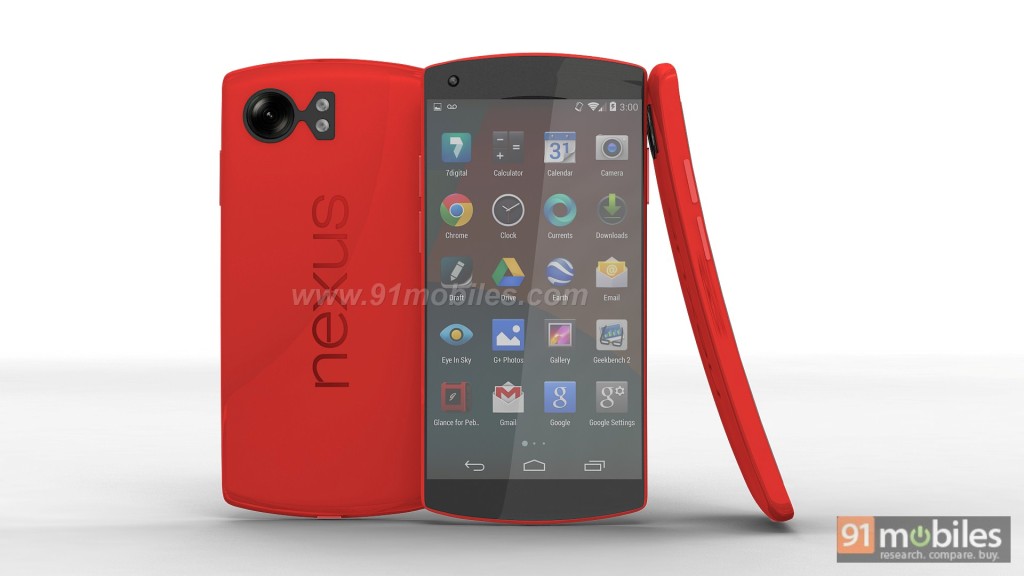 Seems like Nexus 6 will be filling a bug of that broader design nexus 5 had, making Nexus 6 sexier. The "Google" appleal is not frowning down in any way and thus the Nexus trademark and logo are never going to be old. Nexus 6 is expected to have a contour on the face with a streamlined sidelines. The sexy elegance shall be defined by 6 colors Nexus 6 will be having i.e. Green, Blue, Yellow, Red, White & Black
BamboozlinG concept
Nexus 5 had already undergone too much rivalry with other giants. The sales production was the highest in all of the Nexus versions. If Google can continue to have its marketing structure in a flow, Nexus 6 without any doubt are going to come out big in here. Inspired with the logo, Nexus 6 will be available in 6 different colours as mentioned earlier.
CurviE feeling
Who gives a damn the Google copied the concept of Facebook for GUI and Samsung for marketing. Slice in that Nexus 6 inside your jeans side pocket and show your proudy selfie in facebook profile picture. The concept will be adopted and carried out in the successive versions of Google Nexus
TechnocratY, as usual
5.2inch full HD resolution display will be the eye candy. Qualcomm Snapdragon processor 3GHz with Quad Core and 3GB of RAM are inevitable as far as Nexus 6 is concerned. Keeping technocracy in mind, users can double tap on the display or can also swipe-upwards to unlock the screen.
storage options are never to be meant than32GB as of January/February 2014, so probably 64GB or 128GB memory are cool. 13- Megapixel Rear camera with dual LED Flash and Optical Image stabilization and 4K Video recording is the minimum requirements of DSLR fads with 5 Megapixel front facing camera with BSI sensor and Full HD Video recording or calling purposes. 4G/ LTE connectivity is quite a promising frontleap in technology and thus Nexus 6 will be designed keeping these specifications in mind. Dual Band WiFi, Bluetooth 4.0, NFC are some other things not to be overlooked.
FortiouS like a boss
With Gorilla screen, Nexus 6 will be prepared to have Polycarbonate structure of body, which means more durability and more robustness.