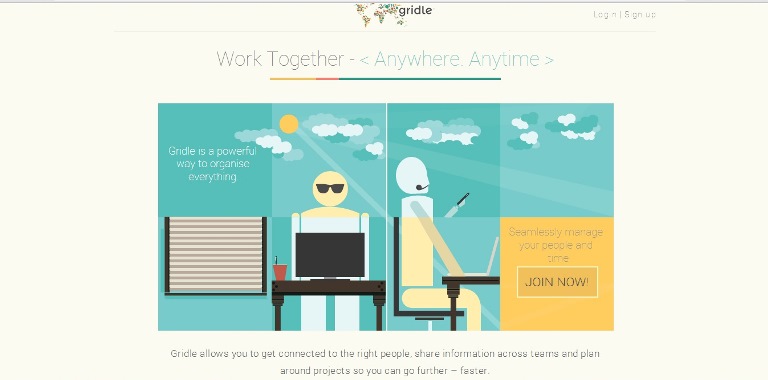 Earlier in 2013, we did an exhaustive feature of Gridle, a Cloud Collaboration Platform. The startup is now out of Private beta, roughly 2.5 months after it graduated from iAccelerator, the Accelerator Program of IIM Ahmedabad.
The startup has raised funds of Rs. 10 Lakh from an Angel Investor, Institutional Fund and CIIE's iAccelerator Program. For the second round, the team plans to raise Rs. 80 Lakh to 1 Crore to help them achieve the desired traction with business development, marketing and presence through various platforms.
When compared with the existing collaboration tools that roughly have around 17-19 features, Gridle comes with 6 well defined features – File Sharing, Time Line, Instant Messaging, Task Management System, Groups and Planner. Gridle has replaced lists and grids of people & projects with single screen-space and non cluttered UI. The platform uses data visualization to generate and maintain a log of activity and due events, tasks and activities.
"Since we are integrating API's of popularly used services, we are able to bring down our pricing substantially", says Yash Shah, CEO Gridle. The startup plans to charge $2-3 a user per month, compared to the competitor product's pricing of $5-8 per user.
Gridle has been founded by Yash Shah, Abhishek Doshi and Anupama Panchal and is a Microsoft BizSpark Member.
Do give Gridle a spin and let us know what you think.