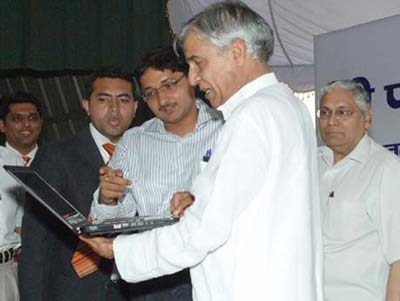 The Indian Railways is investing US$1.1 million or around 6 Crore rupees to provide free Wi-Fi on select trains.
In a statement Wednesday, the Railways Minister Pawan Kumar announced that passengers travelling on the Howrah Rajdhani Express (HRE) from West Bengal to New Delhi can access free Wi-Fi.
To introduce internet access in moving train was a technological challenge considering that the train passes through all type of terrain and continuous internet access in all weather is to be provided. After due deliberations on various options for providing internet access, Indian Railways decided for satellite communication link to the train and Wi-Fi connectivity to different coaches. After successful technical trails, Indian Railways is launching the pilot project on Howrah Rajdhani express in both the directions simultaneously i.e. 12301/12302 at Howrah and New Delhi respectively.
The satellite communication link is arranged through satellite hub facility, set up by Indian Railways. Passengers travelling in these trains will get up to 4 Mbps download bandwidth and 512 Kbps upload bandwidth but actual speed will depend on number of passengers using the service at any given time. The satellite antenna is placed in one of the two Power Cars of the rake. This is linked through Wi-Fi radios provided outside of each coach. This is further distributed inside the coaches through indoor access point.
For accessing the internet facility passengers will have to provide the PNR and mobile number, the Login ID and Password will be sent through SMS to the registered mobile number. The Login ID and Password will remain valid for entire journey.
Indian Railways intend to extend this service on other Rajdhani/Shatabdi/Duronto express trains progressively based on customer feedback and acceptance.