Knolskape (www.knolskape.com) is an award winning immersive gamification and simulation software company focusing on talent transformation. Using experiential learning products, Knolskape helps organizations attract, grow and retain talent. Global Fortune 500 companies and Top-10 B-schools use Knolskape's products and solutions for on-boarding, training, assessments and talent engagement.
Knolskape's core belief is that the best method of learning is by doing. Keeping with this philosophy, Knolskape develops engaging, immersive and real life-like products and services such as business simulations, animated videos, case platforms and gamified e-learning.
Knolskape has presence in Singapore and India, with clients across the globe, and currently they want to expand geographically, introduce new product lines and deliver online products for a B2C audience.
The Story Behind Knolskape
Knolskape was founded by Rajiv Jayaraman and was first setup in Singapore in 2008. While pursuing his MBA at INSEAD, he applied for this program with a clear intent of starting a venture post his MBA. During this program, Rajiv experienced a software simulation product as part of a course and felt empowered as a learner where he was able to take decisions and derive meaning out of his own experience. It was then that it dawned upon him that this was the intersection of technology and creativity that he was looking for. This was the starting point for Knolskape.
How is it Helping…
Knolskape's mission is to transform talent in classrooms and boardrooms using experiential learning software products. Through gamification and simulations, they make learning a fun, active process where the learner takes ownership of the learning outcomes. They enable anytime, anywhere learning to help learners pursue continuous learning. Through skill analytics, they help individuals and organizations learn more effectively.
"I hear and I forget, I see and I remember, I do and I understand" – Confucius. Experiential learning helps the participants learn by doing. The simulations that they develop are very close to reality and at the same time a safe environment to practice. This creates an experience which is hard for the participants to forget. These experiences help participants prepare for real world scenarios
1) The problems Knolskape is solving for individuals and organizations are the following:
2) Learning is by-and-large a passive activity, where experience plays very little role
3) Training is largely confined to classrooms and training rooms
4) Organizations use a one-size-fits-all approach to training talent
Knolskape's product lines include business simulations, animated simulations, a real-time case study platform and gamified e-learning. Their services include custom simulation development, gamification services, training programs and academic computing.
About Rajiv Jayaraman, Founder-CEO, Knolskape
Rajiv Jayaraman, an INSEAD MBA and a BITS-Pilani alumnus, is the founder-CEO of Knolskape, an award winning immersive gamification and simulations company focusing on talent transformation. Over the last five years, he has built a high-octane team that delivers stellar technology-driven learning experiences for learners across the globe.
A TEDx speaker, Rajiv has delivered keynote speeches at various national management conferences. He is a top-rated visiting faculty at SP Jain Center of Management, Singapore and Dubai. He has delivered guest lectures at INSEAD, IIM-Bangalore, IIT-Madras, IIFT-Delhi, NMIMS, MICA. He trains senior leaders at leading companies on managing innovation, change and risk.
Rajiv's deep passion for technology, design and learning helps him build impactful next-gen learning products. Prior to Knolskape, he worked at Oracle USA in the server technologies division, where he led numerous product development efforts from the ground-up.
He has been featured in Economic Times, Business Standard, CNBC Young Turks, ET Now, Digital Learning magazine, Entrepreneur magazine, Bangalore Mirror and Yourstory.in.
The Team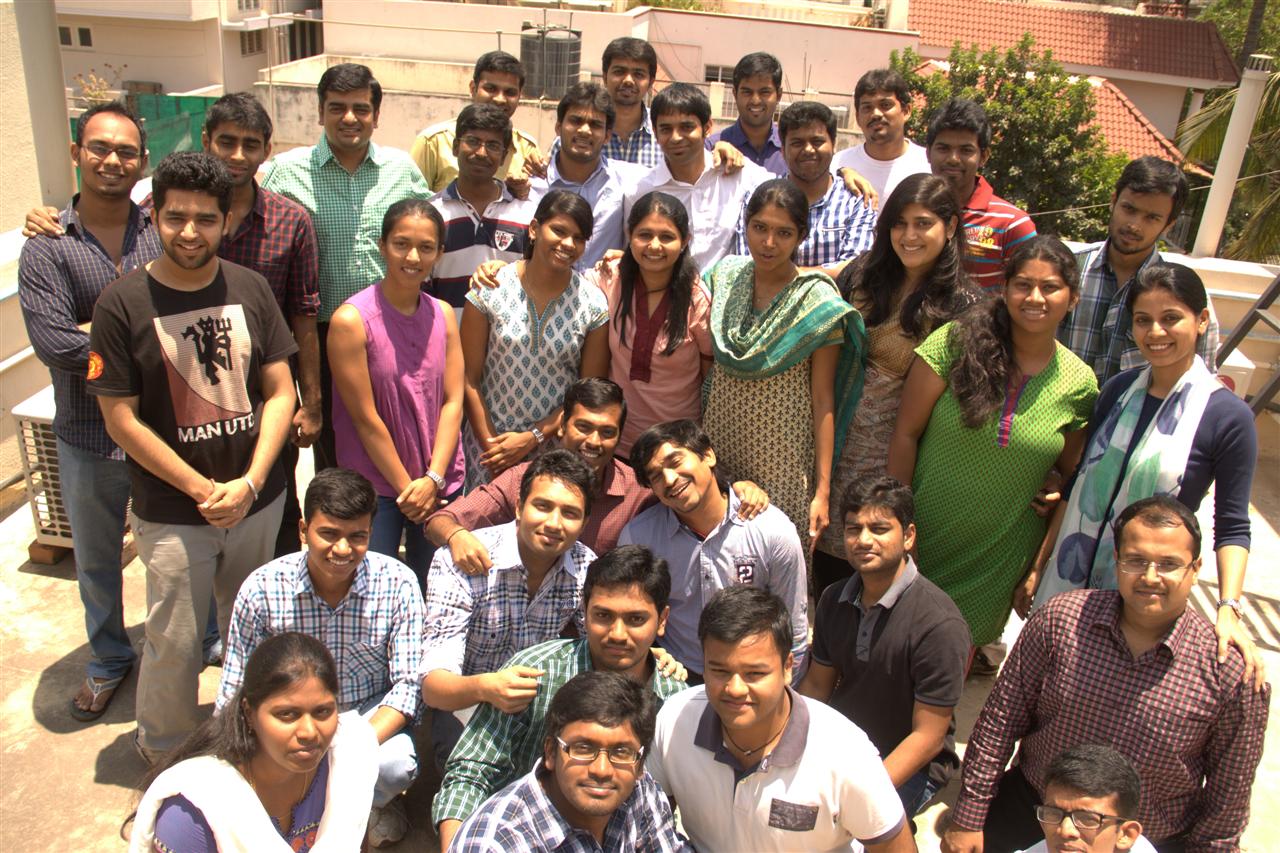 The Knolskape Team
Rajiv believes he was fortunate to start with top notch talent. There is so much truth behind the saying, "A-team attracts an A-team". Vijay Kalangi, the Chief Product Officer, was the first to join Knolskape. He and Rajiv share a lot in common : same undergrad school, similar educational backgrounds and more importantly, they shared some common values, says Rajiv. They have a strong association with BITS, Pilani, Rajiv's Alma Mater. They take in interns and hire regularly from the BITS campus and VIT. Their managers come from premier B-schools. There are quite a lot of them from SP Jain, Singapore and Dubai. Rajiv says he feels grateful to be working with some exceptional talents!
Marketing Strategies Involved
As a start up one initially does not have enough funds to invest in marketing activities on a big scale. So the team used everything that was freely available and which could make an impact. They started with the social networking sites, like LinkedIn, Facebook, Twitter, and started a Tech blog as well. They attended relevant events, conferences, and applied for awards to gain recognition. Once they got enough visibility, they started getting featured on tech related websites, print media and leading news channels.
The Journey so Far
The company was first setup in Singapore in 2008. A development office was setup in India in 2009.The first customer happened to be Rajiv's (The CEO) Alma mater, INSEAD. They worked closely with the institution to bring in digital learning experiences for the learners. From there on, the team started working with some leading educational institutions worldwide, Kellogg, ISB, NUS etc. From the second year onwards, they started working with companies to help them with on-boarding, training, assessments and engagement, using experiential learning products.
The Knolskape team has bagged the APAC HR Award for best simulation solution and the Red Herring Top 100 Asia award. Knolskape is also a NASSCOM Top 10 Emerge Company and Edustart of the year 2013.
New Product Launch – AktivCase
AktivCase is a newly launched product which is basically a platform that enables professionals across multiple levels deliver exceptional business results by helping them apply their learning effectively on-the-job. Additionally, AktivCase platform helps individuals acquire, develop and retain critical skills essential for their roles.
Multimedia rich case studies relevant to organizations are available on the platform. Users can pick and apply relevant tools and frameworks to analyze these case studies. Automated reports providing deeper insights on the analysis are provided to the participants. This further helps bolster on-the-job performance of the individual.
AktivCase platform helps participants apply contextual learning on real time case studies and derive actionable insights. The benefits of the platform for individuals and organizations are as follows:
For Learners
1.  Provides a collaboration platform where the learner can participate in generative learning in a social context
2. Helps learners derive key insights from real time case studies
3. Reinforces learning
For Organizations
1. Helps achieve better ROI on the investments made in training programs
2. Reduces the time required to realize business results from training programs
3. Helps derive analytics on the effectiveness of the training programs
4. Reinforces the culture of continuous learning
Their Competitors & USP
They believe Harvard, Skillsoft, Capsim and a host of other traditional learning companies to be their competitors. However, Knolskape is different because they have a large repertoire of digital products and solutions. Their products are immersively gamified, lend themselves well for fast customization, have built-in actionable analytics.
The Challenges Involved
In the initial days, the team had to educate their customers on the benefits of experiential learning, especially, learning using games and simulations. They heard comments around how companies wouldn't like to see their employees having fun while learning. Today, they see that gamification and game based learning have become mainstream- which is a big hurdle that they overcame!
TTP's Take
Knolskape is a very innovative and impressive platform, and honestly speaking who doesn't like games? Add learning through games and it is every gamer's heaven! Team TTP wishes team Knolskape a very good luck with their project!