Event Details:
Event Name: 10K Melange
Date:  Wednesday, 8th April – 11:00 am – 2:00 pm
Venue: Vivanta by Taj, MG Road, Bengaluru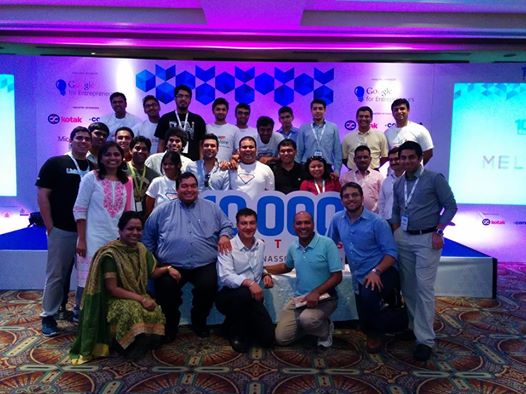 Event Coverage:
NASSCOM 10K Startups completed 1 year of it's journey and 10K Melange event is 1st Anniversary celebration of NASSCOM's program. The event saw huge turnout of entrepreneurs along with some accelerator and investment groups and all the partners of the NASSCOM 10K Startups program.
R Chandrashekhar,President – NASSCOM provided the opening notes citing NASSCOM 10K Startups as one of the most important and impactful initiatives of NASSCOM.  He said that the program received around 7,000 applications in a span of one year, and just in the month of March, Startup Village Kerala had seen 500+ applications.  Quoting Ratan Tata, Chandrashekhar said,- "If you want to walk fast, walk alone. If you want to walk far, walk together". And the intention of NASSCOM 10K Startups is to walk fast and far.
Next, Ravi Gururaj,Chair – NASSCOM Product Council provided the details on the program performance in the last one year.
| | |
| --- | --- |
| Column1 | Column2 |
| Startups Applied | 7000 |
| Screened | 2500 |
| Phase -1 Shortlisted | 197 |
| Phase-2 Shortlisted | 332 |
| Startups in talk with Angels | 30+ |
| Impacted Startups | 100+ |
| Pitch Sessions in 5 Cities | 100+ |
| Events in an Year | 180+ |
Ravi Gururaj also mentioned about the upcoming programs such as Innotrek 2014, happening in May 2014, where 25 handpicked Indian Startups wi l lmeet some of the hottest technology and consumer internet companies based in the Valley. The future focus will be to set-up 10K Partner warehouses to support startup in each city. More women need to be encouraged to come into technology, said Ravi. According to Business Insider, NASSCOM is in talks to set up startup warehouses in Mumbai and Chennai too.
Google is one of the Partners for NASSCOM 10K Event and Rajan Anandan MD – Google India provided his views on the Indian Startup scene.  Rajan provided some interesting statistics, saying that out of 1.2 billion people, only 200 mn are currently on the Internet , with 4 mn added every month.  He was thrilled on what they have seen over the last one year, but India largely still lacks capability building and company building.  Elaborating on the trends on building a startup, what has changed over the years is building a company for India vs World. Few years back, we mainly worked on an export model, but India is now a large enough market to build startups just to cater for our country.
Build for Mobile is one suggestion provided by Rajan, quoting that 85% of Mobile Usage worldwide is spent on apps and the numbers are 60% in India.  The new users now getting added to Internet will need vernacular support to take use of the Internet, and local language apps/ products will be a good area to look at.  Video Analytics, Social and SaaS will continue to rule the trends for a while, Rajan opined.
He suggested every entrepreneur building a business for India to stay in Tier-2 and Tier-3 cities for a month to better get idea of the requirements, before attempting to solve them. Rajan concluded by saying that,If you want to build a phenomenal company, solve a REAL NEED for a lot of people.
Kunal Bahl, CEO – Snapdeal took the stage next for a brief talk on 10 things he would like to share in his startup journey. Filled with good examples from Snapdeal, he explained his mantras – Dive In, Don't Do it Alone and Culture will define it's success.  One of the notable points was Snapdeal set the expectation bars so high and kept reaching them everytime. He stated that the team needs to have a common missionary goal, which they can work towards to. A well balanced life is important, concluded Kunal.
Srivatsa Krishna, Secretary – IT, Karnataka fired up the stage with his short yet powerful speech. He stated that by 2020, we should aim to make Bangalore the single largest startup cluster in the planet. More Hackacellerators (Hackathons + Accelerators) need to be established, and the plans are on to set up 10 incubators in Tier – 2 and Tier -3 cities by this July.
R. Chandrasekaran, Vice Chairman-NASSCOM did the closing notes. "If you have bright ideas, there is no better time to startup, as starting up is not capital intensive now", he quoted.
Mukund Mohan, Director at Microsoft Ventures hosted the event, and ensured a lively environment throughout.  All the partners were felicitated and several people in the audience shared their experiences on the events attended as part of 10K Program.