The Tech Panda takes a look at recent business launches.
Transport: E-NEXCO Eye for road network survey
E-NEXCO INDIA Pvt. Ltd. (ENI), has launched road network survey business utilising owned specific vehicle, namely E-NEXCO Eye for the Indian markets to measure road surface conditions safely, quickly and accurately.
ENI was established in November 2019 as the Indian subsidiary of East Nippon Expressway Company Ltd. (NEXCO EAST), which is a Japanese government owned company engaging in development, management, operation and maintenance of expressways in eastern part of Japan and is now operating 4,000 km Expressway network and 4 million vehicles are using on the network every day. It's an output of the collaboration activities with India and NEXCO EAST.
E-NEXCO Eye is the joint product, survey devices of which are made using Japan's state-of-the-art technologies and then assembled in India.
The Why
To provide safe and comfortable driving circumstances on roads for users, the most important thing is to keep its pavement condition in a desirable service level. E-NEXCO Eye measures pavement conditions such as cracks, rutting and international roughness index (IRI) with speed upto100 km per hour at night.," said Tetsuo MIYAIRI, President, ENI & Director General of NEXCOEAST.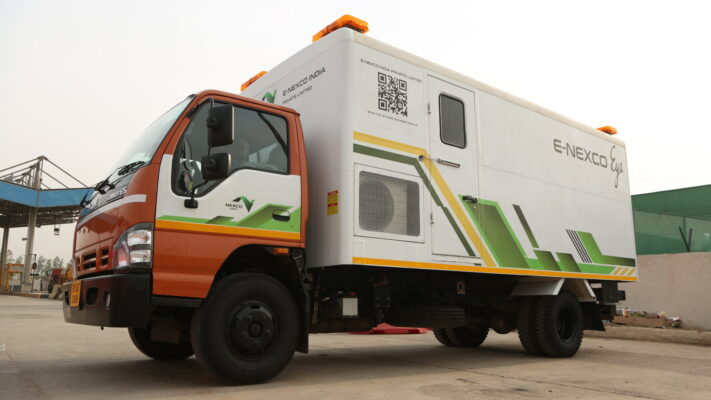 "It took 5 years since I first visited Japan and Mr. Miyairi and other NEXCO members showed us Japan's expressways around. We are so much impressed by the good expressways that is very well maintained, and I thought we want this machine with high technologies that has been used in Japan to improve the quality of road and achieve the efficient maintenance of the road surface in India", Dr. Reddy, CEO of Cube Highways and Transportation Assets Advisors Pvt. Ltd. said.
"I am quite confident that E-NEXCO Eye will make significant changes on road maintenance procedure. I strongly believe, as a result, that E-NEXCO Eye will contribute to upgrade the quality of life, economy, and society in India.", said Tetsuo MIYAIRI, President, ENI & Director General of NEXCOEAST.
Features
IRI (International Roughness Index)
IRI values are calculated by measuring the longitudinal profile of roads using lasers and a gyro. E-NEXCO Eye can measure the profile via three survey lines, Outer/Between/Inner wheel path simultaneously.
A longitudinal profile with a 1-mm interval is output from E-NEXCO Eye. The calculated IRI values maintains an accuracy of more than 95% compared with Class-1 equipment. Moreover, it is highly consistent, with an accuracy of more than 95% on repeated runs.
The color line-sensor cameras can continuously take high-precision color images of pavement surface with a width of 4.5 meters. Maintaining a resolution of 1 pixel per square mm, it can even detect cracks, potholes and any other defects on the surface even less than 1mm width of cracks.
The captured images can be output as the results of pavement surface images covering the entire lane. Color can be added to cracks, making them easy to identify. The images are equivalent to those taken with a single-lens reflex high-resolution camera.
E-NEXCO Eye is mounted with 3D scanning cameras that allow it to measure the height of pavement in the transverse direction at 1 mm intervals across a width of 4 meters, permitting not just calculating rutting depth but also identifying road surface contours. Moreover, measurement as fine as a 1mm interval is also possible in the longitudinal direction.
E-NEXCO Eye is equipped with a patrolling rotating light, allowing for safe measurement at night. The message signboard can display multiple information for road users.
Transport: Intercity bus travel premium lounge in Lucknow
Indian intercity mobility startup, zingbus launched its premium lounge in Lucknow for its patrons to make their intercity bus travel experience enjoyable, convenient and comfortable.
zingbus recently launched a lounge in Ahmedabad and one in Manali which is their largest.
The Why
Lucknow is a crucial location on zingbus's network, and their buses connect it to popular travel destinations like Delhi, Jaipur, Ludhiana, Amritsar, Shimla, Manali, Kasol, Gorakhpur, Deoria, Agra and Mathura.
Given the sweltering summer heat of Lucknow and the crowds at bus stations, the launch of this lounge is perfectly timed to provide all travellers a place to refresh themselves, rest and grab a snack. This launch aims to provide a clean and hygienic place for people to relax while helping them stay connected on the go.
Mratunjay Beniwal, Director & Co-Founder, zingbus said, "We are excited to announce the launch of our Lucknow lounge as it is a prominent location and offers great connectivity to popular travel destinations in the region. It will serve many of our customers in making their journey convenient and safe. zingbus lounges will provide much-needed rest and relief and connectivity for the travellers who look forward to having a safe and easy journey, especially for those who are covering long routes."
Features
AC premium lounge equipped with a food court, RO water, mobile charging stations, free Wi-Fi and cloakroom
A comfortable and safe environment for travellers to rest
Located at the most prominent exit point of the city, Nehariya-Awadh Chauraha, is directly connected with Singar Nagar metro station and is just a few kilometres from Lucknow Airport & Lucknow-Agra expressway.
Spread over 400 sq. ft. with a seating capacity of more than 15 customers
IoT: 'Me-eye Experience Centre' to develop IoT solutions for the CNC metal cutting industry
Mitsubishi Electric Computerized Numerical Controllers (CNCs) has opened 'Me-eye Experience Centre' in Peenya, Bengaluru under its CNC Technical Centre. This initiative will develop IoT solutions for the CNC metal cutting industry such as user applications via Mobile phone, PC and Web.
Masaya Takeda, General Manager, CNC Department, Mitsubishi Electric India Pvt. Ltd. said, "We are happy to introduce such initiatives because value addition is our major interest through which we make our Customers and Partners happier and more enthusiastic. Through this, we are sure more Machine makers and End users are going to become beneficiaries by using our applications and support. Me-eye will function as an eye to see Customer's needs/problems, an eye to focus on solutions for the growth of Indian manufacturing sector. We hope this initiative will also be another step towards the Government's 'Make in India' mission."
The Why
Mitsubishi Electric India started It's CNC manufacturing facility in Peenya, Bengaluru in 2017 to support the 'Make in India' initiative and aid industries who want to adapt the latest manufacturing technology.
Me-eye will have many IoT projects in the future and few have already started as well. Me-Connect, MT-Connect, Connect2U are just few of the projects that's being undergoing this initiative.
Features
The state-of-the-art demonstration set up in this new facility is one of its kind and will attract future developments in the era of IoT in the machine tool industry.
Offers advanced CNC control systems to take the machining needs of Industry to higher performance levels.
Like a human eye which performs the function of visualization and transforming complex visuals into simple observation, the "Me-eye" brand will stand for a mission of 'Visualising problems and realising solutions' in the CNC and in the related industries.
Under the Me-eye Experience Centre, one of the first projects is "Me-Connect", which is a mobile application for all Mitsubishi Electric CNC users which is the first among Mitsubishi Electric CNC group companies globally.
CNC Customer service functions will be accessible through this App such as registration of a service request, warranty and end user's data etc.
The mobile application will help Customers to see the status of their repair requests and Service/Maintenance personnel will be able to use this technology to remotely keep a track of their machine's information at all times.
Crypto: Another new physical branch in Janak Puri, West Delhi
Unicas, the crypto financial institution with physical branches, opened another branch in Janak Puri, West Delhi. The new branch is located amidst the hustle-bustle of the commercial district of West Delhi, across the Janakpuri District Center. Unicas plans to foray in UP and Telangana, markets too in 2022.
The Why
With its branches, Unicas is able to bridge the gap between traditional banking and the digital age of investment and allow a seamless transition to its users. Following the overwhelming response at the central Delhi branch in Connaught Place, the brand is now expanding in other parts of the capital starting with the new branch in Janakpuri.
"Contrary to the popular speculations in regard to crypto, we have witnessed a handsome response for the physical branches. We noted how this has helped us to facilitate awareness on technology and innovation, along with introducing the finest banking infrastructure. We aspire to take this way ahead, and the new branch is the step in the same direction," said Kumar Gaurav- Founder & CEO of Cashaa.
Features
Users can avail facilities including high yield savings interest of up to 13% p.a., instant loans against crypto assets, and an exchange service.
The financial institution-Unicas accepts the CAS token as its native crypto asset.
Users with the higher portfolio balance in CAS get additional banking services along with a lower rate of interest for loans along with higher earnings on saving balance.
AI: A document digitisation platform, Scanroid, to automate manual data entry
New-age technology and development firm, Getafix Technologies unveiled an AI-powered data extractor and complete data mapping solution, Scanroid, that automates manual data entry process. The newly launched document digitisation solution can scan and read documents, categorise them automatically and ensure data validation and accuracy.
As a launch promo, Getafix Technologies is offering a free trial with usage restrictions. Post free trial, the product will follow dynamic pricing and its costing will depend on the number of scans used in a month.
The Why
Considering the heavy dependence of several industries like HR, finance and manufacturing on manual document digitisation and data entry processes, Scanroid automates error-prone and time-consuming data digitisation processes and brings down the cost of manual document digitisation.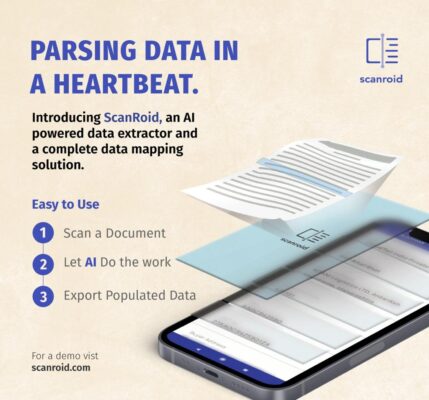 Asif Bhat, CEO & Co-Founder, Getafix Technologies said, "We are delighted to bring forth an industry-agnostic solution that can revolutionise the document digitisation process of multiple industries and businesses. With Scanroid, we endeavour to minimise human efforts and errors while significantly lowering the cost and time spent in manual data digitisation. As a tech-driven company, we want to accelerate the AI and automation adoption of Indian businesses and provide them a pain-free document digitisation solution."
Features
Can parse documents in over 200 languages and reduces errors by 52% and manual document processing costs by 35%
Bolstered with advanced capabilities that can identify text, characters, images and more.
Can be seamlessly integrated into the existing workflow of companies with their HRMS, ERP and E-commerce software
Delivered an accuracy rate of 95% in internal testing. The tests highlighted a 38% faster retrieval of documents compared to traditionally stored documents – in part due to indexing of otherwise non-indexed data.
Networking: New resilient, redundant source of secure network timing & synchronization for power operators
To assist power grid operators to synchronize communications and ensure continuity across networks, Microchip Technology Inc. (Nasdaq: MCHP) launched its GridTime™ 3000 GNSS Time Server, a software-configurable solution providing substations with a new level of redundancy, security, and resiliency.
The Why
Power plants and substations rely on high-speed communications networks to transmit critical data including operability metrics, network health, fault monitoring, power measurement and usage trends. To synchronize communications and ensure continuity across these networks, substations require secure, precise timing and synchronization to avoid false tripping and to provide accurate timestamping of substation data including system faults, power measurement data and substation status information. Microchip's product assists power grid operators to meet these requirements.

"Surges, adverse weather and cyberattacks targeting critical infrastructure all require resilient timing architectures and technology to mitigate the threats and ensure continuous timing," said Randy Brudzinski, vice president, Microchip's frequency and time systems business unit. "This solution provides our customers a new level of performance, which translates to an enhancement of the reliability of communications network in their digital substations."
Features
Generates precise time and frequency signals to synchronize analog and digital communication systems.
Incorporates multiple timing inputs for protection in the event of a Global Navigation Satellite System (GNSS) signal disruption caused by severe weather, environmental disturbances or signal jamming or spoofing.
Three levels of internal holdover options are available including a base Voltage Controlled Temperature Compensated Crystal Oscillator (VCTCXO) and an optional high-performance Oven Controlled Crystal Oscillator (OCXO) or Rubidium oscillator option to extend holdover duration and enhance performance.
Is compliant with IEC 61850-3, the environmental component of IEC 61850, an industry standard that defines communication protocols for power substations and IEEE 1613-2009, the international environmental and testing requirements standard for power substations.
Incorporates a hardware-based cryptographic assurance module to utilize industry-standard Rivest, Shamir and Adleman (RSA)- and Advanced Encryption Standard (AES)-based encryption to protect against unauthorized configuration upload of malicious code.
Provides greater flexibility than earlier technology, allowing clients to upgrade system technology as needed.
Developed with input from customers, server offers ten 1000BASE-T Ethernet (1 Gbps) ports for high-speed synchronization using Precision Time Protocol (PTP) and Network Time Protocol (NTP).
Includes an internal web browser management interface, Clock Management Tool (CMT) for configuration and management for easy remote managing and monitoring of the device and a new array of accessories including a multi-band, multi-constellation GNSS receiver system and cold-swappable power supplies.
AI: A virtual agent for ready to deploy customer service
Avaya (NYSE: AVYA), a global communications and collaborations solution, announced an enhancement to Avaya OneCloud™ to dramatically reduce the complexity associated with virtualizing customer interactions. Avaya Virtual Agent is a ready-to-deploy, configurable service that delivers the full benefits of virtual, AI-based communication experiences to businesses.
The Why
Recent Avaya research with Ipsos indicates that based on their last interaction with a virtual agent, only 1 in 3 customers would recommend that business to others. This is because only 50% had their concern resolved. This lack of success is due in part to the historical complexity of developing and delivering effective virtual agent solutions.
Avaya Virtual Agent removes this complexity, enabling organizations to quickly deploy Avaya-designed, pre-built, cloud-based self-service agents instead of building them from scratch. It leverages the Avaya OneCloud™ Experience Platform, which reimagines communications composability, providing customers with the option of constructing their own workflows or subscribing to pre-built experiences.
"Experience is everything today, and companies need to provide an entirely new level of responsiveness that adapts to the changing needs of customers and employees, even in the moment," said Simon Harrison Senior Vice President and Chief Marketing Officer at Avaya. "Avaya Virtual Agent makes it easier for organizations to rapidly compose the interactions that businesses need to ensure more engaging and memorable experiences."
Features
Easy-to-configure use-case templates accelerate business-specific self-service design and deployment without coding.
Single, easy-to-navigate user interface eliminates the need for scarce development resources and training.
AI capabilities can be easily added/incorporated, enabling more human-like conversations.
Support for 20 languages.
 Brand creation: A User Generated Content studio for high ROI
Pink Lemonade Communications, an integrated marketing and communications agency, launched a UGC (User Generated Content) platform. The Pink Lemonade UGC Studio is designed by a team of genuine, authentic, and regular people who love creating content for informing, educating, and entertaining the audience. UGC is known to give predictable ROI when it converts 5X times better than other branded content.
The Why
Statistics show that 92% of customers trust and turn to people they know for reviews and recommendations above any other source. This is why 79% of people consider UGC to highly impact their purchasing decisions.
As humans, we are constantly curious about what others are doing, what their tastes are, who and what they are following, and what they are using. As a result, such content delivers proven ROI.
View this post on Instagram
Tapan Garg, Strategic Director, Pink Lemonade, says, "We are extremely excited to bring you Pink Lemonade UGC Studios, as it's the next big thing. Brands have realized the value of this kind of content, which is generated by people for people, and not just content on a brand's social media feed. We look forward to seeing what this can mean for the brands we support, and how it will turn the industry trends around."
Features
Brings together 1100+ content creators who will provide increased engagement for brands with relatable reels and videos made by real people, in real-life scenarios doing things as people normally would.
Supported by brand strategists, trend trackers, creative experts, and media buyers.
FinTech: New transactions feature on FinTech education app
StockEdge, a fintech app by  Elearnmarkets, an Indian financial education platform, launched many cutting-edge features including transactions from its app. Now all StockEdge users will be able to place the order directly from the app with their respective brokers including Zerodha, Kotak Securities, Groww and more. Having 3 million app downloads, the new feature on StockEdge will benefit its huge user base.
The Why
Financial literacy has been very low in India and since beginning StockEdge aims to make their users skilled with market trends to further all financial investment.
Vivek Bajaj, Co-founder, StockEdge and Elearnmarkets, said, "Financial literacy has been very low in India and since beginning that is our motto to make our user skilled with market trends to further all financial investment. We are really overwhelmed to see the participation and learning session participants attended. We found Conclave a right platform to launch the Trade feature at StockEdge. Trading during live markets gave the participant exposure to managing the trade in terms of position sizing, psychology, and risk management. With this success we are more committed to bring such offline and line events for the investors to skill them for investment ready."
Features
Allows users to place order directly from their app to their broker
Trading during live markets gives the participant exposure to managing the trade in terms of position sizing, psychology, and risk management.
Ai LIVE technology: Live interactive classes starting at just INR 5000 per year
Vedantu, a LIVE online learning platform launched Augmented Interactive (Ai) LIVE technology. Ai LIVE classes aim at revolutionizing education for millions of students by making quality education accessible and affordable.
The Why
Ever since 2014, the founders have been on a mission to create impact at scale by providing holistic learning solutions and experiences for every student with the best teachers, Ai LIVE is another step in that direction which offers an interactive platform backed by technology that will disrupt the price point of INR 5000 per year to bring it down to INR 10 per hour.
Vamsi Krishna, CEO & Co-Founder, Vedantu said, "We are proud Ai LIVE has come around with the long-standing aim to make quality education accessible and affordable for all students in India. At Vedantu, we believe this is the true promise of EdTech, where we combine the best of teaching with the most disruptive technology, to create such a massive impact at scale. We have used all our learnings through concept teaching in millions of LIVE classes and asynchronously captured all the core concept teaching. This helped us to bring the prices down exponentially to an unbelievable Rs 10 an hour. For context, a JEE Course which costs more than Rs 1 Lac per year in offline coaching classes, through AI Live, will now cost just Rs 5000 per year."
Features
Ai LIVE Nudge: AI-driven 'real time' personalized nudges, we could maintain the same experience of the live class that is equally effective and engaging. To ensure concentration from every child, this technology leverages the understanding of every student's level of engagement and learning outcomes in the class to drive real-time personalized nudges, exactly when needed, that too in the Master Teacher's voice.
Ai-Powered automated in class doubt solving: The classes have automated systems powered by Vedantu's AI algorithms that work continuously and predict doubts from students even before they arise which ensures that every doubt, no matter how small or big is accounted for
Ai LIVE class milestone technology: Gone are the days when progress reports would land in your hands months later. It is all happening live and in class now.
Class Teacher Dashboard:In addition to all these powerful automated systems, Class Teachers are also continuously informed with learning insights gathered within the class, for each student, through our state-of-the-art Class Teacher Dashboard. This dashboard gives them the superpower to know exactly how engaged every child is, helping them to calibrate the classes accordingly. It takes personalized learning to a whole new level.
Jobs app: Android app to help people find jobs
Noida-based Jobsgaar is a career-tech platform that rolled out its brand new application for job seekers in India, which will be available on Android smartphones across the country.
The app ensures that employers/recruiters aren't overburdened with the profiles of irrelevant candidates and can hire quickly. With speed, accuracy, and trust as the focal point, the technology ensures that the workforce can find a #WalktoWork opportunity.
"In the wake of the pandemic, the jobs landscape stands altered, with demand shifting to new services that require different sets of skills and experience. Businesses of all sizes face the challenges of the new normal, while job seekers have to adapt to this shift quickly," Atul Pratap Singh, Founder, Jobsgaar Pvt Ltd said.
The Why
The platform aims at connecting job seekers and employers from Tier II and III towns of India through a hassle-free process. The startup is driven by technology innovation, and its proprietary matchmaking ensures that job seekers don't waste time browsing for jobs or applying for irrelevant job opportunities.
Jobsgaar's main audience ranges between the ages of 18 and 45 years across genders and can be skilled, semi-skilled, or have no skills. The salary expectations range from Rs 5,000 to 40,000 per month.
Features
Job seekers can discover recommended jobs, apply for jobs using the app, and follow the job application process.
Enables users to build a digital CV, which can be shared right from the app.
Available free of cost for Android users.
FinTech: A contactless RuPay ON-THE-GO keychains for teens
Pencilton, a teen-focused fintech startup, launched PencilKey, the NCMC-complaint RuPay ON-THE-GO contactless keychains for teens, in partnership with National Payments Corporation of India (NPCI) and Transcorp.
Pencilton is offering the virtual PencilCard for free. Users can buy their PencilKey for Rs 150 and PencilCard for Rs 100, but as part of the company's launch offer, users can also buy a PencilKit (combo) which includes both PencilCard and PencilKey for Rs 200.
The Why
Pencilton has taken a step forward in encouraging financial literacy in youngsters by providing them with cutting-edge financial tools and technology. Transcorp PPI is the fastest & resilient issuer for co-branded instruments and has demonstrated success for its partners to achieve their desired goals by aligning stakeholder deliverables.
Viraj Gadde, Co-founder, Marketing and Partnership of Pencilton, said, "We at Pencilton are excited to introduce PencilKey which is a step towards introducing advanced payment methods to our smart generation, with PencilKey users can pay on-the-go by just tapping on the POS machines. Since teens & students nowadays are very smart and adaptive, they are very well versed with systems around them that is constantly evolving and advancing."
Features
Activates through the Pencilton app which is also used to load money, check spends, block/unblock the account, set limits, and so on.
Linked to the PencilCard which is an all-in-one Prepaid card, metro card, and bus card.
Equipped with the benefits of NCMC which works at the Delhi Airport Metro line and Goa's buses currently
Scheduled to be accepted for metro travel in Pune, Chennai & Mumbai as well as in BEST buses in Mumbai.
Cloud: Launches to manage databases, fight audience hijacking & improve workflow for developers with EdgeWorkers
Akamai Technologies Inc. (NASDAQ: AKAM), the cloud company launched a series of new products and updates to existing products across its security and compute product lines. The announcements include Akamai's entry into the infrastructure as a service (IaaS) market with the launch of Linode Managed Database, the launch of Audience Hijacking Protector, and a host of other new features for developers and cybersecurity professionals.
"This week's product announcements and updates are all about one thing: powering and protecting life online," said Ari Weil, global vice president of product marketing at Akamai.
"We are particularly pleased to launch Linode Managed Database, the first product in our new compute range, giving our customers access to a broader range of tools no matter their computing workload, and making Akamai the world's most distributed compute platform, from cloud to edge."
Linode Managed Database
Linode Managed Database simplifies database deployment, helping developers reduce risk, increase efficiency, and minimize the complexity that comes with manual management of production database clusters.
Managed databases have been the most requested product by Linode customers. The launch of Linode Managed Database service marks Akamai's first product launch in its compute line of business following its acquisition of Linode in March of this year, reinforcing its mission to develop the world's most powerful and distributed compute platform from cloud to edge.
Features
Flat-rate pricing
Security and recovery measures
Flexible deployment options
High availability cluster options
Audience Hijacking Protector & other security features
Audience Hijacking Protector is a new solution designed for online businesses to maximize revenue opportunities and minimize marketing fraud in the buying journey. As the pace of online retail increases, security teams for online brands are facing a new widespread, customer-side phenomenon. Known as audience hijacking, retailers are grappling with a growing problem where unauthorized ads and pop ups lure shoppers away from online stores – disrupting customer experiences and leading to lost revenue.
Features
Internet browsers, mobile applications, during API interactions, and at the edge.
Workflow improvements for developers with EdgeWorkers
With more and more computing workloads moving to the edge, Akamai is making several improvements to its EdgeWorkers product, which enables development teams to leverage the Akamai network for creating microservices and accessing secure and fast-acting computation at the edge.
Features
New integrations
Higher resource tier limits
Support for customers using Standard TLS