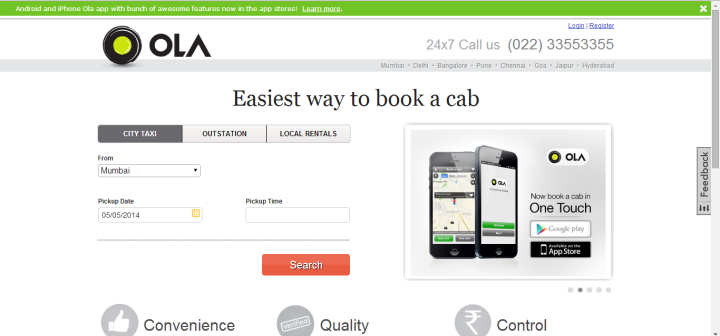 Olacabs today announced that it will offer all its cabs in Delhi at flat 50% fares, during the two-day auto strike on Monday, May 5 and Tuesday, May 6. The strike is expected to keep autos off the roads and affect public transport. For travel within the city, customers can book Olacabs at 50% fares on May 5 and 6 by calling – 011 – 33553355 or on www.olacabs.com or using the mobile app for Android and iOS. Customers can book cabs 24hrs in advance as well.
OlaMini will be available at Rs 7/km and minimum fare of Rs 75 for the first 6 kms as against the regular fares of Rs 14/km and minimum fare of Rs 150 while Ola Sedans will be available at Rs 9/km and minimum fare of Rs 100 for the first 8kms as against Rs 18/km and minimum fare of Rs 200. The fare device shall display a flat 50% fare at the end of the trip, payable by the customer.
"We are running all our cabs at half fares on these two days to ensure that regular life in the city is not disturbed. This initiative makes our services accessible to everyone alike.", said Anand Subramanian, Head of Corporate Communications.

Olacabs also offered its cabs at auto fares during the auto strike in Mumbai in April 2012 as well as during strikes in Delhi, Bangalore and Mumbai in 2013. With Cab Aggregation space heating up day by day, it is a good move by OlaCabs to do some social good, as well as give customers a taste of their fleet and service.