Oracle CEO Larry Ellison certainly had a big day. He delivered his second keynote at the Oracle OpenWorld conference in San Francisco, and also gave a rare interview to CNBC's Maria Baritoromo.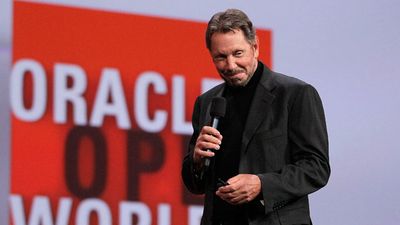 In the TV interview (see it below), Ellison made news, saying that Oracle will not be doing any large acquisitions, especially NetApp, the storage concern that has been occasionally mentioned as a possible target. Ellison said there would be no large acquisitions.
"We think we have all the assets in-house to grow very rapidly on an organic basis," he said.
Baritoromo had clearly been reading AllThingsD because she made a point to call out Ellison's 45 percent share of NetSuite. In a subtle dig at Salesforce.com and its CEO Marc Benioff, Ellison has been calling Oracle "the first cloud computing company."
Then it was on to his keynote — his second of the conference — where he revisited in additional detail some of the points he made in his first keynote from Sunday, but also did some demos.
For one thing, Ellison reminded the audience that while Oracle may not yet be the biggest software-as-a-service company by revenue, it does offer more applications on a SAAS basis than anyone else — which, given Oracle's just-completed rewrite of its entire suite of applications for the cloud, is a factual claim.
But he also made some important pronouncements around his view of how the cloud runs, again making subtle digs at the competition. "When you run in the cloud, you also pick the infrastructure that it runs on," he said. That's a dig at Salesforce and other smaller SAAS companies that seek to compete in some manner or another with Oracle. Sign on for the application, you're stuck with the platform and other infrastructure that the company selling it has running in their data center.
It was an easy segue from there to Oracle's public and private cloud offerings. Ellison said Oracle has about 400 customers using its new Fusion applications. He said about two thirds of those customers were running their applications in Oracle's public cloud, while about one third were doings so on dedicated machines on premise.
But since both the public and private cloud are essentially equivalent — after all, they run on the same hardware and the same software — it's easy for a company to change its mind. "They can move to an Oracle private cloud or public cloud without changing anything," he said. "It's very easy to move applications back and forth." He thinks many of those customers will do just that and switch over to the public cloud within a year. "We'll have more visibility into that by this time next year," he said.
Part one of Ellison's CNBC interview is below. The other parts, where he talks aboutincreasing Oracle's dividend, explains why the hardware business shrank, why he bought all those houses, calls his late friend Steve Jobs irreplaceable, and then kidded Baritoromo about buying the LA Lakers are also all online.