PayPal has acquired Card.io, a company founded by two former AdMob employees that makes paying for things inside mobile applications much easier.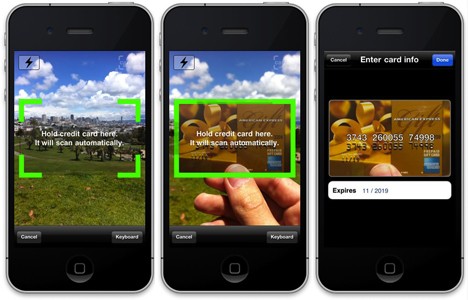 The announcement was made this afternoon on PayPal's blog. Terms of the deal were not disclosed.
Hill Ferguson, PayPal's VP of Global Product, said they first met with the team at Card.io when they were working on integrating their technology into the PayPal Here mobile application.
"While working with them, we were simply blown away by the creativity and drive of their employees," he said.
PayPal said the employees at Card.io will be joining the PayPal global product team in San Jose to help make it easier for consumers and merchants to use the PayPal digital wallet. Additionally, the company said the technology will remain open to developers for use in their own applications.
Card.io, which was founded by Mike Mettler and Josh Bleecher, raised $1 million in seed funding and came out of stealth mode about a year ago.
The Card.io technology makes it insanely easy to buy something on the phone. Rather than having to type in the credit card number, users just hold a credit card up to the phone's camera, which automatically reads the card information and enters the appropriate data. A similar company, Jumio, which is backed by Facebook co-founder Eduardo Saverin, has a product called Netswipe that turns mobile phones and webcams into credit card readers.
Card.io is just one of many companies that eBay-owned Paypal has acquired to make a big push in the mobile payments space.
Via: All Things D