Who has enough time? Very simple answer – No one. Who wants to have more time in a day? Again – Everyone.  That is precisely we have so many organizers, websites and apps which will help people plan their day. But, end of the day- the person managing the apps has to spend even more time managing the apps and organizers. That is where the gap is. You will have free time if someone else manages the tasks for you – a Hyderabad based startup, Plan My Day just does that. They have a dedicated team of remote secretaries who will help you free your time.
We managed to catch up with Shivadhar Soma, the founder of Plan My Day. Here is the excerpt:
Plan my day will surely add TIME to people's lives. Do share with us on the journey so far.
Like any other entrepreneur, the journey started with an idea. An idea that would save TIME. After spending more than a decade in the corporate world managing businesses, I felt there is a definite need in the market for a remote assistant. Be it for paying bills or fine-tuning presentations. We are always on the move to make the best for the organisation and self. But you only have a given window of time available. That's the genesis of the thought.
The journey so far has been amazing. Though it was a roller coaster ride, its been very encouraging when people appreciate and at the same time challenging when people ask for more time to sign up. It was an uphill task to setup the office, recruiting people, training them and build a robust IT & telecom platform. I believed that a strong team is required to setup such robust systems and operations and were fortunate to have a team like that.
First customer was obviously a moment to cherish and believe that such a service has a market here in India. In fact soon after our first client, we got our 2nd and 3rd customers within a week. Major success has been to get a customer from Delhi who has not even met us and has sign up for a half year for the highest pricing package.
Is the data storage cloud based? What kind of data security and privacy measures are taken to ensure that, the remote assistants do really make legal use of the data?
Currently we use a combination of cloud based and in-house solution. This is primarily to ensure higher safety of data. We are working with our IT partners for a better solution. PlanMyDay signs a NDA and Code of Conduct agreement with all its employees stating very clearly about information security. We have CCTVs, access cards to ensure higher safety along with a centralized data storage with no capability to store any data in the local system. Saying that, information security is a journey and we have just begun.
Our IT infrastructure strategy was designed & architectured by an IT veteran who worked for major companies. We have built an in-house CRM and work flow applications to ensure most of the data is captured and also can be retrieved with speed.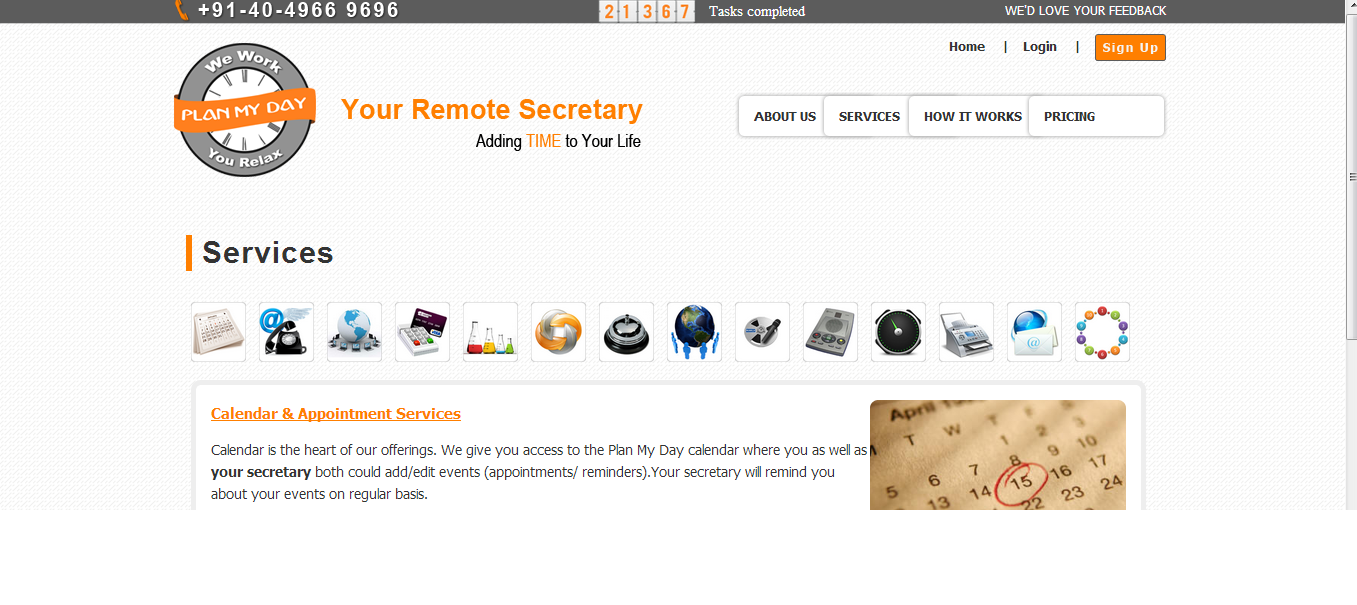 What kind of skill set is required, if someone is pursuing a career in remote assistant area? Being in this field, your inputs would help the aspirants in the market.
Hiring is a continuous process at PlanMyDay. We look for the best and nothing less. We look for Secretaries who have worked for 4+ years in the corporate world. Apart from communication skills, we look for people who have good comprehending skills. We get the best from the market and give them an excellent career so that they move up the value chain.
 Tell us about the Executive Plus Club, sounds like suitable for C-club of the companies.
People who are on the move most of the time, need more assistance. Exclusive Plus Club is for those executives who are traveling more than 50% of the time. Their emails need to be managed, calls to be handled, calendar to be set, bills to be paid and excels to be made. Exclusive Plus Club is for customers who need the service for more than 3 hours a day.
Just curious, as mentioned in the website – remote secretaries do not require office space and perks as opposed to full time secretary. So, are these remote secretaries working out of their houses or Plan My Day office? Because the data security would be more of a concern for people working from homes.
Exactly. PlanMyDay's remote secretaries work from PlanMyDay office in Hyderabad. To ensure we have total control on information security we have chosen this path. Unless we have a fool-proof system, we cannot allow them to work from home.
What is the founding capital? Have you break even now?  And are you looking for any investors?
We have boot strapped this venture and invested about 30 lakhs till date. We should break even (operational) in the next 3-4 months. Yes we are open for investments.
What are the future plans for Plan My Day?
We are opening a sales office in Bangalore early April 2013. Which means we are looking for more business from Blr. We intend to launch Chennai by May and subsequently Mumbai and Pune by October 2013. As a first mover in India market, we want to get as many clients as possible in the next 12 months and show case this as one of the successful business models in services space in India targeting India customers.
Any advise you would like to give to the readers of TheTechPanda?
Just take the plunge and discover a new world which is full of excitement and challenges. Life is too boring to live within boundaries. Get out and do something new.
 What do we think of Plan My Day?
There is no question that people are pressed for time more than ever now. Services like Plan My Day will have an ever increasing demand for remote secretaries and this is a niche area to start with. However, the establishment of these services will depend on the quality of the remote assistants and the privacy these firms maintain.
We wish Plan My Day all the best.