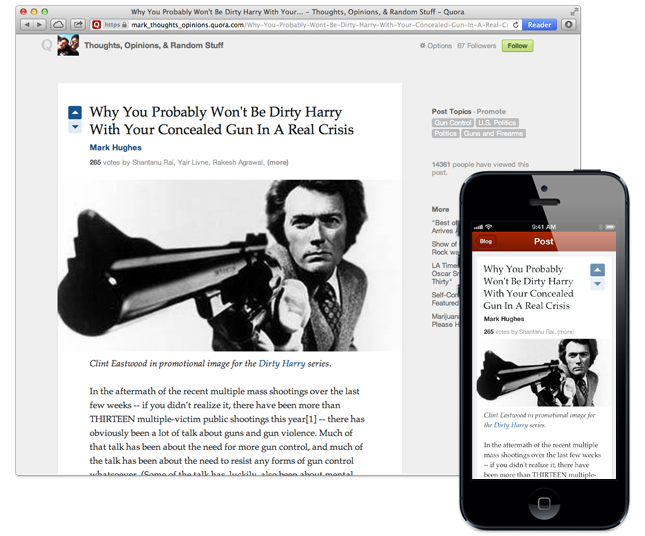 Every passionate author, writer, blogger will agree to the fact that it is very difficult to build a following. The internet is full of experts and people still don't have knowledge about them.
So,  Quora launches a blogging platform that automatically distributes posts to its Q&A site users who follow related topics. Thanks to its upvote system, home page feed, and a new mobile text editor, anyone with something brilliant to blog, even first-timers, can find a readership.
Last month, Quora's co-founder Adam D'Angelo announced that his company was planning to expand beyond questions and answers . He said,
"The internet was supposed to allow anyone to set up a web page and share their knowledge with the world. But in practice it's too difficult and takes too long and almost no one does it. Blogs are easy to start, but unless the author is famous, it takes years to build a following. More than a billion people use the internet yet only a tiny fraction contribute their knowledge to it."
Enter Quora Blogs. Blogs allow writers to share their knowledge and thoughts in a space that they control, without the structure of the questions-and-answers format but with the same potential for viral distribution and the same engagement through votes and comments.
Starting today, Quora users can create as many blogs and posts within them as they like. From the web or mobile, they can express themselves through rich text editors and embedded images. Authors can tag their posts or entire blogs with any of Quora's 300,000 topics that are relevant to their content. Then other Quora users who follow them, their blog, or most importantly any of the tagged topics may be shown relevant blog posts on the Quora home page feed. The more upvotes, comments, and shares a post receives, the more people it will be distributed to.
If you are a good writer but don't have thousands of Twitter followers or a big audience for your blog, Quora is an ideal place to write. Check it out.