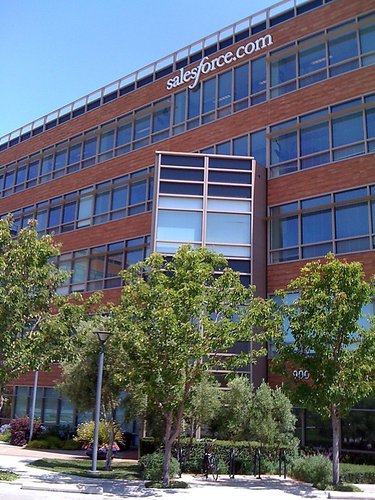 Salesforce.com reported better-than-expected fourth quarter results and also managed to deliver a strong outlook for the next quarter and financial year.
The company reported a fourth quarter net loss of $20.84 million, or 14 cents a share, on revenue of $835 million, up 32 percent from a year ago. Non-GAAP earnings were 51 cents a share in the quarter.
Analysts were expecting a fourth quarter earnings of 40 cents a share on revenue of $830.85 million. None the less, the company has managed to show a strong positive outlook for the year to come. The expect the first quarter revenue will be between $882 million and $887 million with a net loss of 44 cents a share to 42 cents a share. Non-GAAP earnings in the first quarter will be 40 cents a share to 42 cents a share.
For fiscal 2014, Salesforce said that revenue will be $3.82 billion to $3.87 billion. The net loss and non-GAAP earnings projections were largely in line. Wall Street was projecting non-GAAP earnings of $1.95 a share on revenue of $3.85 billion.
Here's the earnings outlook: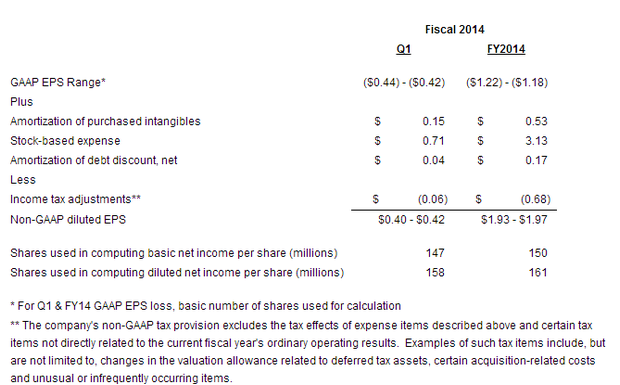 Chief executive Marc Benioff touted the company's $3 billion in annual revenue and growth rates.
"No other top 10 enterprise software company is growing faster," he said during an investor call. "We signed more than 150 multi-million dollar transactions. That included nine eight-figure transactions in the quarter. Pretty epic."
"[We're] on the way to our 10 billion dollar dream."
He added that Salesforce was on track to "replace SAP as the number one CRM company in the world."
Here are the important numbers:
Quarterly Revenue of $835 Million, up 32% Year-Over-Year

Full Year Revenue of $3.05 Billion, up 35% Year-Over-Year

Deferred Revenue of $1.86 Billion, up 35% Year-Over-Year

Unbilled Deferred Revenue Increases to Approximately $3.5 Billion

Full Year Operating Cash Flow of $737 Million

Raises FY14 Revenue Guidance to $3.82 – $3.87 Billion

Initiates FY14 Non-GAAP EPS Guidance of $1.93 – $1.97