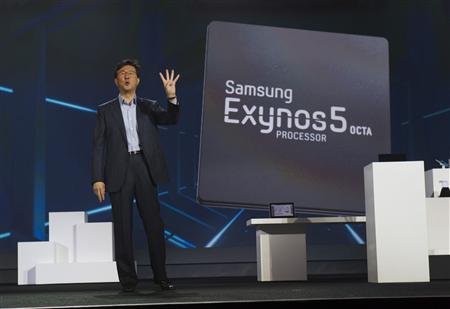 Samsung took center stage today to announce the next processor in its Exynos 5 lineup: the Exynos 5 Octa is an eight-core SoC (System on Chip) destined for tablets and high-end smartphones.
The Exynos 5 Octa uses ARM's big.LITTLE processor technology and what is more interesting is that with the use of this technology the SoC can switch between two clusters of four cores each: ARM Cortex-A15 for performance, and Cortex-A7 to handle common workloads while providing better battery life. On the whole this can improve battery performance by upto 70%.
This makes the Exynos 5 Octa one of the first products to actually use ARM's big.LITTLE processor switching technology. The SoC is designed to dynamically split the workload between the high-performance and the high-efficiency CPU cores based on the task at hand—less strenuous activities like browsing an app store or checking e-mail might be done on the A7 cores, for instance, while gaming and number crunching could be handed off to the A15 cores.
This differs from Nvidia's Tegra 3 and Tegra 4 SoCs, which include a low-power Cortex-A9 and a Cortex-A15 (respectively) "companion core" that can only be used when all of the SoC's other CPU cores are powered down.
Samsung says it provides twice the 3D performance of any previous mobile processor, including the company's Exynos 4 Quad. We're definitely waiting to get our hands on a device that is built using the Exynos 5 Octa. Are you?