Today at a gaming event in New York City, Sony announced the PlayStation 4. Sony's Andy House says that it is the 'most powerful platform ever'.
Here is the sad part. Sony did not reveal the actual device rather showed only images. There are no details on the pricing either. This clearly indicates that there are some details about the product itself and the pricing that have yet to be finalized.
"The living room is no longer the center of the PlayStation universe, the gamer is," says House. "Every facet of PlayStation will continue to become more powerful…and remains at the heart of everything we create."
Sony's Mark Cerny then took the stage to talk about the upgraded console and how the PlayStation ecosystem could be integrated into other platforms like the Vita, as well as smartphones and tablets. He spoke about the way that all of the consoles before have been a 'single purpose' device.
The Sony PlayStation 4 has hardware very much similar to PCs – an X86 processor with 8 cores, 8GB GDDR5 RAM and a customized GPU. The 8-core processor and GPU are unified, providing 170GPBS bandwidth.
Next up is the DualShock 4 controller. The new system uses a DualShock 4 controller with a touchpad, share button, lightbar and headphone jack. The lightbar mates with a camera system on the PS4 that allows the console to track the depth (distance away) of the player.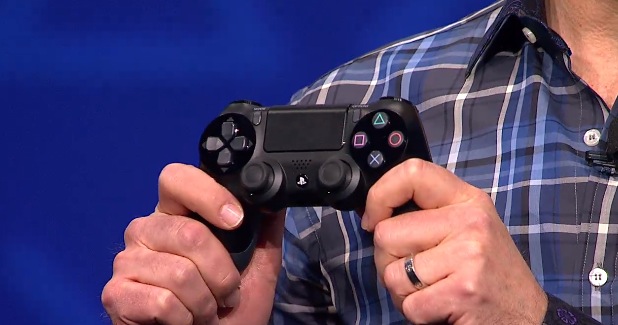 Sony is also updating its PlayStation Eye accessory for the new console. Packed with two cameras and four microphones, it will be capable of 1280 x 800 video at 60fps, 640 x 400 at 120fps and 320 x 192 at 240fps.
There is background uploading and downloading, allowing the console to update game and system items in the background even if the main power is off. Digital titles can even be played while they are being downloaded. Now that is something cool.
Several Games were also announced at the event:
[youtube id="KZKEIQ30cjI" width="600″ height="340″ position="left"]
[youtube id="txP32E-gZ-g" width="600″ height="340″ position="left"]
[youtube id="txP32E-gZ-g" width="600″ height="340″ position="left"]
At the end of it all, unfortunately, with no pictures of the actual device, no pricing and release information, it is hard to say anything right now. We'll keep you updated as and when Sony releases more information.