Event Details
Theme: Health is Wealth
Date: Saturday, 08th February 2014 – 9:00 AM to 2:00 PM
Venue: Yahoo Sunriver Cafe, Domlur
We all have plans for every weekend to unleash the stress, rejuvenating our minds to meet the challenges for the upcoming week, be it personal or professional. But, for those who want to chase their dreams, their minds are always wired to look for opportunities in this ever-changing world. February 8th 2014 was very much different for those seventy to eighty attendees who turned up for the Startup Saturday event in Bangalore to spark their ideas that are hidden deep inside their minds. The introductory session revealed something about each and every one to know who they were and where they came from.
Today the world is revolving around the technology and the time spent on the electronic gadgets is immense. As a result, there is physical inactivity and lack of exercise, leading to health problems.
"Time and Health are two precious assets that we don't recognize and appreciate until they have depleted" – Denis Waitley
The healthcare sector in India offering a potent mix of opportunities and challenges is opening its door to innovations and new ideas, adding benefit to the Indian healthcare system.
Healthcare Trends 
Here are some of the healthcare trends that are captured by Dazeinfo, the knowledge partner of HeadStart.
$3 Trillion Opportunity by 2015
$160 Billion Opportunity by 2017
India is the 4th largest medical device market in Asia
40,000 people die in India every year
Big Data – 91% of data is considered to be accurate
There are about 40,000 mobile health applications
Healthcare App downloads in 2013 – 503 million
The demo on the trends in the healthcare business segment gave the participants a good insight to delve deeply about healthcare opportunities in India.
DocEngage 
The first demo was from Ahimanikya Satapathy who has built a powerful healthcare platform, DocEngage. DocEngage is a Healthcare IT product that helps doctors to manage the health records of patients. Their healthcare products include DocEngage Medispa, DocEngage Ayur and DocEngage Dento. Conceptualized in 2012 and founded in Feb 2013, DocEngage is simple and usable software in clinics. It has various features such as scheduling the appointment, analytics, inventory, billing and much more. Ahi walked through the software step by step to show how it is easy to help the doctors who are running a chain of clinics in India. Before a patient visits a doctor, 80% of the data are filled in with the help of this software, which makes it simple for the doctors to handle more patients in less time.
Inspirational Story by Dr. Praveen Venkatagiri, Neonatal Care and Research Institute 
What drives a doctor to become an entrepreneur? Every idea has a beginning. Dr. Praveen and his two friends had different perceptions about life. However, after gaining extensive experience in abroad in clinical and practical care of extremely premature infants, they realized that there is a gap in the healthcare market. The number of deaths below 1 year age in UK is 5 while in India it is 40, which is a shocking figure. So, they came up with an idea on healthcare based systems and processes. The business plan was created but, they struggled very hard to get attention from the investors for eight months. In all those struggles, they learnt a valuable lesson after each interaction. They succeeded after working on their business model based on the outcome. And that's how Neonatal Care and Research Institute (NCRI) was formed in 2011. It is the trusted brand for mothers and infants in India, helping mothers who are forced to choose between expensive hospitals or unorganized clinics.
NCRI provides standardized quality care as corporate hospitals at affordable rates. They offer services such as Maternity Care, Neonatal Intensive Care, Women's Healthcare and Invitro Fertilization. Their places of operation include Manipal Hospital, Santhosh Hospital, Apple Clinic and many others. The success rate is measured based on the outcome.
Social Blood
The next session was from Social Blood where Abhinav Srivastava explained how Social Blood was conceptualized and integrated with the Facebook platform by Karthik Naralasetty. Through Facebook, Social Blood connects blood donors and recipients of the same blood type. Where is Social Blood heading to? It is during those summer and winter seasons, hospitals run out of blood stock levels. So, they are in the process of creating a scheduling platform and collecting the data from hospitals on blood stock levels.
The biggest challenge is the lack of technology adoption from most of the hospitals. He encouraged the participants to spread the message of Social Blood so that anyone who is 18 years and over can donate their blood to save someone's precious life. They honour blood donors by rewarding them with badges and other rewards like ice-creams, fine dining experiences and movie tickets. Abhinav also shared a good news that Facebook is writing a story on Social Blood and it will be up on February 14, Valentine's Day!
Pitch – Bharat Health Organization (BHO)
 The Co-founder of BHO, Manas Garg, started the session with preventive healthcare. It is a platform where an individual gets access to high quality healthcare that is more affordable. For example, a person goes to Apollo for the initial treatment and then to Fortis for the next treatment. For him, there will be two medical records. BHO came up with patient-centric model where the patient would have one medical record no matter whichever hospital he visits. There are various subscription models like Gold, Silver and Platinum available to take care of all preventive and pre-hospitalization healthcare needs. They also provide free consultation with doctors who are affiliated with them. The added features of this system are tax benefits, online appointment and health reports, health tips through email and SMS, dental plan, reminder services like a reminder for health checkup or medicine and discounts on treatment and pharmacy. They are working on a tool based on the prescriptions to prevent the diseases in the future.
Panel Discussion – Healthcare Trends and Road Ahead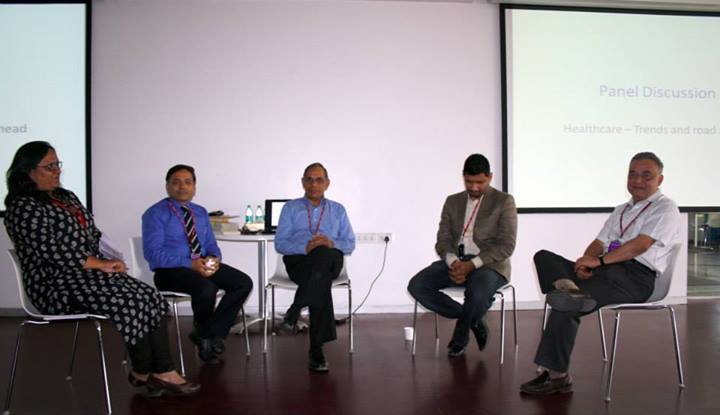 The last and the most fruitful session was a panel discussion to trigger an exchange of viewpoints among experts. The panelists were Dr. Praveen Venkatagiri – Neonatal Care and Research Institute, Vijay Simha – Onebreath, V. Renganathan – Vaatsalya and Ranjith Menon – IDG Ventures India and the discussion was moderated by Jaya Bajaj – HealthRadii. The aim of the discussion was to understand the latest advances and current trends in healthcare.
Jaya Bajaj started the panel discussion with a question – What is the need of the hour and how can we make healthcare more inclusive from the consumer point? The panel discussion has brought out great insights on healthcare sector, how technology can be used, what needs to be done and how to improve the healthcare sector in India. It was indeed an insightful and enlightening interaction between the panelists and audience.
It is a great moment for the HeadStart as well as they celebrate 6th anniversary of Startup Saturday Bangalore, marching towards the goal of making Bangalore as one of the top 15 Startup ecosystems in the world. The launch of magazine's first edition on healthcare, "Think Startup" was inaugurated by the Co-founder and Director of HeadStart, Amit Singh. It was indeed a brief interactive and networking session that brought the February 2014 edition to a close.
Author's Bio – Mary Abraham
 Mary is working as a Content Team Head in a startup company in Bangalore. She is a nature lover and has love for helping and inspiring others. She is passionate about reading and knowing about supernatural events in the world. In the free time, she scribbles her ideas and thoughts in a paper.