Studytonight is the place 'to-be' for all the computer geeks and programmers out there! Studytonight provides you all- from gaining Knowledge to collecting notes, discussing problems to saving best for exams, and everything else that will help students utilize their precious nights.
About Studytonight
Studytonight is an initiative to make studying simpler and easier for students in India and around the world. Studytonight is being developed into a platform, to have the best collection of resources from the internet at one single place. To start this journey, the team took off with original easy lessons and topical tests covering some computer programming languages, while their actual motive still remains the same.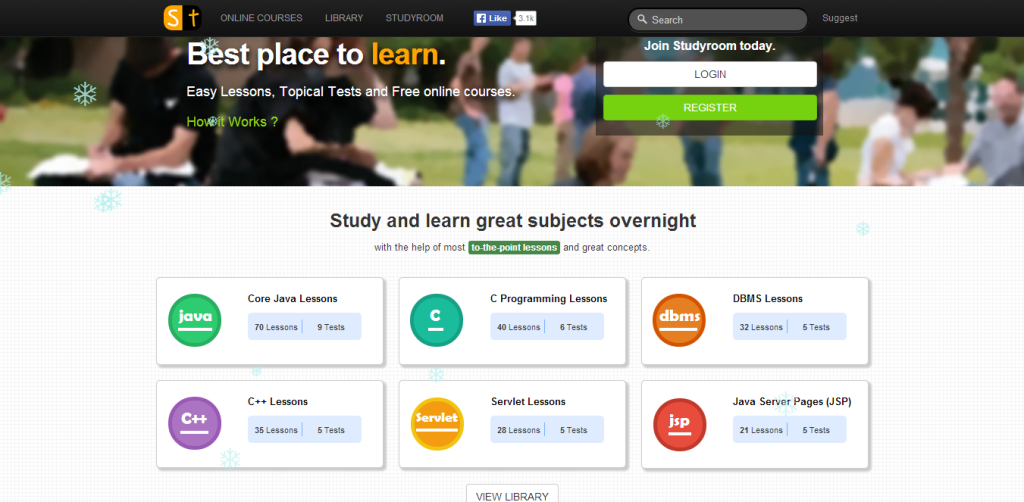 The difference
Studytonight tap onto a totally different section of students, like coachpal.me deals with students studying for IITJEE and other exams, teamtreehouse teaches one to learn web development, Studytonight focuses on core programming subjects like, Core Java, C++ etc, though they will eventually expand our boundaries, but right now they are focused on core programming subjects. Also, they are and will always be open source, even if in future if they include MOOC's, they still plan to be an open source. Their services will always be free.
 The Team
Studytonight is managed and run by a very small team. Initially there were two people, which have now reduced to one. Studytonight was created by Abhishek Ahlawat. He included a friend of his, Abhijit Singh, to help with the content. They plan on including more talented people in future, as they have tons of work to do.
 The journey so far
Studytonight went live on 28th march, 2013 and since they have been overwhelmed by the love, appreciation and support of visitors. Traffic to Studytonight is growing linearly since the first day. Right now Studytonight gets about 700k page views every month with about 200k unique visitors each month. They have easy lessons for some of the very important subjects for an engineering student. At studytonight they can also give topical tests, to practice and can share their test scores with their friends on Facebook to keep them motivated. They also have a decent and growing collection of Video courses.
 The challenges and the strategies involved
Getting the word out was difficult initially; the team focused on sharing about their website on some popular programming groups on Facebook, along with reaching out to students in various communities on internet. As far as the challenges are concerned, Coding a website was never difficult, but initial challenge was creating perfect content, easy, simple and useful.
 Future Plans
Many features are in pipeline; they are following an incremental model, and are on the right path at the right pace. They keep releasing new features every two months, to keep the users engaged.
The team recently organized CODETONIGHT, a coding event and received great participation from the users. Last month they included Studyroom into Studytonight, with some minimal features and will soon be adding more features to it, along with a new feature which will enable users to collect more content from around the internet.
Right now, the team are not earning any sort of revenue from Studytonight. In future they will plan things out depending upon what Studytonight ripe into.
TTP's take
Even though Studytonight seems similar to other websites in nature, the content makes it 'hatke'. Also, with new features in the pipeline, it is extremely promising. We wish team Studytonight a very good luck!