Apple, on 12th September 2012, gave an overhaul to its iPod portable music players. At a media event in San Francisco, Apple debuted the new iPod touch with a lot of features similar to the latest smartphone, iPhone 5.
So what is it that should make you go for the all new iPod touch? Here  is a comprehensive list of its features that should make you think at least once to upgrade your music player :
The new body of the iPod touch is unbelievable. Being made of Aluminium, it is exceptionally light and feels next to nothing in your hands and pockets. However, it still does all the gaming, surfing, messaging and everything else you love, more powerfully than ever . Also, it is available in a range of colours which makes it even more difficult to decide.
The new Ear Pods were crested after testing over 124 different prototypes on almost 600 hundred people to create the comfortable fit and the incredible sound quality!
Also, the new loop makes it easier to handle the iPod. Available in different colours, it comes free with your new iPod. However, the other colours can be bought easily from any

 certified Apple Store.
The new 4-inch retina display maximizes the fun of playing games and watching 1080p videos because nothing is letterbox sized anymore. Also, the resolution is harp, vivid and so much life like!
The camera in the new iPod touch packs 5 megapixels which is 7 times greater than any other older version of the iPod. Also, new features like tap to focus, LED flash and face detection are the new high points. Now you can crop, edit and share photos directly from the camera app in conjugation with the iPhoto app that can be downloaded from the iStore.
There is also a new panorama feature that allows taking wide shots. All you have to do is select the 'panorama' option and slowly mve the camera along the direction indicated on the screen.
This new processor is up to two times more powerful and  has 7 times faster graphics than all the previous generations. As a result, the games and applications are more responsive and realistic. The major win-win here is that this new processor does not affect the battery life in anyway. Thus you get the same 40 hours of music or 7 hours of video play on a single charge. Hence, now playing, listening, watching and browsing, all are bigger and better.
With the new options of integrated FaceBook and twitter, facetime, iMessage and other apps, it is easier to stay in touch and let others know what's happening as it happens.
You can directly post pictures to facebook from the photos app, tweet pictures and videos from any app that you are in, talk to your friends on wi-fi through FaceTime, send free texts to other iOS users on wi-fi through iMessage and also stream your photos to the selective people you want to.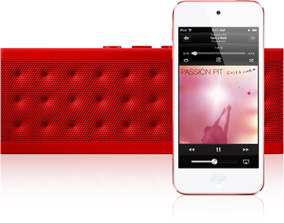 The new iPod has a Bluetooth feature through which you can easily play music and videos on other Bluetooth connected devices. And with AirPlay, you can play music from your iPod on any other AirPlay enabled speakers.
Apple has replaced the 30-pin connector by a brand new, faster and more stylish connecting which they called 'lightening'. One major advantage of this pin other than being faster is that it is reversible. So there will be no issues of plugging in your iPod in the dark now. However, a new adaptor, lightening-to-30 pin, is available at the Apple Stores so that you can continue using the old docks.
This new iPod touch will start being available on the online Apple store from October onwards at a price of $299 for 32 GB and $399 for the 64 GB model.
I am going to grab my pink iPod touch soon. Are you?
Images Courtesy : Apple