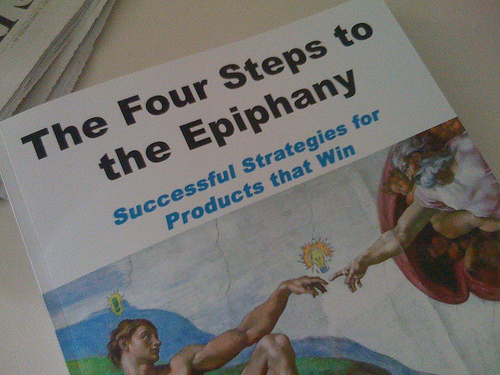 Like the book's description says, The Four Steps To Epiphany is definitely a must read for those who are planning to introduce a new product to the market or are in the process of writing a business plan or a sales plan.
This book is not the usual "learn and become an expert" or "hire people" stuff. The main reason why I love this book is how Steven explains why founders are critical in all the decisions of the early phases of a start-up. I am sure many startup founders don't even know about this book. The reason being that it is not an easy book to read . It is mostly useful to people in the process of launching a start-up or developing new products.
The author focuses a lot on Product Development in conjunction with Customer Development. He explains that Product Development in isolation is deathly and should be done in parallel with Customer Development only. Start-ups do not need teams in Marketing, Sales or Business Development, but only two teams, in Product Development and Customer Development, each headed by one of the Founder(s)/CEO.
The Four Steps To Epiphany packs a lot of things inside those pages. To put it out simply, here are five things you'll definitely learn:
1. Know Your Customer 
There are hardly any startups that fail because of lack of technology. But mostly all fail because of lack of customers. Yet, very few founders actually sit down and discuss about customers frequently. In this book, you'll know about what products customers will buy or in other words it will help you find your customers.
2. Theory of Market Types
Steven says there are three fundamental situations that change what your company needs to do: Creating a new market (the original Palm), bringing a new product to an existing market (Handspring), and re-segmenting an existing market (niche, like In-n-Out Burger; or low-cost, like Southwest Airlines).
What kind of market are you in? The Four Steps to the Epiphany contains a detailed approach to help you find out.
3. Finding a Market.
Many founders believe it is great to talk to a lot of customers, get their views and requirements about the product and then incorporate all that in your product. Right? Wrong!
It is important to listen to your customers but that doesn't mean you'll go on putting whatever they ask for. It is important to understand your MVP (Minimum Viable Product) and having that product in hand, target your market.
4. Phases Of Growth
Steve believes each startup goes through four stages of growth – Customer Discovery, Customer Validation, Customer Creation and Company Building.
This book will help you create this roadmap.
5. Learning Vs Execution
Well, I guess the title of this point itself is self explanatory. Now, go buy the book already!
About The Author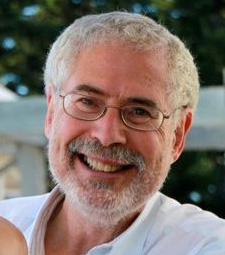 Steve Blank is an entrepreneur, business strategist, and retired marketing executive in Silicon Valley. He began his career 32 years ago and has been at the heart of emerging technology industries ever since.
He has been involved in numerous startups and established companies, in operational roles running the gamut from CEO to VP of marketing. The breath of his experience makes him a sought-after board member, advisor and speaker.
Steve's successes include E.piphany, an enterprise software company started in his living room; two semiconductor companies (Zilog and MIPS Computers), a workstation company (Convergent Technologies), a supercomputer firm (Ardent), a computer peripheral supplier (SuperMac), a military intelligence systems supplier (ESL) and a video game company (Rocket Science Games). These startups resulted in five IPO's, and three very deep craters.
Steve currently teaches entrepreneurship and customer development at Stanford University School of Engineering and at U.C. Berkeley Haas School of Business. Steve is an ardent conservationist and a board member of Audubon and Audubon California.