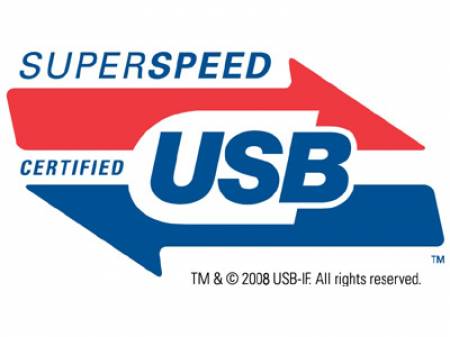 The USB 3.0 Promoter Group today announced development of an updated USB 3.0 specification that will offer double the data performance of existing devices, with max speeds reaching 10Gbps.
The hardware will still be backward compatible. The revisions brought to the hardware and data efficiency now brings USB closer to the leading standards of Thunderbolt. The USB Implementers Forum says the updated specification should be completed by the middle of 2013 and will find its way to consumer hardware like external hard drives approximately twelve months thereafter.
Called SuperSpeed USB, it brings significant performance enhancements to the ubiquitous USB standard, while remaining compatible with the billions of USB enabled devices currently deployed in the market. SuperSpeed USB will deliver 10x the data transfer rate of Hi-Speed USB, as well as improved power efficiency.
Here are some features:
SuperSpeed USB has a 5 Gbps signaling rate offering 10x performance increase over Hi-Speed USB.
SuperSpeed USB is a Sync-N-Go technology that minimizes user wait-time.
SuperSpeed USB will provide Optimized Power Efficiency.No device polling and lower active and idle power requirements.
SuperSpeed USB is backwards compatible with USB 2.0. Devices interoperate with USB 2.0 platforms. Hosts support USB 2.0 legacy devices.
Watch the SuperSpeed USB video below.
Intel has pledged to waste no time in adopting the faster USB 3.0. "We recognize that more mainstream client computing applications are going to need higher throughput to user-connected peripherals and devices," said Alex Peleg, VP of Intel's Architecture Group.