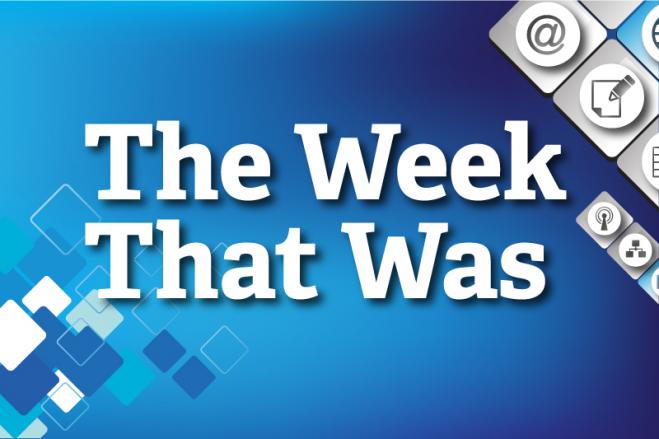 Here are the top happenings this week from the world of technology and startups. In case, you missed something, this will be a great way to catch up with The Week That Was.
Business
Inkfruit and Zovi Merge, Inkfruit Leadership Team to Join Zovi
Fashion and Lifestyle e-store, Zovi.com is merging hands with Inkfruit.com, another popular player in the same space. Inkfruit started as an online t-shirt retailer but has now diversified as a casual wear and accessories e-tailer. On the other hand, Zovi started as a private label offering for men then expanded to women's fashion and accessories and has recently launched kidswear and home furnishings.
Both these companies are backed by SAIF Partners which is a major reason for the merger as well.
Sequoia And Qualcomm Invest $1M+ in Dexetra, Makers of Friday, the Life Discovery App
Dexetra, the makers of Friday, a contextual personal search application for Android, has raised a Series A round of funding from Qualcomm and Sequoia Capital valued at more than a million dollars.
Philips Says GoodBye To Consumer Electronics
Philips, which has become primarily a maker of medical equipment and lighting products, has sold the audio, video, multimedia and accessories activities to the Japan's Funai Electric Co. for the almost token sum of €150 million ($201.8 million) in cash and a brand-license fee.
Amazon Q4 Sales Up 22 Percent to @21.3B, Net Income Down 45 Percent to $97M
Amazon announced its lower-than-expected fourth quarter earnings yesterday. Net income decreased 45% to $97 million in the fourth quarter, or $0.21 per diluted share, compared with $177 million, or $0.38 per diluted share, in fourth quarter 2011.
Startups
MakeMyReturns – Now You Don't Have To Worry About Your Taxes
Whether you are an individual, a startup or an established business, handling taxes can always be a daunting task. Businesses are known to spend a lot of cash so that experts can help them handle taxes better. Individuals sometimes end up paying more taxes because of lack of expertise.
MakeMyReturns is a startup that does exactly what you need as far as taxes are concerned.
Obama In Favour Of 'Startup Visas' For Foreign-Born Tech Entrepreneurs
President Obama on Tuesday called on Congress to create a special visa category that allows foreign-born entrepreneurs who launch successful startups to remain in the country.
In a major address on immigration policy in Las Vegas, Obama touted the need for a "startup visa" that allows immigrants who found startups to live in the United States as long as they raise a minimum level of financing and employ a certain number of workers.
French Investment Firm Kima Ventures Makes First Indian Investment in CodeLearn for $150,000
Bangalore based CodeLearn has secured a $150,000 investment from French early stage investment fund, Kima Ventures. Business Insider calls them the most active Angel Investor in the world. This is the first Indian investment by Kima Ventures
Entrepreneur
Cash On Delivery – Pros, Cons and Why It Works in India
Cash On Delivery (COD) is currently one of the most popular mode of payments among Indian online stores. The major reason for its popularity is that the buyers do not have to pay anything before the goods are delivered to them. This helps in giving some confidence to new buyers as ecommerce is still a growing concept in India which is fairly nascent at this stage.
We discuss the pros, cons and why it works in India.
Book Review: The Four Steps To Epiphany – Successful Strategies for Startups That Win
This is definitely a must read for those who are planning to introduce a new product to the market or are in the process of writing a business plan or a sales plan.
This book is not the usual "learn and become an expert" or "hire people" stuff. The main reason why I love this book is how Steven explains why founders are critical in all the decisions of the early phases of a start-up.
Apps
AirDroid – The One App To Get Rid of All Those Cables
It is 2050 and you are living in a world free of ugly, knotted cables. No more cables to charge all the electronic gizmos or a special 29 pin connector for the flashy you-know-what gadgets. Well, I am not sure if all of those will come true but there sure is an easy way to manage your Android phone sans cables. Airdroid  makes it possible to manage the droids via the humble browser.
Temple Run 2 is Fastest Growing Game Of All Time, 50 Million Downloads in 2 Weeks
The husband and wife team at Imangi Studios have developed one of the most successful games of all time. Temple Run 2 has been downloaded more than 50 million times over the course of 13 days on Android and iOS, making it the fastest-growing mobile game ever.
Gadgets, Gears and Utilities
The year gone by has seen some of the most elite Android phones so far, staggering up on hardware and suave designs there have been some phones which tool the market by storm. Perfectly showcasing the brute Android power and taking the OS to a whole new level, these phones can be listed as nothing short of "state of the art" technology so far.
Blackberry Launches Blackberry 10, Z10 and Q10
Research In Motion(RIM) shall henceforth be known as Blackberry. CEO Thorsten Heins' choice to choose a "simple and elegant" commercial name associated with the best product of the former RIM shows that the company is ready to wipe the slate clean and start all over again. The fabled Blackberry 10 (BB10) operating system which has been under development for over a year finally makes an appearance at the Blackberry launch event yesterday along with two devices to carry it forward – the Z10 and Q10.
[divider]
Hope you enjoyed the content this week. If you have any feedback, please leave your comments below. We promise to bring you great content in the days to come as well. Have a knowledgeable and fun weekend.