The year gone by has seen some of the most elite Android phones so far, staggering up on hardware and suave designs there have been some phones which tool the market by storm. Perfectly showcasing the brute Android power and taking the OS to a whole new level, these phones can be listed as nothing short of "state of the art" technology so far. If you have a look at the Android mobiles price list, they are available from as low as INR 4K to as high as INR 46K. But for now, let's have a closer look at some of the best one's out there.
                Samsung Galaxy S3
                Samsung has achieved new highs in 2012, and it owes this primarily to its flagship model; the Galaxy S3. This device has been the reason for sleepless nights for its rivals. The S3 was huge in both literal and metaphorical sense, with a 4.8 inch Super AMOLED capacitive touch screen and a stunning 720p resolution. Samsung decided to go on with its admiration for polycarbonate making the device feel solid without adding any extra weight. Powered by a 1.4 GHz Quad-core Cortex-A9 processor and ultra-powerful Mali-400MP4 GPU, it has upped the ante of its hardware. The S3 sports an 8 MP primary camera with LED flash; the phone takes stunning pictures both in day and low-light situations.  Although it was released with Android ICS, it quickly got updated to Android 4.1.2 JellyBean. This phone provides a rich Android experience with Samsung TouchWiz Nature UX and custom Samsung applications and features. It is fully compatible with any GSM band and with GPS, NFC on board there isn't a single thing that Samsung missed on this one. The S3 is a masterpiece and the one of the finest works of Samsung till date.
Suggested Read: The Samsung Galaxy S3 Review
                Samsung Galaxy Note 2
                Samsung has not been known for relying on a single device and hence they keep their creativity rolling and coming up with innovative designs and their latest being a successor to its popular Galaxy Note which can be summed up as a cross between a Phone and Tablet or conveniently called as a Phablet.
With a 5.5 inch Super AMOLED capacitive touch screen things come alive on it. The phone features a unique capacitive stylus called the S-Pen and takes the capabilities of a stylus to a new dimension. Supporting features like gesture recognition, alphabet recognition this phone allows you to get creative when touch and type is not good enough. Powered by a Quad-core 1.6 GHz Cortex-A9 processor and 2 GB of RAM this phone is blazing fast. With an underlying Android Jelly bean the Note 2 is a totally different experience from that of any phone. With an 8 MP primary camera and an LED flash this phone takes crisp pictures. It is capable of supporting any GSM band and GPS coupled with Wi-Fi this phone leaves no stones unturned. Note 2 is Samsung's finest work of creativity so far appealing to many large screen fans out there.
                HTC One X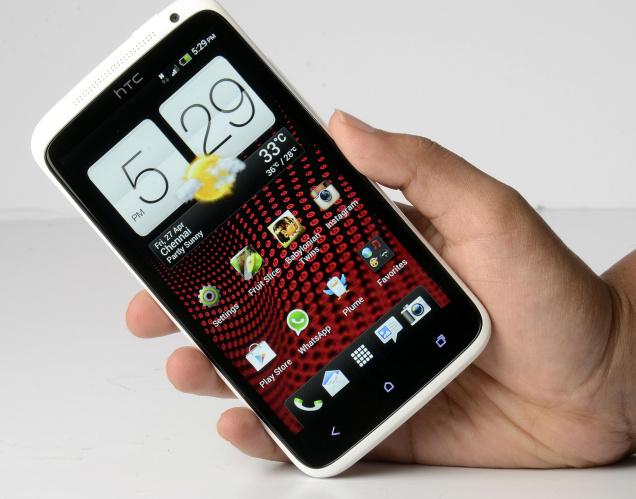 HTC has tasted sweet victory in the form of its 2012's flagship model the One X. With a 4.7 inch Super IPS LCD2 capacitive touch screen, the display is the strongest suit of the One X, supporting 16 M colors it has the best in class and the most vivid display ever seen. The photos taken with its 8 MP primary camera are very sharp and perfectly contrasted making the One X very suitable for capturing pictures; with an LED flash and f/2.0 lens it takes balanced photos even in low light. Powered by a 1.5 GHz Quad-core processor and 1 GB of RAM it is very fast and performs pretty swiftly while switching between applications. The One X runs on Android ICS which can be upgraded to Jelly Bean. The phone features Beats Audio and this is expected to be followed on every HTC flagship model as of now, provides immersive stereo experience. Ticking every check box in the connectivity aspect from full compatibility to GSM bands and GPS, Wi-Fi it even features an NFC which is quite impressive. The One X is quite the whole package along with the reliability of HTC which is nothing short of impressive.
                LG Google Nexus 4
                Ever since the Nexus was introduced it was nothing short of a true GEEK device, having said that it was the first device that was successful in harnessing the raw power and capabilities of Android. Ironically the previous Nexus devices weren't able to appeal to the masses on a bigger level but only to true Android fans. This time around though, Nexus 4 was wildly popular even among mass consumers due to its fine performance at incredibly low price. Now it's LG's turn to have a go on the Nexus after the likes of Samsung, HTC.
Sporting a mono-block look the Nexus 4 is not built any different from the premium Android phones available but manages to look classy even with its default shape. It features a 4.7 inch True HD IPS Plus capacitive touches screen which is pretty impressive. Powered by a quad-core 1.5 GHz Snapdragon S4 Pro processor with Krait CPUs and Adreno 320 GPU as well as a generous 2 GB RAM this phone seriously means business. The Nexus 4 is adorned with an 8 MP primary with autofocus and an LED flash, and needless to say a secondary camera for video calling makes it the package. Perfectly connective to GSM bands and having access to Wi-Fi and GPS the phone has an additional GPS, making it a very viable choice for experiencing Android Jelly bean at its prime.
                Motorola RAZR HD Maxx
                Motorola has always managed to pull off something very impressive when it was least expected and this changed has been transcended into reality by its flagship model in the recent year the Droid RAZR HD Maxx. It is basically a successor to Motorola's previous model; RAZR Maxx. This phone has a whoppingly large 3300 mAh battery which make it last through couple of days easily even with heavy work load.
The 4.7 inch Super AMOLED capacitive touch offers quite a large space to handle the device and what's impressive about this is responsiveness of the screen. With a Dual-core 1.5 GHz processor running under the hood along with 1GB RAM, the RAZR offers outmost performance. Sporting an 8 MP primary camera and a 1.3 MP secondary camera the phone is pretty sound in the optics segment. Running on Android ICS upgradeable to Jelly bean it allows a myriad of apps to be accessible on the device. With features like Wi-Fi and NFC available the phone stays true to its purpose in being connective and has no issues in even the slightest way. Very conveniently priced and offering great value the RAZR HD Maxx has redeemed Motorola to its stature.
[divider]
About The Author
Ashwin works with Mysmartprice.com which is a price comparison website that helps users find the best price of mobiles, books, camera and lots more. Ashwin is a graduate of State University New York with an MS in Information Systems and an MBA from Amrita School of Business Bangalore. He writes on smartphones, gadgets, technology , ecommerce and marketing.