Google has finally, officially unveiled the Android 4.2 Jelly Bean, which is just another small update compared to the move from Android 4.0 Ice Cream Sandwich to Android 4.1 Jelly Bean. Well, for now this update will be available for the Nexus 4, the Nexus 7 and the Nexus 10. There are a few new features that are definitely worth mentioning. We, at the TechPanda are going to try our best to impress you as much as we are.

1. Gesture Typing.
Pretty much all Android users are familiar with Swype that lets you swipe from one letter to another to create a word. This app also comes pre-loaded in a lot of phones. However, with this new update, Android 4.2 Jelly Bean, Google has tried to make this type of typing a default option. Google explained," You don't have to worry about spaces because they're added automatically for you." Android's dictionary has been updated with a lot of new words to increase the accuracy of this feature as well as improve text-to-speech functionality.

2. Photo Sphere
Panorama is old school now. Now you can capture an entire moment using the Photo Sphere to take a full 360-degree view of where you exactly are. You can view the picture on your phone; share it on social networking sites such as facebook or twitter and also post it directly to Google+. Its even possible to add the picture to Google maps.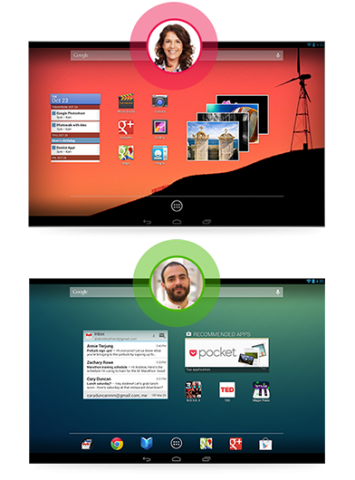 3. Support for Multiple Users
This is one amazing new feature inspired by the Barnes and Noble's Nook HD Tablet. Basically the whole family can share a tablet by creating different home screens for different users, like in a PC. A very simple example will be a set of siblings using the same tablet, with the boy having the games and such other stuff separated in his user account and the girl having her bookmarks and e-books on the other.

4. Daydream
Not a breathtaking feature, but definitely enough to take the boredom away! Now, with the new update you can flaunt your photos or view headline from the news sources in your Google Currents Account. Samsung, to its credit, has already been offering this sort of capability with its Galaxy S III and Galaxy Note II devices.

5. Refreshed Google Now and Google Search
Google Now will tell you the weather "before you start the day," or when the next train is coming right when you're standing in the station, Google explained. It also lets you see "popular photo spots nearby, track packages easily" and find out information about movies playing nearby. Google Search has been updated, too, and Google says it's "easier than ever" to find results for any query you toss at it.
Sure, this wasn't a major update to Android, but it's a noteworthy one. Google expanded in plenty of areas that make its mobile platform more powerful than ever. So we'll probably just wait until Android 4.2 trickles its way down to more smartphones before we can put it through its full paces on a smartphone.
Via : TechnoBuffalo