To celebrate Women's Day and to inspire more women to enter the field of technology, we at TheTechPanda have a round-up of five outstanding women who have made their mark in technology arena and have carved a name for themselves in the hall of fame.
1. Sheryl Sandberg
Sheryl Sandberg is an American businesswoman and has been the Chief Operating Officer for Facebook since 2008. Later the board of directors of Facebook decided to include her in the board, the first ever woman director of Facebook.
Before Facebook, Sandberg has served as the Vice President of global sales and operations at Google. Sandberg is the woman who was responsible for her share in human welfare as she was the one to introduce "google.org" to the world. Before Google, Sandberg has also served as chief of staff for United States Department of the Treasury.
In 2012, she was named in Time's 100 which is a list of the most influential people of the world assembled by Time.
2. Marissa Mayer
Marissa is the current CEO of Yahoo! She is the youngest CEO of a Fortune500 company (Fortune 500 is an annual list that displays the top 500 U.S public and private corporations based on their gross revenue) and is ranked No.14 on the list of America's most powerful businesswomen of 2012 by Fortune magazine.
Before joining Yahoo!, Marissa was an executive and key spokesperson for Google and is credited for keeping the Google homepage free of any ads and clutter.
Marissa truly represents a source of inspiration for women all over the world. Marissa Meyer took on the role of CEO when she was six months pregnant and bounced back into work after a two-week maternity leave! She even had a nursery built next to her office suite!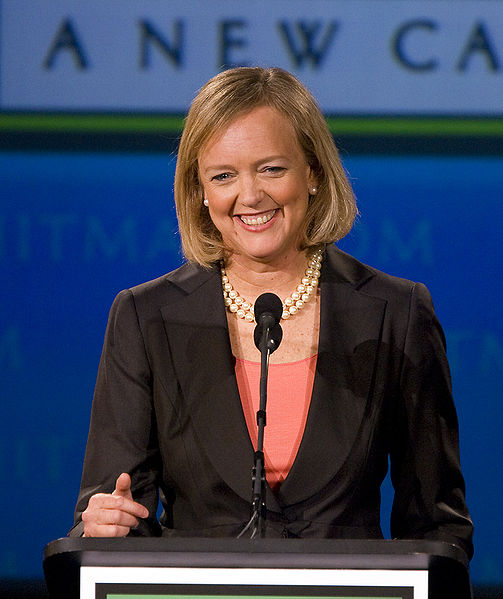 3. Meg Whitman
Margaret Cushing "Meg" Whitman is currently the president and CEO of Hewlett-Packard. Before joining HP, Whitman served as an executive for Walt Disney Company where she was the Vice President of strategic planning. During the 1990s she served as an executive for DreamWorks, Procter&Gamble and Hasbro. Whitman was also an integral part of eBay till late 2007.
In February 2009, Whitman became the third woman in the 20 year period to run for the office of the Governor when she announced her candidature for the Governor of California.
4. Carol Bartz
Carol Ann Bartz is the former CEO of Yahoo! and former Chairman, President and CEO at architectural and engineering design software company Autodesk. Bartz has been a member of 8 company boards in the last 20 years and currently she's on board of CISCO. Bartz received the Ernst & Young Entrepreneur of the Year Award in 2001. In 2005 she was included in Forbes Magazine's List of The World's 100 Most Powerful Women.
Bartz is another source of strong woman determination as a survivor of breast cancer.
5. Cher Wang 
Cher Wang is a Taiwanese entrepreneur from Taipei, Taiwan. She is called The Pride of Taiwan. She is the co-founder and chairman of HTC corporation and integrated chipset maker VIA Technologies. She is considered as one of the powerful and most successful women in technology.
In May 2011, Forbes ranked her with husband Wen Chi Chen as the wealthiest person in Taiwan, with a net worth of US$8.8 billion. In August 2012, Wang was named #56 on Forbes' list of The World's 100 Most Powerful Women.