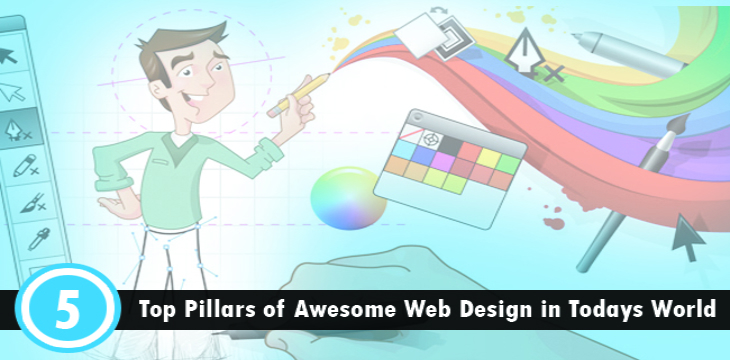 Building a website and publishing to the web is not a big deal, at least nowadays. You have to purchase one domain out of available Domain names as well as a good web hosting service, code your website or install a suitable Content Management System, install an awesome theme and start sharing your websites among your desired community and friends! However, this case is of a usual website and not a successful one. On the other hand, when it comes to the case of a successful websites, the case is entirely different because you have to serve your complete attention for each section of your website. In each section, you will have subsections, especially in design, as it takes a bit of creativity into account.
Nowadays, its importance is increasing because a website, with awesome design, can help you in attracting a few extra visits from people, who care about the aesthetic beauty and structure of your website. Therefore, if you would like to make use of the visual impact of your website, you should make sure that some inevitable factors are there in your web design process. Here, we will give you in-detail information about such pillars you should care to include in the design of your upcoming blog or website. Hope this will help people, who just make some usual design, change it.
The Power of Suitable Design
Before starting the process of designing your blog or design, you should first understand the intention of your site as well as what kind of information one visitor should gain from your website and how he/she should absorb the detail. Once you have selected a strong decision, then you can start designing the stuff. Unlike the old day, you do not have to insert some heavy graphics and high-end images in your website to make it look better. Instead, now, people are trying to make it as simple as possible by implementing the fact of simple-is-better. In this area, several techniques such as the responsive design, flat design, transparent design etc are worth praising because those ways can give you an unprecedented look as well as making your site awesome to use. Obviously, the usage of suitable design technique in your site is of course important while designing your site.
How People Use It
No matter whatever you have included in the website for the sake of resourceful information, you should give most importance to the usability of site or blog. However, the importance increases if you are building a web interface for a web application or something. This means that it is the time for changing your trend of concentrating on SEO and content to improving the usability. Apparently, techniques of modern marketing efforts have deep connection with the usability of your website. You can take a few steps for improving the usability of website such as the usage of user-tracking methods, attractive headlines, superb colour combination, simple navigation menu, clear amount of spacing as well as margin stuff etc. All these methods can help you in fixing the issue of usability and hence making your site usable than before.
Response to Devices
Well, we are talking about responsive design, which has become an inevitable part of successful way of designing. It is very important because nowadays people are using different devices to explore websites and blogs such as the PC, Tablet PC, and our familiar Smartphones, and the number of Smartphone and Tablet PC users are increasing day by day, even making is to doubt the extinction of traditional web browsing methods. So, as the seeker of the success of website, you should try to implement responsive design in your website, which takes less time than creating special mobile versions for the website. Instead, you can keep your codes simple as well as clean so that you do not have to discriminate people based on the device they use. This is an awesome factor in your website, indeed.
Conclusion
Viewing all these things together, we can conclude that these mentioned things are obvious in their web design and hence the success of your website. In that sense, you should try to implement these mentioned techniques in your upcoming blog or website so that you can achieve maximum success through the site.