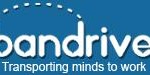 Now, who doesn't know about Bangalore's horrible traffic? What if we say there is something some young and talented entrepreneurs have done to solve this problem? Intrigued?
Yes, no kidding! We introduce to you a very well thought start-up- Urbandrive. So, what is it? UrbanDrive enables masses to commute to office in a stress free and easy way. It goes without saying that the daily commute is a harrowing experience for most working professionals in Indian cities especially Bangaloreans. Professionals getting transportation from your employers are lucky. They are able to utilize their commute time better and reach home fresh everyday. But what happens to thousand of other professionals who don't get transportation from their office.
This idea was borne when the founders (Jiten Gupta & Shashank Baravani) were working in Apigee, which didn't provide employee transportation. They were commuting 50 KM everyday, more than 3 hours on road and 8 thousand on fuel expenses. Carpooling didn't worked either. They were looking for transport facility, which is professionally managed, available everyday and not very expensive. Nothing existed at that time. So they started one!
The founders
Jiten Gupta – Jiten comes from consulting and technology background. Jiten has more than 9 years of work ex and has worked for Apigee, SoftwareAG, L&T Infotech earlier. At UrbanDrive, Jiten is responsible for marketing, customer management and technology.
Shashank Baravani – Shashank comes from a strong engineering and product development background having worked for bellwethers such as Infosys, Sapient, AOL, Yahoo and Apigee. He like to solve complex business and operational problems using technology. At Urban Drive,he is responsible for the technology platform, operations and supplier relations.
Market research involved
The team has done a lot of research and survey to understand behavior patterns of everyday commuters in Bangalore. This research was done on their targeted audience who were mostly working professional. For e.g most of the people who were looking for carpooling service were in age group of 22 to 27. People above these age groups tend to be independent and don't like to get in the hassle for few bucks. One of the interesting study was people don't take public transportation if its more than 1 Km walkable distance from their home / office or if they have to change buses to reach destination. They tend to go either by private cars or by other alternate means if it's available. Moreover, since BMTC operates on hub and spoke model, most of the areas are not directly connected, and with rising income these segment of people don't mind buying private car for office commute. And that's where UrbanDrive is bridging the gap by providing an alternate means. They are alternate to BMTC and private cars.
The pricing
Urbandrive provides very transparent pricing. They don't own cabs. They instead enable professional to take shared cab. They create routes similar to BMTC routes connecting different major tech parks to residential areas. Only difference is UrbanDrive is more exclusive and provides home pick up and drop. Price of sharing a cab is divided among co passenger. UrbanDrive acts like a broker taking a commission and at the same time ensuing high SLA from the vendors. Their system has a special module for detour management, which ensures cab doesn't take a long detour to pick up another passenger.
Journey so far
The team started building the Product from June 2013. They went live accepting booking for their first route from Whitefield to EGL from October 2013. The team started their operation with first cab running from November 2013. Currently they operate 6 routes in Bangalore and starting another 5 routes soon. They have partnered with Mega cabs and are planning to gradually expand their relationships with other vendors as well.
The team had a target of 20 paid customer in first two months, which they were able to achieve in one month. It was great accomplishment for the team when they started the operation.
Now they are clocking revenue of in 6 digits annually and the subscriptions and request for new routes are increasing.
They are planning to start 10 routes in next 6 months. Scale on at least 3 routes with their cabs every 30 minutes both in the morning and in the evening.
Marketing techniques involved
Guerilla marketing techniques: Initially, for the first 3 months the team focused on localized guerilla marketing techniques because their pivot revolved mainly on 2 routes around Whitefield's where the founders live. They distributed flyers at bus stops & inside newspapers, put up posters inside apartment complexes, spoke to residents about their venture and requested them to talk about them in their apartment community and forums. They also took help from local stores, delivery guys and local vendors. In fact, they were able to get their first 20 customers using these channels.
Digital marketing: Urbandrive is now open to Bangalore and accepting request from the city and starting new routes based on demand. They have a very strong social media based marketing strategy that ensures they have great brand recall and good coverage across Bangalore. Urbandrive also does Google Display and Search Ads and Email campaigns on a smaller scale to cover targets outside social media.
Once they receive good demand from particular location, the digital marketing efforts are backed by localized efforts to re-enforce demand in sub-localities.
SEO techniques: They have also have employed smart SEO techniques to ensure that they are always ranked in the top ten in Google results when people are looking for something relevant!
The challenges involved
Urbandrive is indeed a very unique service. The team works with their customer very closely. UrbanDrive interaction with customers is every day. People taxi/flight at the most 2-3 times in a month or travel in bus once in month. Here, the customers customer uses the Urbandrive service everyday.
So the biggest challenge has been stabilizing their operations and ensuing high SLA 22 days a month. . There was lot of learning. It was not easy with deal with drivers on day-to-day basis. Now they have developed processes and created technology with help ease communication between driver, passengers and the operation team.
Identifying right customer at early as possible is very important to sell your product and services. The Urbandrive team did a lot of cost analysis and spending criteria for professional looking for commuting options for offices. So they never targeted customers who didn't fit the criteria. These helped the team concentrate on request where there were chances high conversation rate.
Their competitors
Urbandrive doesn't have any active direct competitor so far. There are many carpooling companies and ride share companies that are starting up though. Although they are trying to solve the same problem, their value proposition, offering and service levels are entirely different. Carpooling might work. It is successful is west. India is changing. It might work here as well. But carpooling doesn't excite professionals who are looking for guaranteed service and who do not mind spending few bucks more for extra comfort and reliable service. Can any carpooling company guarantee that the carpooling partner will come on time and one won't miss the scheduled meeting at 10 AM? Doubtful, eh? Urbandrive guarantees that!