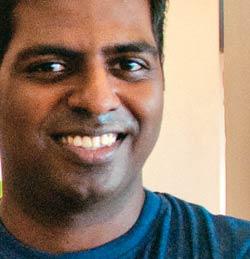 Vijay Anand, better known as The Startup Guy has been around in Indian Startup scene since 2006 and has seen it evolve really close. In 2006, he founded Proto.in,a platform for young startups and entrepreneurs to showcase their innovations. Along side, he was Vice President(New Ventures) at RTBI – IITM's Rural Technology and Business Incubator. Vijay has been a columnist at Entrepreneur and Dare, giving really insightful thoughts into India's Entrepreneurial ecosystem.The Startup Centre was founded in Feb 2011, and has been in the news for its In50hrs program. TSC also contains Pre-Accelerator and Accelerator programs for Startups, depending on the Phase they are in. We had a chance to catch up with Vijay to know his thoughts on The Startup Centre, Entrepreneurship in India and his favorite books.
About TheStartupCentre:
According to TSC's website – this is World's First Lean Startup Accelerator. Please elaborate for our readers.
A few years back Eric Ries and Steve Blank formulated what is called The Lean Startup. The backbone of the methodology was that startups need to invest prudently on the time and resources, and get to market as early as possible, validate and then use the feedback cycle to launch great products and startups. We don't believe in Launch, Demo Day and praying to the Gods to take it through, and believe in the Build, Launch, Measure, Validate, Feedback cycle – which makes us one of the first accelerators globally to follow the lean startup model.
How has been the response to the In50hrs events conducted so far? Tell us about the ideas that don't get selected for forming teams – what is lacking in them?
In50hrs has been great. Its finding a place in the ecosystem and we are starting to see more and more solid teams come in. Past year alone we saw more than 1600 participants come in pitch 400+ ideas, build 283 prototypes, and launch 185 products and startups. We often remind the teams that you can build a prototype in 50 hours if you have done your homework. What lacks in most teams (that don't make it) is that they are still vague about what they are solving.
 What are the main criteria for selecting a prototype for resident program? Similarly, what kind of products are more likely to be taken into the Accelerator program conducted at The Startup Centre?
We have three basic questions we ask when picking a team for the resident programme – is the team good, are they solving a real problem and do they have a prototype that gives us a sense of where they are heading. Quite simple actually. The team at TSC is from the technology background, so anything that is software or hardware oriented but has a technology aspect is something we are interested in. We are looking for market validation, along with the other things when picking a team into the accelerator programme.
According to you, what are the 3 major benefits of a wannabe entrepreneur planning to join The Startup Centre in any of their programs – In50hrs, Resident or Accelerator? Will it help them to get funded?
You find yourself accelerated – in terms of learning, the community and have the experience of mentors who have been there, and done that. You have resources and aid at your disposal, be it networks or contacts or capital (in the accelerator programme). Money wouldn't be the only metric we'd pick – our success is still tied to the companies and eventually the entrepreneurs succeeding.
What are the upcoming activities at The Startup Centre?
The Startup Centre plays host as a partner for quite a few community events, like Open Coffee Club, Chennai Geeks, VC meets etc. Our regular events are usually the In50hrs that happens all around the country.
On Entrepreneurship In India:
 You have been on the Indian Startup Scene since 2006. How would you describe the maturity in Indian entrepreneurs now & then?
The changes have been phenomenal to mention all. There is overall maturity in how we go about things – from networks to capital to accessing the market and even going global. I think we might have underestimated how quickly this ecosystem would come together.
What is one thing that hasn't changed at all now & then, and you wish entrepreneurs "GET" it rather than waste their time, money and of course mentor's patience?
Actually its patience. It always take longer than you imagine. I see entrepreneurs factoring in that they'll launch and be off in six months, it takes a year or two more than that. I see entrepreneurs in a hurry to expand into different markets and segments and struggle to keep all the balls in the air. I think the key lesson to learn is patience. There are quite a few unfortunate examples of haste making waste going around.
What do you believe in – Entrepreneurs are born, cannot be made OR Entrepreneurs can be made?
Its one of those questions where the truth is somewhere in between. I don't think entrepreneurship can be taught, because what is formulated and taught is usually best practices and by that, I'd be defining what an MBA is – its no longer entrepreneurship. But I also believe you pick up the traits that define you are those that you pick up from the environment that you grow up in. We are all born equal, I suppose, but everything around us defines us.
On Vijay Anand – the Person:
How has the experience working with Indian Startup Eco System shaped you up as a person? Tell us the learning's from working at RTBI at IIT-M, showcasing startups at Proto.in and handling TSC now.
Sometimes I do feel a tad bit old, being one of the few around who have seen the rapid pace that this ecosystem is changing in the past few years. Its been a pleasure to play the role of working with startups, and it will always continue to be so. That role hasn't changed much at all, just wearing slightly different colored hats, is all.
Apart from being "The Startup Guy", tell us what else interests Vijay. Please recommend some good books to our readers.
Trying, me really really trying to balance a life outside of my mind and what drives me. I'd dread to walk into a world without music, and friends who make everyday better. I love good food.
The one book that changed my life and perspective was Life of PI. I know there is a movie now, but go read the book. Most of the best bits never fit the screenplay so they chucked it out. It tells you that life isn't always about rationality. And it couldn't have been more true.
We hope you enjoyed reading this interview as much as we did doing it!