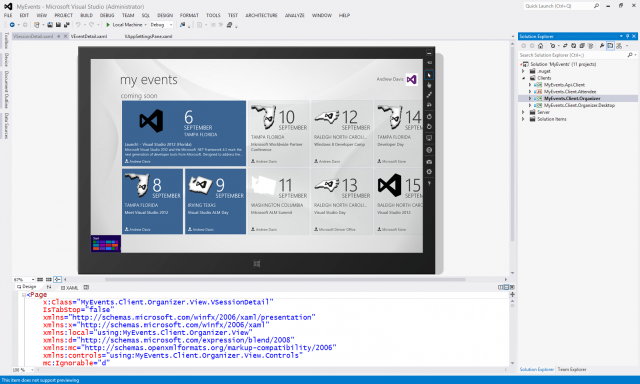 Microsoft has decided that today is the day it will launch Visual Studio 2012. Although it has been available to MSDN subscribers for some weeks already, and although the Express editions for Web and Windows 8 development have been freely downloadable as well, the software goes on sale through retail channels today.
A new Express edition was added to the lineup today. Microsoft upset a lot of people when it said that developers wanting to target the Windows desktop would have to use the (paid) Professional edition. The company then relented, promising a Desktop version of Express. Because that version was decided on later, it didn't launch with the rest in August. But it's out now, bearing the name "Visual Studio Express 2012 for Windows Desktop."
The full Visual Studio product boasts stronger application lifecycle management features, a contentious new UI, greatly enhanced C++ standards compliance, and, of course, the ability to create all-new Windows 8 Metro-style applications.
Some other goodies were released today, too. The F# Tools for Visual Studio Express 2012 for Web allow F# development in ASP.NET and Azure, bringing functional programming to Microsoft's cloud development stack. Power Tools for TFS were also shipped today, and a set of Power Tools for Visual Studio itself will ship in October.
Redmond also made announcements about Visual Studio 2012's future. Throughout the company's developer division, there has been a shift to a more agile development model, enabling faster, more regular updates and improvements. This is particularly significant for its hosted Team Foundation Service, the application lifecycle management system that lives in the cloud, which is currently in preview: updates with new features are being delivered every three weeks, and bugfixes even faster.
The company wants to bring this same agility to Visual Studio itself. This won't mean that we'll get a new version of Visual Studio every three weeks, but the company intends to produce more updates more regularly, to keep the development environment fresh and fully featured. The first update was announced today. Perhaps the most hotly anticipated feature is the reintroduction of support for creating C++ applications that will run on Windows XP. The update will also include greater support for agile development with a Kanban feature, and further integration with SharePoint, including a new load-testing capability.
Empowered by its new agile development process, the company plans for this update—and future updates to Visual Studio 2012—to be released on a quarterly basis. A preview will arrive later this month, and the final release is due by the end of the year.
Via: ArsTechnica