Today is World Water Day. On this occasion, we bring to you an interesting App – Water Supplier Hyderabad.
Platforms: Android 2.0 and above
Rating: 4/5
Bottom line:  Hitech solution to solve the water problems in Twin Cities (Hyderbad & Secunderabad).
How the App works 
There are 2 main options:
> Buy Water
> Crowd Source ( Add your favorite water tanker supplier).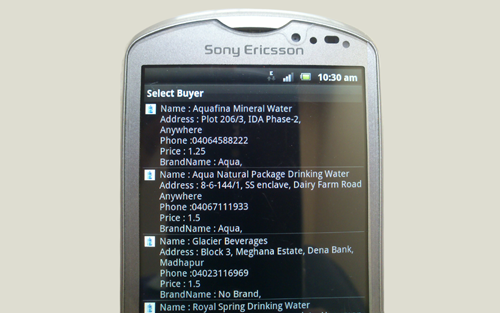 In Buy Water, the buyer can select either Cheapest Option near me or ISO Certified Water. Once the selections are made, the database is queried and a list of vendors is provided. The list is comprehensive and contains all the required details. After selecting the quantity, the user has the option to send SMS or make call.
With Crowd Source, users can add their favorite water tanker suppliers which will be added to their database. This is a very useful feature to enrich the database content.
One of the main features of this application is its capability to short-list the vendors based on detailed customer choices or preferences like whether the water needed is to be delivered in tankers or bottles, whether the vendor is ISO Certified or not, whether the water is for office or residence or others (i.e., wedding parties etc).
This app is currently available in Hyderabad & Secunderabad. The makers of the app have plans to extend it all over Andhra Pradesh.
The makers of this app, TechHuma has filed for a patent in India as their solution involves a unique way of solving the business problem of water tankers.
What do we think of this app?
Handy. If you want to know where to get cheaper water – then definitely this app is worth checking out.
Try this app and let us know what you think.