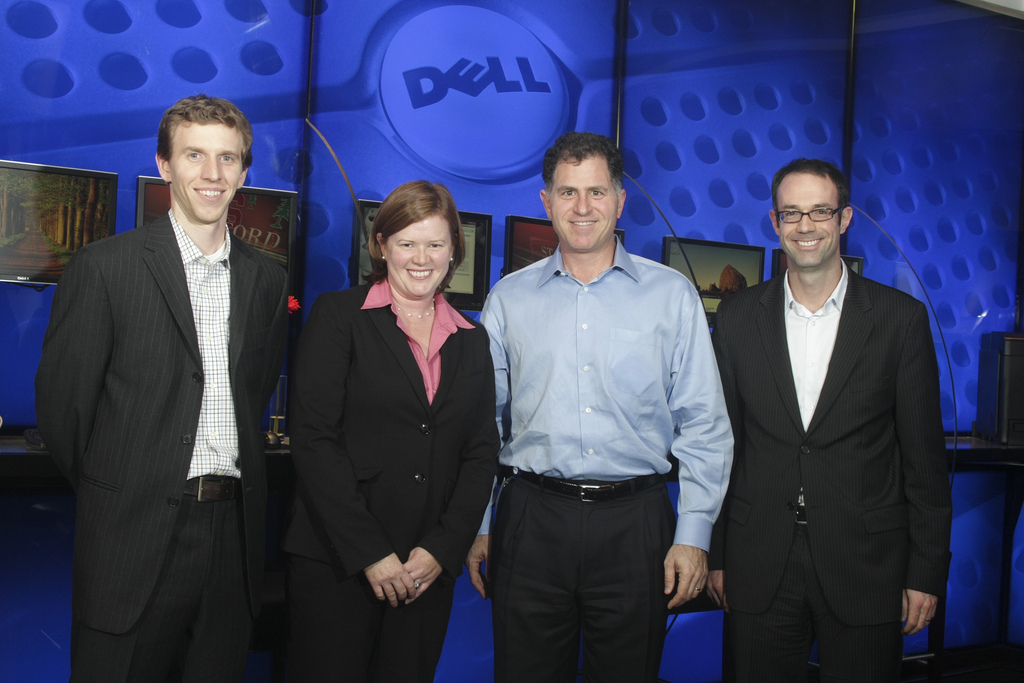 Though his namesake company revolutionized the PC business, it missed the consumer shift to smartphones and tablets, and also missed the move of corporate computing to data centers and cloud-based networks. By trying to take the business private, Dell, in a sense, is trying to turn back the clock.
"Information technology moves faster than anything – even the worlds of fashion and retail don't change as much," said Jeffrey Sonnenfeld, a professor of management at Yale University who said he invests in Dell. "How do you keep the revolution forever young?"
Dell, 48, declined to be interviewed for this article, saying his lawyers had advised him not to talk to the press before Thursday, when Dell shareholders will vote on whether to accept his offer of $13.65 a share, or $24.4 billion, for the company.
But his friends and advisers say he is trying to protect his legacy.
"This guy has no desire to see his name on a company people think is irrelevant," said Marius A. Haas, who runs Dell's sales to big business.
Four years ago, Haas was working at Hewlett-Packard when Michael Dell invited him to a recruiting dinner. During the meal, Haas mentioned a poll of businesses that showed Dell had gone from being ranked second among essential partners to 13th. Dell, he said, was visibly pained by the news.
"He is so very proud of what he's done," Haas said. "I asked him what he was going to do about it. He said: 'The name on the building is mine. I am going to see this through.'"
In this quest, he is opposed by Carl C Icahn, the onetime corporate raider who has profited in battles over TWA, RJR Nabisco and Motorola, among many others. Icahn has argued that Dell is trying to buy the company for less than it is worth, and says Dell should buy over 1 billion of its own shares for $14 a share and remake its board.
On Friday, Icahn sweetened his bid, offering what he said was a package worth between $15.50 and $18 a share. "Dell is a valuable company," he said in an interview. "PCs are changing, but they aren't going away."
But earlier in the week, a big proxy advisory firm sided with Michael Dell, saying "the risk may be less that he's taking all the upside for himself than that he is trying to catch a falling knife."
Dell's plan for the company is an echo of how he built it originally, a middle-aged man's return to an idea he had as a 19-year-old.
His insight then was that he could make a healthy profit margin by assembling customized computers for both the business and consumer markets – allowing the purchaser to choose things like how much memory, how big a hard drive and how big a screen. He wants to apply the same principle to modern corporate computing needs, but this time selling the key components of cloud computing – networking, servers and storage, plus the software to make them work harmoniously.
Dell PCs themselves would likely have less of a presence in the new company. His plan for mobile devices is unclear.
Dell says this plan will hurt revenue in the short term, and consequently drive the stock down. This is why, he says, he needs to take Dell private, to overhaul the business without the pressure of meeting quarterly earnings.
Reinventing Dell for the mobile age won't be easy.
"You will see a brutal consolidation in our industry," said John T. Chambers, the chief executive of Cisco Systems and another tech veteran. "If Michael doesn't take his company through a transformation, he's like a losing sports team that keeps running the same play. The odds on success are tough."
He added, "He is a friend of mine, but I will try to beat him in the market."
Dell grew up in Houston, the child of an orthodontist. From an early age, data equaled power: He sold newspaper subscriptions in high school, targeting the newly married or newly moved, and in his first year made $18,000, more money than his economics teacher.
In its early days, and for a while, thanks in part to an enthusiastic embrace of sales made over the Internet, Dell was the biggest PC maker in the world. It now has a market share of less than 12 percent, foiled by Asian competitors like Lenovo and feeling pressure from Asus and Acer.
A year earlier, Dell's reputation for quality, once a hallmark, suffered from Internet videos of Dell laptops spontaneously combusting from bad batteries. The company's sterling reputation for customer service took a blow when it was shifted overseas.
Since his return, Dell has had little to show for the more than $13 billion he has spent on acquisitions to remake the company, like Quest Software, used for managing data centers, or Force 10, a networking company. The company's stock is worth a quarter of its value in 2000, despite billions more it has spent buying its own shares.
Along the way, Dell executives profited handsomely. Dell's stock options alone have produced profits of more than $650 million for him.
Now Dell is worth $15 billion thanks to the company he founded in his college dorm. He has made investments in everything from the nation's largest lawn care company to Applebee's, the family restaurant chain. He runs a charitable foundation, and this year gave $50 million to create the Dell Medical School at the University of Texas at Austin, which he dropped out of to create Dell Computer.
Still, for him, the question is: Will he be remembered as another Bill Hewlett or Dave Packard, who helped build an industry giant that lasted for generations? Or will he and the company he founded be just another reminder that in his fast-moving industry few things last forever?
"We are all prisoners of the worlds we create, and it is incredibly hard to change a company," said Marc Benioff, the chief executive of the software provider Salesforce.com and a longtime friend of Dell. "Having your name on the computer, seeing it every time you go to the movies, being seen as a world leader at Davos for it, he is incredibly aware of all that."
Via: TOI
Image Credit: RightSleeve