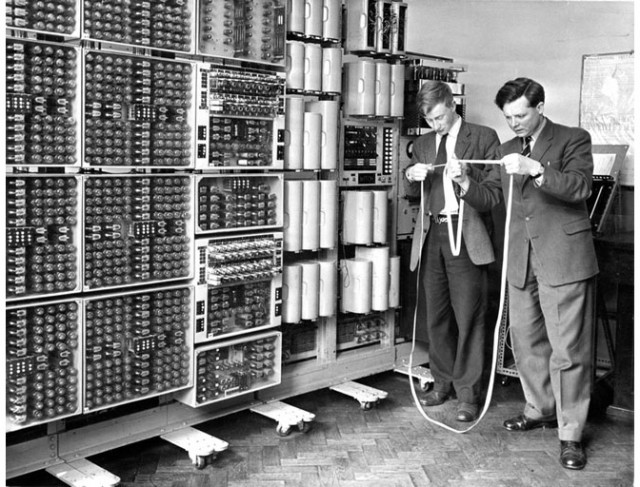 The world's oldest, original, still-working digital computer has been unveiled at the National Museum of Computing in Bletchley Park, the home of the United Kingdom's Second World War encryption and codebreaking efforts, where, among other luminaries, Alan Turing and co famously broke the German Enigma cipher.
The computer, originally called Harwell but now called the Wolverhampton Instrument for Teaching Computing from Harwell (WITCH), was originally powered up in 1951 (pictured above). Between 1952 and 1957 the computer was used for early atomic research, and then it was given to Wolverhampton University, where it remained in operation until 1973. Between 1973 and 1997 it was on display at a museum in Birmingham, and then it disappeared into storage, only to be discovered by chance in 2009.
Over the last three years, WITCH has been lovingly restored to its original glory — and now it's on display at Bletchley, powered up and working its way through some original 1950s computer programs. To see it in action, watch the video below (or if it doesn't appear, view it on the BBC site).
The WITCH is a very, very simple computer that reads data from punched tape, stores data in volatile memory, and then uses relays to perform calculations on those stored values. Output is either to an electromechanical typewriter (teleprinter), or a tape punch. The most interesting facet of WITCH was the volatile memory, which was fashioned out of dekatrons— big vacuum tubes that store a numerical value. As the name dekatron suggests, the WITCH actually counted in decimal (base ten) rather than binary.
All told, the WITCH had 40 banks of 8 dekatrons, meaning it could store up to 40 8-digit numbers. The computational processes themselves, carried out by relays, was very slow — somewhere on the order of 5 or 10 seconds to multiply two numbers. WITCH certainly wasn't a supercomputer. What it lacked in speed, though, it made up for in accuracy and perseverance — WITCH didn't make mistakes, and it could be left alone for hours or days without any human interaction. "I think the record was over one Christmas-New Year holiday when [Harwell/WITCH] was all by itself, with miles of input data on punched tape to keep it happy, for at least ten days and was still ticking away when we came back," says Jack Howlett, who worked with WITCH in the 1950s.
Other than WITCH, there are some other old computers still in use today, mostly in the form of legacy DEC PDP systems still in use by the US and UK military. Of course, the computers aboard the earliest space probes (Pioneer, Voyager) and American ICBMs (Minuteman) are also very old, and still in operation today — in the case of the LGM-30 Minuteman, which entered operation in 1970, the US plans to keep them in operation until at least 2030.
Via: ExtremeTech