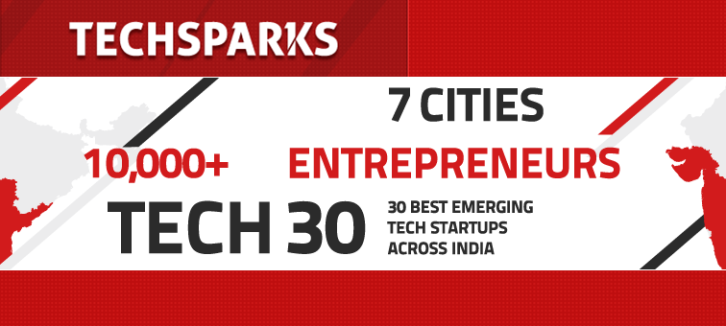 [ This article has been contributed by Vijaykant Nadadur,Founder & CEO Tationem and our community builder from Bangalore ]
Event Details
Event Name: YourStory TechSparks 2013 Grand Finale
Date:  Saturday, 5th Oct 2013
Venue: ITC Gardenia Bangalore
 Event Coverage:
TechSparks, an initiative undertaken by YourStory.in, India's biggest digital media platform for startups, entrepreneurs and SMBs, is aimed at bridging the gap between the potential of product technology companies in India and the opportunities for them to scale. After the initial six rounds were conducted in various cities of India, the final event took place in Bangalore.
Some highlights of the event:
With investors, experienced entrepreneurs, developers, host of corporate houses such as Sequoia Capital, Microsoft, Cisco, Verisign and Godaddy and media under a single roof, YourStory TechSparks was a big event. The audience strength exceeded 500 and the way in which the entire event was organized was flawless. There was a host of distinguished personalities in the list of speakers. Shailendra Singh, Managing Director, Sequoia Capital India, Kavin Bharti Mittal, Head of Strategy/New Product Development, Bharti SoftBank, Dr. Anu Vaidyanathan, Ultraman Athlete, IP Professor, Ravi Gururaj, Chairman & Co-Founder of Frictionless Ventures, Shraddha Sharma, Founder & CEO, YourStory.in and other well known people spoke on intriguing  topics.
Turn out of Events:
Shraddha presented the opening remarks of TechSparks 2013. She spoke about how her venture is going global and YourStory.in's effort to help entrepreneurs raise funds, both nationally and internationally. This was followed by the keynote address by Shailendra Singh. He also conducted a Q&A session which was very effective. After the keynote address, Shailendra played host of Ambiga Dhiraj, co-founder of Mu Sigma for a chat session. This session highlighted some of the best practices at Mu Sigma and of course, audience got their chance to throw some questions at Ambiga. Then it was turn of multi-talented Dr. Anu Vaidyanathan, to talk on topics ranging from athletics to academics to entrepreneurship. Post Anu's talk, Shraddha played host to Kavin Bharti Mittal in fireside chat. Kavin threw some light at Bharti SoftBank's technological aspirations, hiring practices and overall plans for the future.
Post guest talks, there was discussion on the topic "Global Products With Borderless Innovations". The panel comprised of Gautam Mago, Principal, Sequoia Capital India, Kavin Bharti Mittal, Head of Strategy, New Product Development, Bharti SoftBank,Nick Talbot, Global Design Head, Tata Elxsi,Pallav Nadhani, Co-Founder and CEO, FusionCharts,Pravin Srinivasan, VP Sales, Cisco,Srikanth Karnakota, Country Head, Server & Cloud Business, Microsoft India and Ravi Gururaj, Chairman  & Co-Founder, Frictionless Ventures. Ravi played the moderator to this discussion. This discussion was well received by all the budding entrepreneurs present out there.
Once the discussion was concluded, the guest of honor  Gerard Tellis, Professor of Marketing, Neely Chair of American Enterprise and Director of the Center for Global Innovation at the Marshall School of Business, the University of Southern California LA, spoke about various topics relevant to startup entrepreneurship and associated marketing. This was a treat for the audience, who were getting the marketing lessons from the guru himself.
Then everyone parted for lunch, exhibition and networking event. Though very well organized, the opportunity to network did not meet the expectations for most people. Hosting lunch in a closed area, as opposed to an open area could have prompted more 'bump in's'. Having said that, as an entrepreneur one is expected to have above average networking skills and create better opportunity. And there were those who indulged in 'elevator pitch'. Were they successful, only time will tell?
The highlight of the day was Entrepreneur Pitches by Top TechSparks 2013 Startups. Each of the 18 entrepreneurs had a compelling pitch for their respective startup, but time management on the part of few was questionable. After pitch, each presenter faced interesting questions from the prominent names present there, to which they gave fairly good answers. This was followed by the second panel discussion on the topic "Building A Company From Scratch".  The panelists included lpesh B. Patel, Dealmaker at UK Trade & Investment and Founding Principal at Praefinium Partners, Sanjay Anandaram, Venture Partner, Seed Fund, Saumil Majmudar, Co-Founder & MD, EduSports, Srikanth Iyer, CEO, TutorVista & Pearson Education Services, Saju Pillai, Co-Founder, idea Device, Shashank ND, Co-founder, Practo and Pankaj Mishra, National Editor, Mint who played the moderator. How could such a topic not interest the audience, which mostly comprised of budding entrepreneurs as well prospective entrepreneurs?
This was followed by a fireside chat with the dynamic Lakshmi Potluri, Senior Executive, Shopify India. It was turn of another fireside chat, now with Binny Bansal, Co-founder Flipkart. Then there were couple of good music performances, to pep the audience which had spent more than 8 hours by now. The event concluded with closing ceremony, right after presenting awards to TechSparks 2013 winners. As it is not greatly advisable for startup entrepreneurs to focus on numbers, let's believe each participant was a winner, instead of top 3 out of the 30. You can get the list of 30 participants here. Post closing, there was a tea-networking event where there was an opportunity to interact casually with one another.
All in all, TechSparks 2013 Grand Finale was great event. If you are an entrepreneur or thinking about becoming one soon, you may want to consider attending it next year.
About the Author
Vijaykant Nadadur is the Founder & CEO of Tationem , a startup focussing on training, consulting and research in the areas such as Algorithms, Machine Learning, Data Mining and Statistical Modeling. He obtained his Masters Degree from the University of Kentucky, where he also worked for brief time before moving back to India for good. Besides running his startup along with his partners Aravind & Senthil, carrying out research and serving as an Advisory Editor of Computer Science on a Journal Publication house, he enjoys writing on several topics in his spare time.