Zynga is expanding its own social games platform to reach more players, whether it's through Facebook, a separate Internet site or from a mobile device, the company said Tuesday at their "Unleashed" event in San Francisco, CA.
The platform – called Zynga With Friends to take advantage of one of the company's most popular brands – builds on an initiative the San Francisco game developer started in March with the beta launch of a redesigned website, Zynga.com.
The moves were clearly aimed at expanding its audience beyond Facebook, which has been Zynga's primary growth engine.
Zynga also introduced several new games, including "The Ville," which was so similar to the Facebook game "The Sims Social" that the creator of "The Sims," Redwood City game giant Electronic Arts, immediately fired off a shot at its northern rival.
"Just once, can Zynga publish a game that they didn't clone from another developer?" EA spokesman Jeff Brown said in an e-mail.
In Zynga With Friends, the company is trying to reach players on whatever platforms or devices they are using, starting with the recently launched "Ruby Blast" arcade-style game. Zynga is especially trying to keep up with the rapid consumer shift toward smart phones and tablet computers.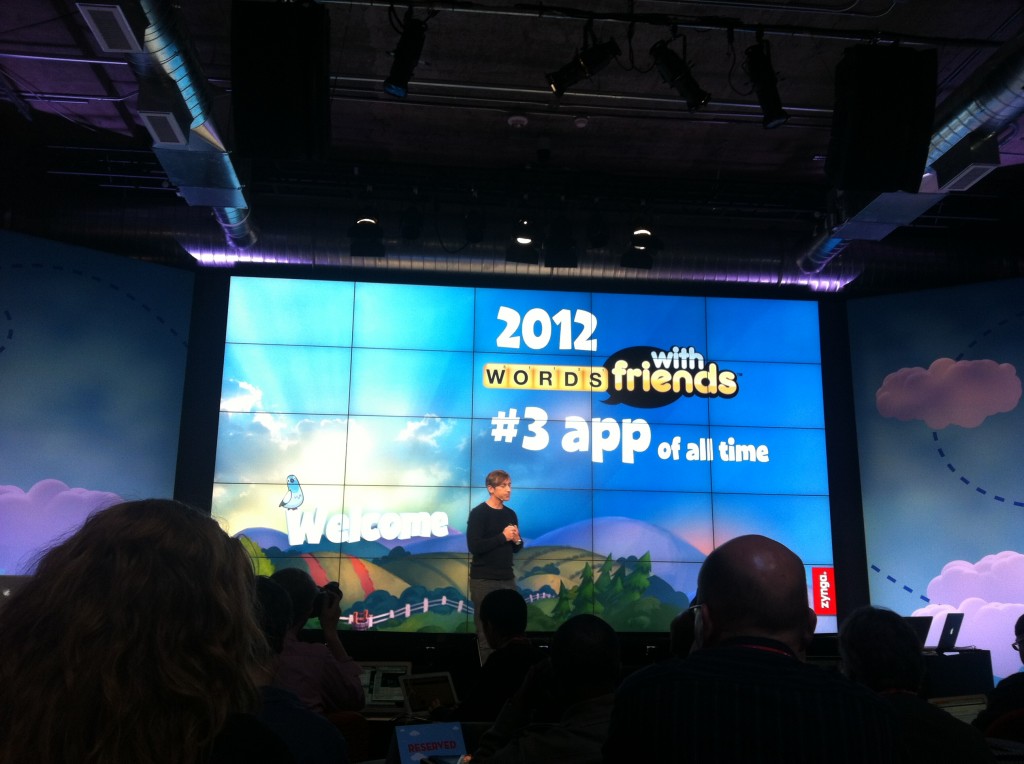 'Your social lobby'
"Zynga With Friends will be your social lobby wherever you are, whether on the Web or on mobile," said General Manager Manuel Bronstein during Zynga Unleashed, a conference for reporters and analysts at the company headquarters.
Through the Zynga.com site, players of games like "CityVille" have been able to share and trade in-game goods with other players who are outside their network of Facebook friends.
Zynga With Friends will continue to include access to that network, called zFriends, and to other features like virtual goods sharing and chat.
But Zynga is also adding multiplayer capabilities to enable real-time, head-to-head play, starting with "Bubble Safari," but eventually including other games on the Zynga With Friends network.
Zynga is also opening up its application programming interface so that third-party game developers can tap into the Zynga platform. One new partner is video game pioneer Atari, although no details were released.
The Zynga With Friends network could help reduce some of Zynga's dependence on Facebook by reaching millions of new players who aren't members of that social network, said analyst Michael Pachter, managing director of equity research for Wedbush Securities.
"If you think of the sweet spot for social games, it's probably middle-aged women and they're not all on Facebook," Pachter said. "So why not be approachable to those people who don't want to bother with" Facebook.
Zynga makes its money from the tiny portion of players who pay real money for virtual goods to advance within their favorite games.
For those more devoted players, Pachter said, "all you want is someone to give you that orange or that tomato or whatever you need. It's great if you find like-minded players and it's not like they're suddenly looking at pictures of my kids in swimsuits."
Despite the announcements, Zynga's stock price fell nearly 5 percent Tuesday to close at $5.76 per share. Analysts said Wall Street investors didn't seem to be impressed by the new games Zynga unveiled.
New 'Ville' offerings
Scheduled for release Wednesday is "The Ville," part of the "FarmVille"-class simulation games. Instead of farms or cities, players build and furnish homes and advance by making the simulated people inside happy.
It will go head-to-head with EA's "The Sims Social," which threatened Zynga's dominance last year when it soared to the top of the Facebook game charts before falling back. Earlier this month, EA announced plans for a new city-building game called "SimCity Social," which figures to challenge Zynga's "CityVille."
Another entry in the "Ville" series will be "ChefVille," which has players and their friends creating restaurants and dream kitchens and sharing real-world recipes.
Advancing in the game unlocks new equipment and recipes.
"It's a topic we think everyone in the world cares about, which is food," Zynga studio General Manager Jonathan Knight said during a preview of the game.
Back to the farm
Chief Executive Officer Mark Pincus also showed a trailer that confirmed rumors that Zynga was developing a sequel of "FarmVille," though he didn't say when it would be out.
"FarmVille 2" appears to have more realistic, 3-D graphics than its predecessor, but Pachter said Zynga could stumble and alienate millions of players if it doesn't tie the sequel into the first game.
"I think that was a mistake with 'Mafia Wars 2,' " he said.
Other new games about to launch or in the pipeline include social puzzle game "Matching With Friends" and casino game "Zynga Elite Slots."
Zynga by the numbers
"Draw Something" should reach 10 billion total sketches this week. Meanwhile, each minute, Zynga players:
— Play 64,000 words on "Words With Friends."
— Draw 43,000 sketches on "Draw Something."
— Draw 38,000 hands on "Zynga Poker."
— Open 250,000 virtual gifts.
— Take 140,000 turns.
— Send 1 million messages.
Source: Zynga