Web Analytics industry is one of the most youngest industries in the world. This industry came in to existence in late 1990's and has grown into one of the most prominent industries now due to emergence of huge number of websites and e-comemrce sites and their needs of digging data to improve services and reduce costs.
There are few large and small players providing software and services for web analytics and large number of individual and companies who can help you get your web analytics done at certain price.
Google Analytics is one of the very famous web analytics software/ service known with all web masters and web companies due its free features and easy to use.
Adobe SiteCatalyst is one of the most popular and useful tool but of course with a high price.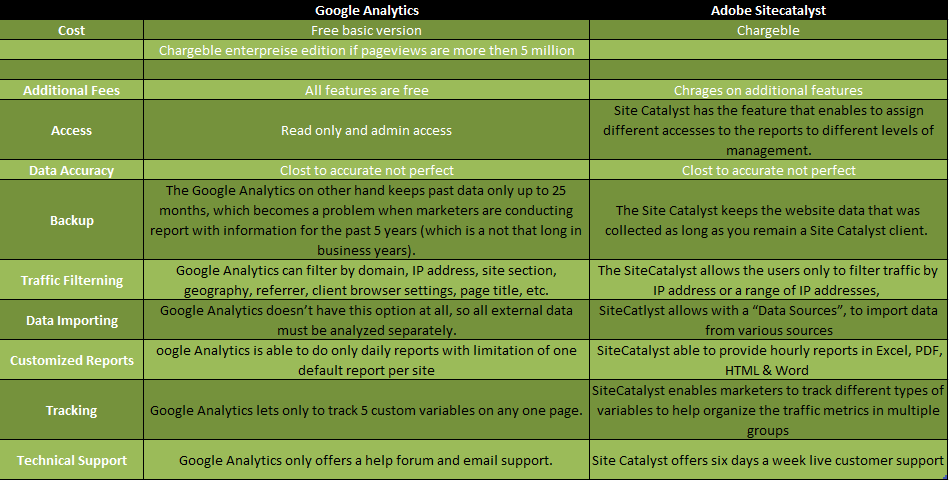 Lets have some basic information on this tool as well.
The SiteCatalyst is one of the web analytics tools which is currently being actively utilized by a lot of marketing companies and companies that track online activity of their customers – their behavior, habits, processes and etc. This research paper will discuss and provide the in-depth analysis of the SiteCatalyst web analytics tool and influence that it made to the world of online analysis.
The SiteCatalyst is the tool that in the beginning was known as Omniture SiteCatalyst but later was renamed to Adobe SiteCatalyst which is still powered by Omniture. This tool helps to collect, analyze, and evaluate data that tells how well the website is meeting its objectives, and what improvements can be made to increase the visibility. Adobe SiteCatalyst informs marketers about litigable, web analytics intelligence which consists of digital strategies and marketing initiatives. Adobe SiteCatalyst provides marketers with the information on how to efficiently identify the most profitable paths through a website. Also, this tool helps to identify the segment traffic and high-value web visitors, and with this data to determine where the weakest and strongest points of the website are.
SiteCatalyst provides marketers with many functions which are used in the process of finding weak spots and improving them:
Traffic Reporting: Provides marketers with information about number of page views, number of first-time visitors, unique users, return users, search keywords, user domain, geographic location, pages viewed, entry pages, exit pages, referring web site, frequency of user visits, frequency of downloads, repeated views etc.
Path Reporting: Enables marketers to visually grasp the visitor leads, compare and contrast multiple reports with a help of info such as last page and next page flow, most visited pages, entrance & exit pages, and fallout reports. This function provides possibility to research how, when, from where and etc. users are navigating the website.
Conversion Reporting: Provides the marketers with detailed information on purchasing metrics, customer loyalty, campaigns, visitor profiles, and etc.
ClickMap: This function visualizes the success of your website; it follows users' actions on a specific webpage using a graphical map. ClickMap analyzes the mouse clicks of the website visitors and recognizes and reports the unused potential of the website.
A/B Comparison: This method simplifies design changes by comparing site performance across different segments, versions of websites or time frames. With this tool, marketers can compare various versions of the website and to improve website in the most efficient way possible.
Campaign Analysis: With the help of this function, marketers can analyze marketing campaigns and track the users' footsteps in regards to which particular advertisement users used to reach website.
Report Methods: This function enables to bring various reports to customized dashboard for analyzing and comparing them.
Excel Compatible: The SiteCatalyst Excel client provides the marketers with the option of accessing all SiteCatalyst data directly from Excel.
An effective Web Analytics is a detailed analysis of behavior and actions of the website visitors. Without knowing exactly what visitors are doing on the website, it is impossible to develop measures for its optimization. A web resource optimization is a necessary condition to adapt the site to the needs of its visitors.
At present time, many countries are experiencing a boom of Internet commerce. The global turnover of Internet industry according to rough estimates is about $ 10 trillion. However, not all companies can say that they have successfully promoted their products and services on the Internet. About 30% of sites are recognized by Internet experts to consist of unfortunate design decisions that make users uncomfortable in navigating through it. According to various studies only one out of five users make a purchase online. Four out of five refuse to buy because of various disadvantages when using the site. According to many conducted surveys, a lot of private companies which have its own website are dissatisfied with it. The job of web analytics tools is to find out why the web sites are not working as intended. These tools allow companies to identify the main trends of interaction of visitor with the website and to identify deficiencies in the work of website site or in its individual elements.
The Adobe SiteCatalyst is one of these programs. This program provides numerous statistics reports about site traffic, ranging from the number of times a particular page was viewed to the activity of visitors in hour, days, months, etc. The most important point about SiteCatalyst is that it helps to recognize and identify different issues with a websites which helps to determine the measures required to improve the ratio effectiveness of the site. Also, this tool helps to identify what website does to the users/viewers, what it doesn't and most important is what it can do. The SiteCatalyst is one of not many systems which not only provides "beautiful and colorful" reports, but reports which respond to business issues and allow marketers to make right decisions and to take actions.
A variety of different reports may be generated in the SiteCatalyst environment. The reports are being built upon a certain selection of a site metric/variable. Some of them are presented below:
Page Views – Reports on how many times web pages were viewed.
Visits – Reports on how many people visited the web page.
Hourly, Daily, Weekly, Monthly, Quarterly and Yearly Unique Visitors – Reports on the number of unique visitors who visited website for a certain period of time.
Site Sections – Reports on the most popular areas of the website which were visited the most by the customers.
Exit Links – Reports on the links which were used by the visitors of the website to leave particular web pages.
Video Views – Reports on the number of times a video was viewed.
Time Spend on Video – Reports that shows how long the visitors spend viewing particular video on the website.
Next Page – Reports on the site path analysis by showing web pages on the website sites that visitors viewed after seeing a selected page.
Full Paths – Reports that show the most popular way that visitors take through the website.
Time Spend on Page – Reports on the length of time visitors spend on the web page.
Single Page Visits – Reports on the pages that are most often both the entry and exit pages for visitors.
and much more…
Monitoring web traffic of the website is the key in determining how well marketing campaigns are doing and also, it provides key opportunities to study viewers' profiles and their interaction with the website. The Google Analytics and Site Catalyst are the most powerful tools in collecting and analyzing the data about the website and its users, but still many has a question: which tool is the best?