It has only been a few days since Apple announced its new iPad mini tablet device and Amazon has decided to put a damper on the iPad mini's introduction to the world. The company today is advertising its Kindle Fire HD tablet and compares it against the new iPad mini. It doesn't look like the company is going to simply let Apple roll right by and take over the mini tablet market.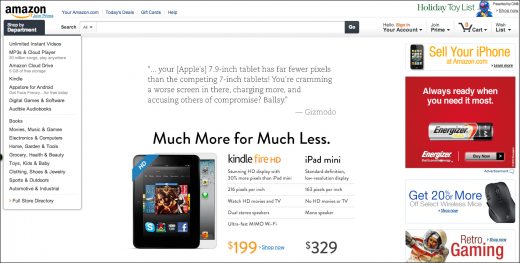 If you take a look at Amazon's website, you'll note that the Kindle Fire HD is selling for $199 while being stacked up against the iPad mini, which starts at $329. In a typical marketing strategy, Amazon has listed the advantages of its tablet device while also so eloquently pointing out the shortcomings of Apple's.
To make it more interesting, it has elected to use a quote from gadget publication Gizmodo to highlight the difference:
…your [Apple's] 7.9-inch tablet has far fewer pixels than the competing 7-inch tablets! You're cramming a worse screen in there, charging more, and accusing others of compromise? Ballsy."
This is the latest move by Amazon since it told All Things D that last Wednesday was the biggest day for sales since the Kindle Fire HD launched and was up three times week over week.
Via: The Next Web